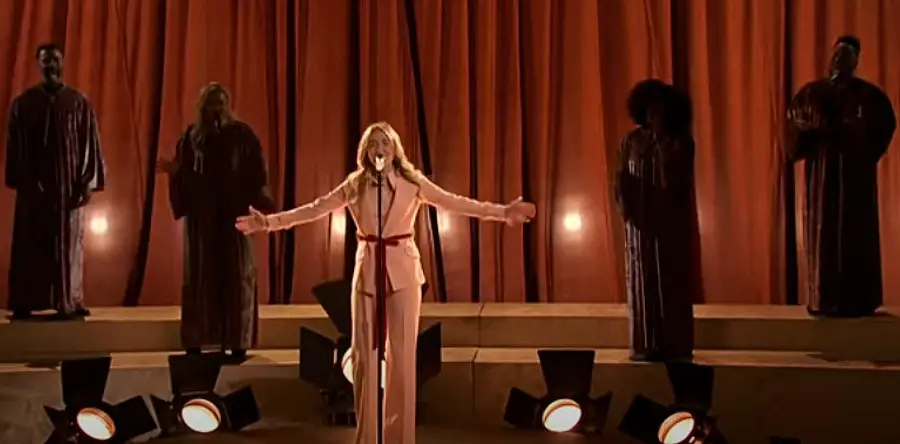 Lauren Daigle was one of numerous performances on the season finale of The Voice. The gospel star performed her current single, "Hold On to Me," before Blake Shelton's teammate, Cam Anthony, was declared the winner.
Daigle's new song seems perfect for the challenges people have faced in the last year, but the song was written by Daigle, along with Paul Mabury and Paul Duncan, long before they knew how difficult 2020 would become.
"This song took on a new meaning, especially after 2020," Daigle says in a video posted on YouTube. "We wrote the song in 2019. We were on the road; we performed it for the first time in Wichita, Kansas. I remember in the moment loving what the crowd brought to the song. I remember thinking, 'Man, this is really exciting and beautiful, just to see their response.' But I also was like, 'Wow, this is a beautiful song, but I wonder when the depth of this lyric is going to hit me,' because each song kind of hits differently."
Daigle decided to release "Hold On to Me" at the start of 2020, right before the coronavirus pandemic began to impact the country.
"2020 happened, and the team was like, 'We should release 'Hold On to Me,' even though I had no idea that this year was about to come, whenever we were planning it," Daigle recalls. "I think that's what makes songs so special, is just the fact that you write it with a certain intent, and a certain feeling, and a certain purpose, and time happens, and then you realize, 'Wow. That lyric might have been for something completely different.'"
"Hold On to Me" became an anthem amid the struggles, and is still one that resonates today.
"Fast forward, now we're in 2021, and looking back on the people that need to feel like there's somebody next to them," Daigle says. "Needs to feel like I have somebody I can lean on. I have an army, even when I'm not myself. Even when I feel doubt, or feel discouraged or feel angst or feel uncertainty, there are people that can see beyond. Those are the people that I love to lean on."
Daigle will stream a live show, A Night at the Ryman With Lauren Daigle and Friends, from the Ryman Auditorium on June 6. She will be joined by Switchfoot's Jon Foreman of Switchfoot, Natalie Hemby, Ellie Holcomb, and Petey Martin. Find tickets and more information at LaurenDaigle.com.