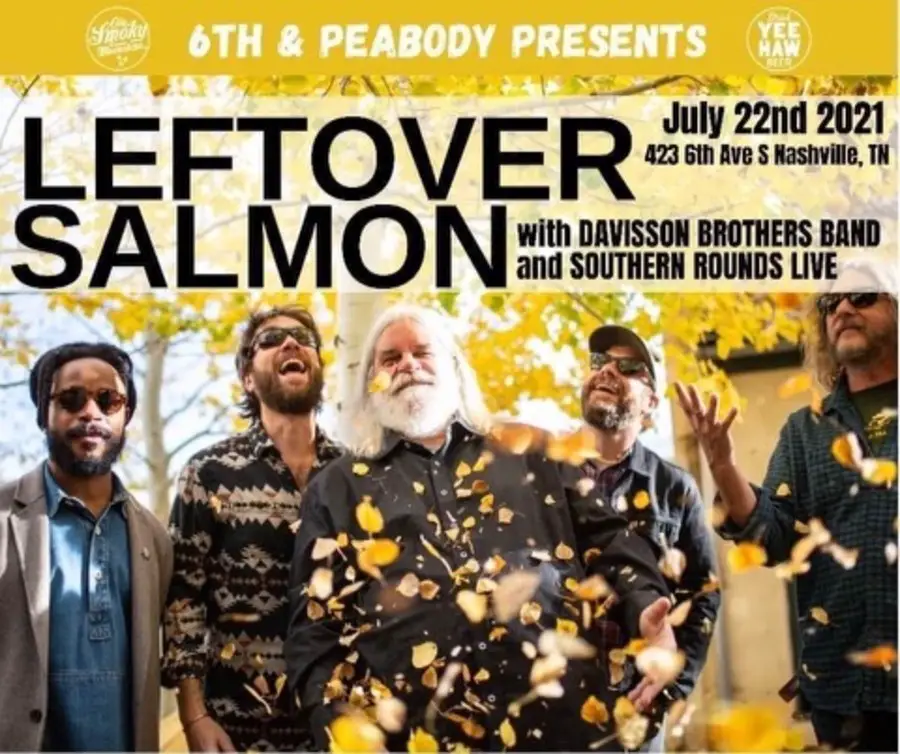 Live music is — finally — back, and in a big way, especially in Nashville. Recent announced performances include Dan + Shay's Good Things album release party, the two-night CMA Summer Jam event, and an outdoor concert on Thursday, July 22, at 6th and Peabody in downtown Nashville.
Leftover Salmon will perform, along with the Davisson Brothers band and Southern Rounds, an innovative group founded by hit songwriter Wyatt Durrette that is credited with creating the first virtual "songwriters in the round" event amid the pandemic. The event will take place in the outdoor beer garden at 6th and Peabody, in the heart of Nashville, and also feature  special guest Jay Starling.
"Since moving to Nashville a few months ago, I've been lucky enough to find an incredible group of songwriters taking country into a more honest and relatable direction for a hippy like me," Leftover Salmon's Vince Herman tells Everything Nash. "The Davisson Brothers are a big part of this scene and old friends from my years on the road. This show is a chance to bring them all together with us Colorado jamgrass guys for a night of fun, most of all. I've always seen the jamband scene as welcoming good time country boogie, and this is gonna be a night of that."
For the Davisson Brothers Band, the collaborative show is a dream come true.
"We have been on a quest to bring a long-time vision to life of bridging a few worlds together,"  Davisson Brothers Band member Chris Davisson says. "We come from a country, rock, mountain music family act. Shortly after we got out on our own as the Davisson Brothers Band, we started doing shows with Leftover Salmon and became close friends with Vince Herman. Since then, Vince and the Davisson Brothers Band have talked about bringing the Nashville community and the teams around us together and we've recently made that happen."
After live music events were canceled for more than a year, there has never been a better time than now for this show to happen.
"With all the good stuff that's been going on, it is the right time to have this show," Chris says. "We are wanting to make worlds collide in downtown Nashville. Along with the Davisson Brothers Band, the show will be showcasing some of the greatest songwriters/artists in town. Closing the show will be the legendary Leftover Salmon which are some of the pioneers of the jam and grass community."
Tickets for the 6th and Peabody show are still available. Find more information here.