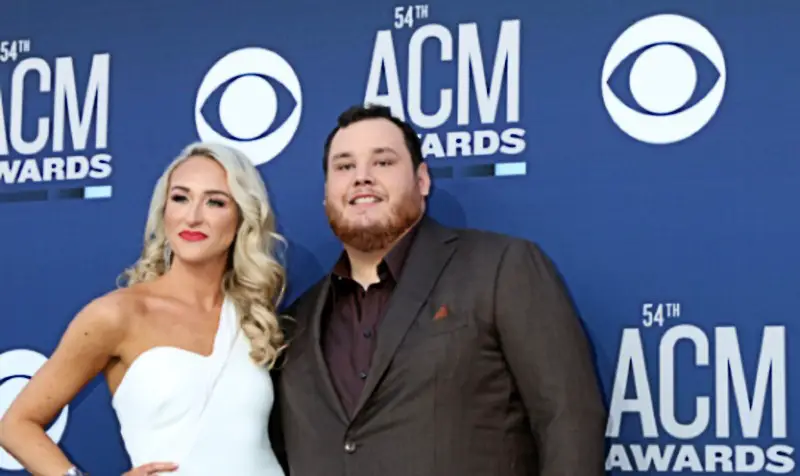 Luke Combs had a pretty good idea he would be emotional on his wedding day, when he married his longtime girlfriend, Nicole Hocking, but he had no idea just how emotional he would get. The "Better Together" singer recalls seeing Nicole for the first time in her gorgeous wedding dress, and being blown away by how beautiful she looked.
"I didn't know I was gonna cry that much, but I did," Luke told Radio.com. "I did. I was like [the] doubled-over crying guy."
Their wedding, which took place on a beach in Florida, was much different than they had planned. Although the couple hoped to have a big celebration with all of their friends, the coronavirus pandemic forced them to have a smaller, intimate ceremony instead, which became a bit of a blessing in disguise.
"My wedding was gonna be really big, and we had to change venues a week before. We had to cut our guest list by like 70%, and it ended up being so awesome," Luke shared. "I think back on it now and we wouldn't have even gotten to talk to everyone at our wedding if it wasn't the size that it became."
Luke and Nicole might have had to scale back their wedding plans, but the North Carolina native still hopes to give his wife the wedding of her dreams — someday.
"My wife worked really, really hard to settle that stuff up," Luke admitted. "We did have a wedding planner that she worked with, but [Nicole] was very heavily involved in the entire process. So, we were really looking forward to it being a certain way, and a certain thing. At the end of the day, that ended up not mattering because it was still really beautiful and it was everything that I wanted it to be, but I also want to be able to give her that thing that she spent so much time doing."
"She put so much time into it being this beautiful thing for everybody that we wanted to be there, and then that wasn't able to happen," he added. "So that kind of bums me out a little bit, for her."
Luke is nominated for six CMA Awards, including Male Vocalist of the Year, and the night's highest honor, Entertainer of the Year. He will also perform during the live broadcast. The 2020 CMA Awards will air live from Nashville's Music City Center on Wednesday, November 11, at 8:00 PM ET on ABC.