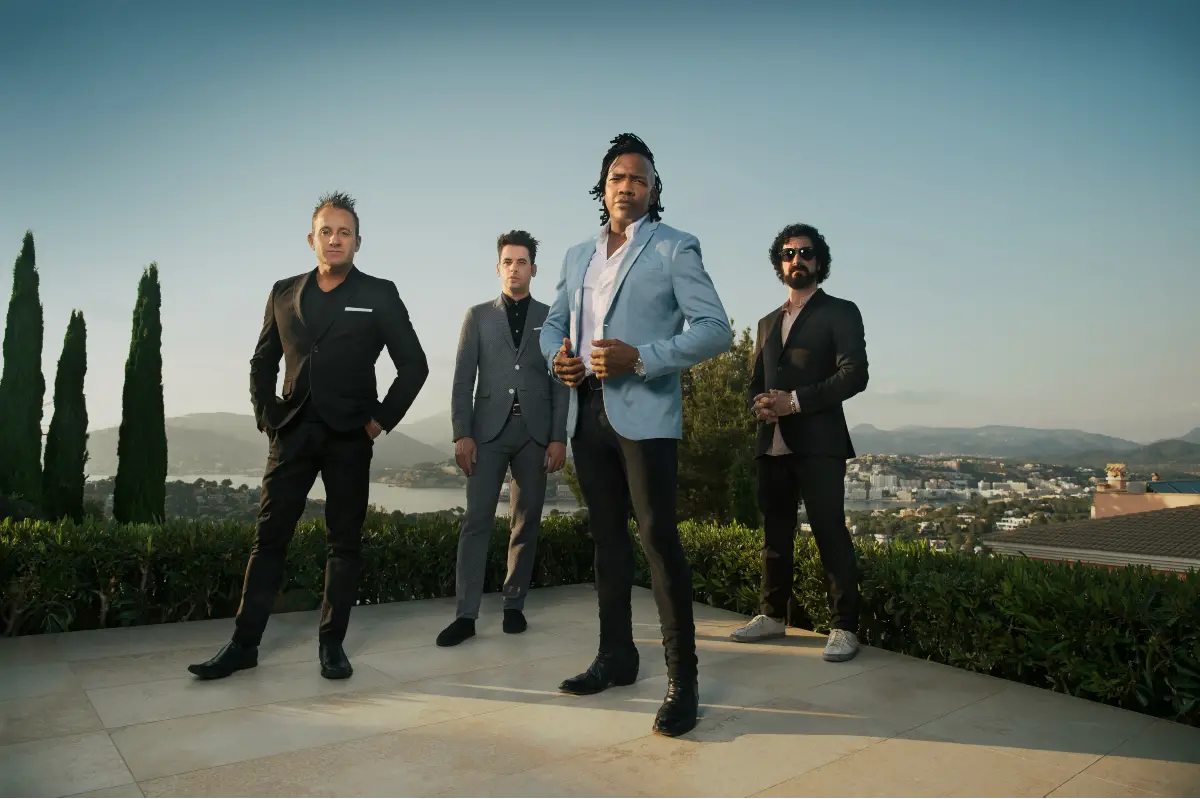 When the Newsboys began in 1985, it was hard to imagine that the Christian rock band would still be around, and just as successful, 36 years later, and still making music with a wide audience appeal. The four-man group just released their latest single, "Magnetic," from an upcoming new album, which drummer Duncan Phillips says might be their best record yet.
"I feel like we're just getting started," Phillips tells Everything Nash. "I know that that you might think, 'What are you talking about? You guys have done 15, 16, 17 records.' But in so many ways, I think if you don't have that drive and that passion … Every record you do, you're reapplying for your job. I don't care who you are, you're reapplying for that status of, are we still worthy, in so many respects, to put out music that our fans want to hear."
Not only have the Newsboys continued to churn out hits, like "We Believe," "Greatness of Our God" and more, but they have fans who have stayed with them since their inception, many passing the love of Newsboys' music to the next generation.
"Fans are fickle. They'll turn on you real quick," Phillips acknowledges. "But I will say this, our fans are incredibly loyal, and have been loyal to Newsboys, because I think the music goes a little deeper. So the connection with what we do goes a little deeper than just it's a pretty pop song. It tends to make the fans a little bit more loyal to bands like us."
As the Newsboys ready their next record, Phillips and the rest of the band are determined to work harder than ever before to make sure the project is the best they can deliver, for themselves and their fans.
"Every record has got to be great as it can be," Phillips maintains. "Not only are the fans' musical tastes changing, but so are yours. It's still us; we're just finishing up a brand-new record now. And even though it sounds so new and exciting, there's still an element to it that still sounds like who we are. It's a weird thing; we're growing and evolving and maturing, and hopefully, our musical changes are, so your record should too, right? I mean, if you keep on making the same record over and over again, you've actually gone backwards, because everyone else, your fans and people, they're moving forward. If you keep on making the same record, you've gone backwards in that sense."
The Newsboys never had as much time to work on a record as they did last year, when much of the world was shut down because of the pandemic.
"We've had the time to actually be in a studio," Phillips says. "'The song, no, that's not good enough. It's not good enough. Let's do that again,' massaging it. We've never really had the opportunity because, you're touring, you come home, you do your part, you play your part and then you leave again. But now, we weren't allowed to do that, so we had the time to really get in, get in the studio, write some great smashes. It blows my mind that there are still hit songs to be written, which there are.
"I grew up in the '80s, so give me a three and a half minute pop song and I'm happy," he says. "I consider ourselves a pop band that has managed to survive all these different incarnations,"
The Newsboys are back on the road, including performing at Lifest in Bon Aqua, Tennessee, taking place July 29 to 31. Other performers include Matthew West, Michael W. Smith, Mandisa, Colton Dixon and more. Find more information at Lifest.com, and see all of the Newsboys upcoming shows by visiting their website
Want to attend Lifest? Comment below for a chance to win two tickets! Drawing will take place on Friday, July 23.