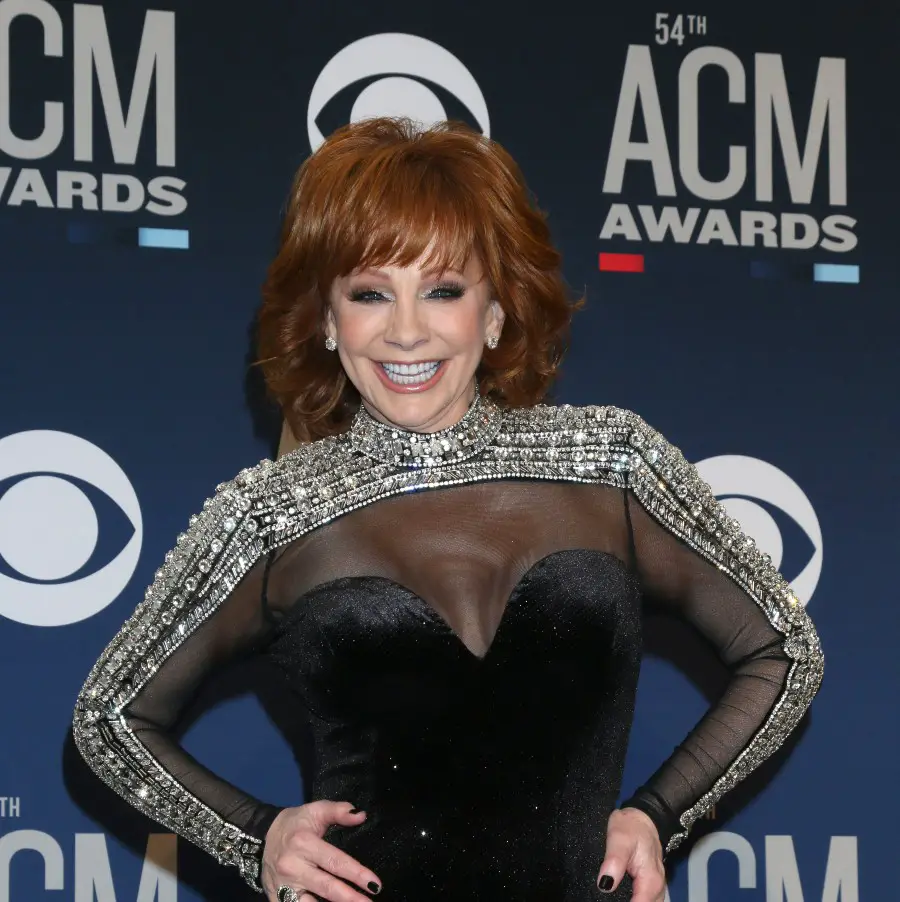 Happy birthday, Reba McEntire! The country music icon turns 67 on March 28. To honor her ongoing legacy, we found 11 things to know about one of the biggest stars in country music.
1. She counted President George H.W. Bush among her close friends.
McEntire is friends with former President George W. Bush, and was friends with his father, President George H. W. Bush as well.
"We email each other…all the time — nothing political, just passing jokes back and forth," McEntire previously revealed. "He's really into emails, and so are his buddies. Senior Bush invited my husband [Narvel Blackstock] and me on a private cruise to the Greek islands years ago. We became very good friends, and that's when the email stuff started."
McEntire sang "The Lord's Prayer" at the elder Bush's funeral in 2018.
2. She loves corn dogs.
While we can't necessarily credit corn dogs as the secret to her youthful appearance, she loves a good corn dog, and eats them as often as she can, especially when performing at a state fair.
"Everybody knows when I pull up to a state fair, we got to have a [designated] corn dog getter, McEntire said (via radio station Froggy 99.9).  "And they get it, and when I get into the car, headed out . . . I've got all the corn dogs with mustard and ketchup."
3. Her family is very musical.
McEntire comes by her love of singing honestly. Her mother, Jacqueline, also wanted to be a singer, but chose to become a school teacher instead. Still, she instilled her love of music into her four children, who would harmonize together on road trips to their father's rodeo competitions. Eventually, McEntire and two of her siblings, Pake and Susie, started a group The Singing McEntires, and performed across the state of Oklahoma. Although not as successful as their sister, both Pake and Susie also later launched solo careers as well.
4. She comes from a long line of rodeo stars.
Both McEntire's father and grandfather won numerous awards as champion steer ropers, and McEntire herself was quite proficient as well. Ultimately though, music won out, although she has the rodeo to thank for her career in country music. She was discovered by artist Red Steagall, while singing the National Anthem at the National Finals Rodeo in Oklahoma City, who encouraged her to pursue music full-time.
5. Her first husband was a rodeo star.
McEntire was married for 11 years to steer wrestling champion, Charlie Battles. Although they did not have children, he had two children from a previous marriage. After divorcing Battles, McEntire made the permanent move to Nashville.
6. She has a degree in elementary education.
McEntire never actually taught in a school, but she did graduate from Oklahoma State University in 1976 with a degree in elementary education. But even while in college, music was in her blood, which is why she graduated with a minor in music.
7. She was supposed to star in the movie, Titanic.
McEntire was supposed to play the Unsinkable Molly Brown in the hit movie, Titanic, but had to cancel when production got pushed back and the dates conflicted with her tour. The role instead went to Kathy Bates.
"We were on tour and I had a lot of people on the payroll," McEntire said (via Entertainment Weekly). "We had these three months already scheduled to do the movie, and then they got behind on scheduling and said 'We'll have to move it to this time.' So we couldn't reschedule all the arenas and everything."
8. She believes in reincarnation.
McEntire is a Christian, but she also believes that people have more than one chance to make it right on earth.
"I believe in reincarnation," McEntire told the Post-Gazette. " I believe I've gone both ways — that I have been here before as a man. I will get flak from Christians who will say I can't be a Christian if I believe this. That's true, and I'm sorry, but this is how I live my life, this is what I believe. I believe I have spent time with my son Shelby before. I believe I have spent time with other people in my life before. Who knows? Maybe I'm part Buddhist."
9. She did not want her marriage to Narvel Blackstock, her husband of 26 years, to end.
McEntire believed her marriage to her second husband, Narvel Blackstock was going to stand the test of time, which is why she was surprised when her marriage ended.
"The divorce was not my idea. I didn't want it in any shape, form or fashion," McEntire told CMT. "So it was really hard to make the adjustment when someone's not happy. I just want everybody to be happy in their lives, because our lives are too short to be miserable."
She went on to date Anthony "Skeeter" Lasuzzo, before saying she had found true love with her current boyfriend, actor Rex Linn.
10. It took her a long time to have a hit at radio.
McEntire might be one of the most successful country artists of all time, but that success didn't come easily to her. Her first single, "I Don't Want to Be a One-Night Stand," from her self-titled debut album, peaked at only No. 88 on the charts. In fact, her first three singles stayed in the 80s, and her fourth single, "Glad I Waited Just for You," didn't land anywhere on the charts. It wasn't until her ninth single that she had a Top 20 hit, with "Sweet Dreams," released in 1979.  Her first No. 1 hit was in 1983, with "Can't Even Get the Blues."
11. She dislikes getting in the water.
McEntire had a home on a lake in Tennessee, but she doesn't ever want to get wet. In an interview with Us Weekly, McEntire said that she loves living on the water and looking at it, but she dislikes swimming or any recreational activity that causes her to actually get in.