Few people have had an impact on an entire genre of music like Ricky Skaggs has with bluegrass music. The singer, multi-instrumentalist, songwriter and mentor keeps evolving and churning out new music, including his Christmas song, "Brightest and Best" with Keith and Kristyn Getty. We uncovered 11 things to know about the country music icon.
1. He was a child prodigy.
When Skaggs was just five years old, he was given a mandolin by his father. Skaggs quickly took to the new instrument, and only a year later, he found himself playing mandolin and singing on stage with the legendary Bill Monroe, when Monroe invited him to perform with him while performing in Martha Kentucky. At age seven, he began playing on Flatt & Scruggs' syndicated television show.
2. He was friends with Keith Whitley.
Skaggs and the late Keith Whitley both started performing with Ralph Stanley together. The two met when they were both still young, and just getting their start in country music.
"Ricky and I met at a little contest about 30 or 40 miles from our hometown in Ezell, Kentucky," Whitley recalled to Stone Country. "We were about 14 or 15 at the time. I was in a band, and Ricky was in a fiddle contest with his father. We struck up a friendship and within a couple of months were playing together."
3. He released several country albums in addition to bluegrass ones.
Skaggs, who played in Emmylou Harris' Hot Band, released several country albums before returning to his bluegrass roots. Skaggs released Waitin' for the Sun to Shine, Don't Cheat in Our Hometown, Comin' Home to Stay, Kentucky Thunder and more. Still, his roots always remained in bluegrass, which he celebrated with albums like Bluegrass Rules!, Brand New Strings, Salt of the Earth and more.
4. He has ben married to Sharon White for almost 40 years.
Skaggs has two children from his first marriage, to Brenda Stanley. In 1981, Skaggs married Sharon White, of The Whites, with whom he has two more children. In 2014, the couple released a duets album together, Hearts Like Ours, which included the Townes Van Zandt song,  "If I Needed You," which has a special meaning for the couple, dating back to their August 4 wedding day.
"Our pastor said, 'What if you did your unity candle symbol in songs rather than candles? He sings one to you, you to him, and you sing together,'" Skaggs recalled to Billboard. "We liked that idea, and this was the one we sang together. We had no idea how hard it was going to be to do. We were both very emotional."
5. He was the youngest member to be inducted into the Grand Ole Opry.
Skaggs was inducted into the Grand Ole Opry on May 15, 1982, when he was just 28 years old, making him the youngest member at the time to be inducted into the Opry.
"It's such a symbol of Americana," Skaggs told The Tennessean of the significance of the Grand Ole Opry. "The resilience of America, the comeback. The strength of America. The Opry has … just been there, always."
6. He is an outspoken Christian.
Skaggs has never been shy about his Christian faith, which he has both talked about and included in some of his music.
"It is no more difficult than if I worked at a newspaper," Skaggs told Richmond Magazine. "Life is filled with temptations. You have to listen to the right voice. People say, 'You hear voices?' I say, 'Yeah, I hear an inner voice.' If I didn't have a relationship with the spirit of God, I wouldn't know where to go. And I don't want to do just what seems right, I want to do what is right. Reading the Bible and knowing truth is a part of what keeps me grounded, but it also keeps me inspired and keeps me musically challenged."
7. He has 15 Grammy Awards.
Skaggs has 15 Grammy Awards, for Best Contemporary Christian Album, Best Traditional Folk Album, Best Bluegrass Album and more. He has also won five CMA Awards as a solo artist, along with three as the Ricky Skaggs Band, nine ACM Awards and 15 IBMA Awards.
8. He is a member of the Country Music Hall of Fame.
In 2018, Ricky Skaggs was inducted into the Country Music Hall of Fame, in a class that included Dottie West and Johnny Gimble.
"Many of the fathers and mothers that are in this Hall literally built country music from the ground up," Skaggs said when he was inducted. "They were 'Working on a Building,' and they built well. Their incredible talent, hard work, and love for this wonderful music has laid a deep and solid foundation that generations will stand on. I'm so thankful for their tremendous contributions. People like me could have never become a member without their sacrifice. They showed us the way, they made the music, and we followed the sound!"
9. He didn't receive his high school diploma until 2020.
Skaggs received an honorary high school diploma from his alma mater, Lawrence County High School, in 2020, during the school's virtual graduation ceremony, 49 years after he chose to skip his graduation in favor of hitting the road with Dr. Ralph Stanley instead.
"It was an amazing surprise and answered prayer of my mom," Skaggs said of the honor. "She wanted me to graduate before I went full-time with Ralph Stanley on the road. I was about as proud of that as anything I've been given."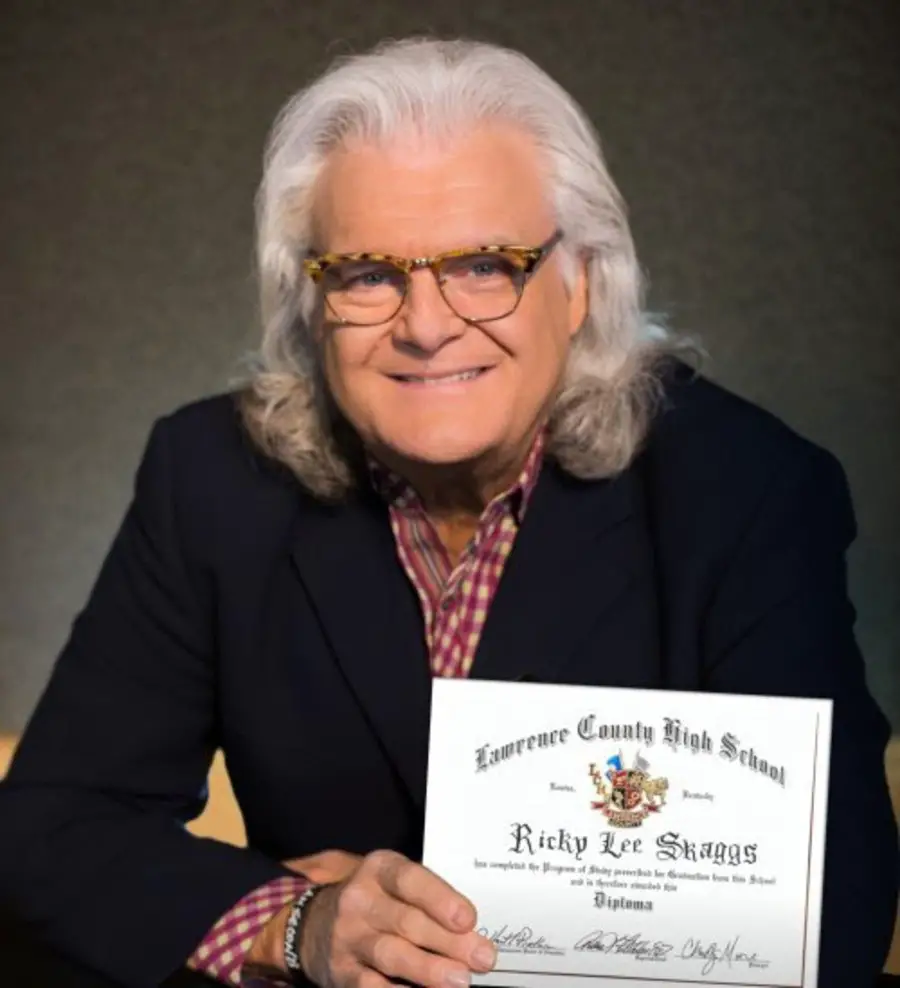 10. He convinced Craig Morgan to release "The Father, My Son and the Holy Ghost.
The first time Craig Morgan performed his heartfelt song, "The Father, My Son, and the Holy Ghost," written in tribute to Morgan's late son, Jerry, he thought it would be his last. But it was Skaggs who convinced Morgan that the world needed to hear that song.
"I walked off the stage, thinking I might never perform it again," Morgan told People. "But standing there was Ricky Skaggs, and he told me that I simply had to perform it again. I had to get through this and find a way to share this song with as many people as I could."
11. He had massive heart surgery in 2020, and kept it a secret for several months.
Skaggs revealed in late 2020 that he had quadruple bypass heart surgery in June, but managed to keep it a secret until he was ready to share the entire story with his fans. It was during an angiogram — a procedure Skaggs wanted to put off but felt strongly that he shouldn't — that doctors realized he needed to have heart surgery immediately.
"I have thanked the Lord hundreds of times that I wasn't out in the middle of Texas on a tour bus, miles away from a hospital," Skaggs told People. "It was a major blessing I didn't have a heart attack. Nothing was hurt, and nothing was destroyed or irreparable. It was just by the mercy and grace of God that all of this happened in this way."