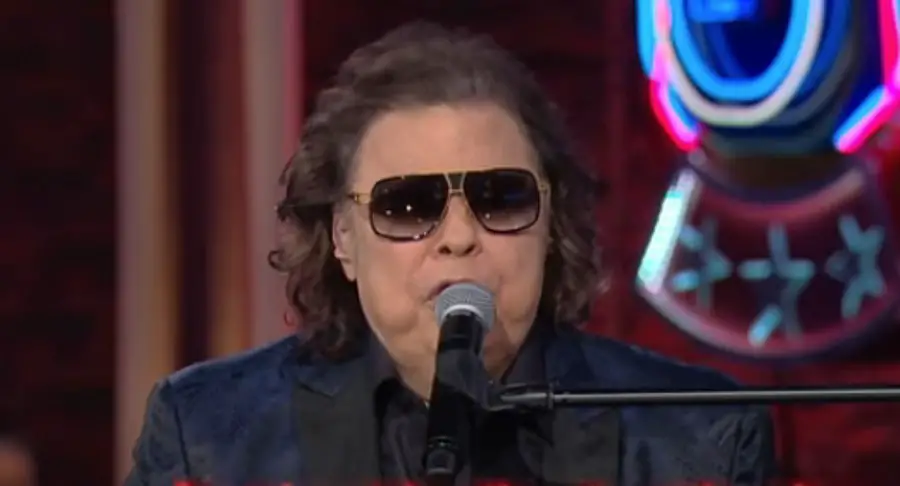 Ronnie Milsap just announced his final Nashville show, taking place on October 3 at Bridgestone Arena, but he's going out with a bang. The 80-year-old will be joined by over 30 artists, including Kelly Clarkson, Little Big Town, Parker McCollum, Justin Moore, Scotty McCreery, Tracy Lawrence, Randy Houser, Sara Evans, Lorrie Morgan, Neal McCoy, BRELAND, Phil Vassar, Terri Clark, Charlie McCoy, The Band of Heathens and more, for A Tribute to Ronnie Milsap, as he performs in Music City one last time.
"I'm so excited about my last show in Nashville at Bridgestone Arena and the amazing lineup of artists," says Milsap. "This night will be so special for me and all the fans. I love Nashville and the amazing career my fans have given me. 'I wouldn't have missed it for the world.'"
"We are thrilled to host the Ronnie Milsap Tribute concert," adds Bridgestone Arena Chief Venues Officer David Kells. "With over 50 years of music and 40 No. 1 hits, this celebration is going to be something special. Thank you to the Outback Presents team for curating such an amazing event."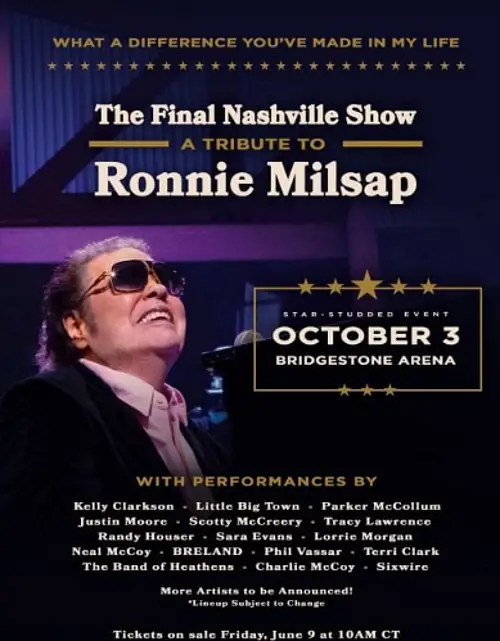 Milsap's last album, A Better Word For Love, was released in 2021.
"I have been blessed to work with some of the very best songwriters in the world," Milsap said when the record was released "Over the years, they've kept bringing me unbelievable songs, and in some cases, they've let me hang onto them because I loved them so much. When Rob and I started this project a few years ago, we decided some of those songs were so special… We wanted to build this album around them, so they wouldn't be treasures only [my wife] Joyce and I could hear.
"We got to go back to Ronnie's Place, the studio I built all those years ago, just dig in and cut them—and some songs that have the same kind of heart, the soul and that joy that I've always loved," he added. "You know, even a sad song when you do it sad enough'll make you feel better."
The Country Music Hall of Fame member also mourned the loss of his wife, Joyce, in 2021, after she was first diagnosed with leukemia in 2014. The couple had been married since 1965.
"There are no words, and not enough songs in the world to explain how much I love my Sapphire," Milsap said in her obituary. "She was the music and the feeling inside all of those songs, so if you loved my music, you understand some of how much I loved my my beautiful, beautiful wife. It's all in the songs, but she was even more. She was the love of my life, the mother of my son, the world's happiest grandmother."
Tickets for Milsap's final Nashville show will be available on June 9 at 10:00 AM CT, via Ticketmaster.