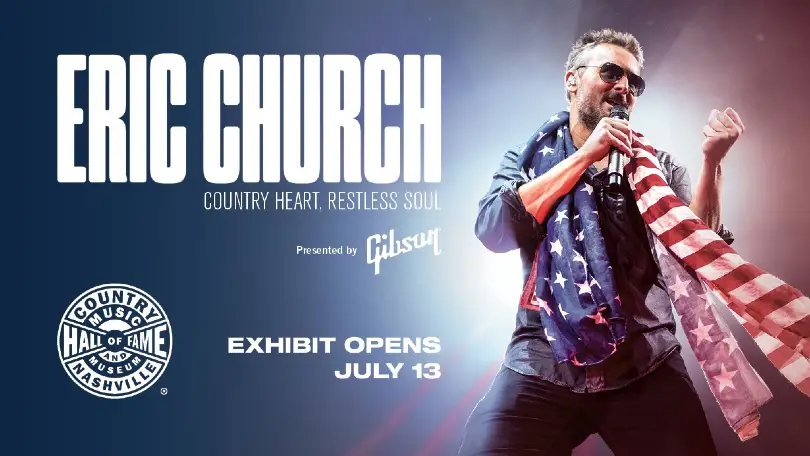 Eric Church is one of the reigning hitmakers in country music, with more than 50 million albums sold, ten No. 1 singles, sold-out tours, ten Grammy nominations and more. Now, Church's life and career is being honored with a new exhibit at the Country Music Hall of Fame, Eric Church: Country Heart, Restless Soul. The exhibit will open on July 13 and remain open through June 2024.
"Eric Church has done it his way completely," Kyle Young, CEO of the Country Music Hall of Fame and Museum, says. "His steadfast artistic vision and authenticity resonate deeply with audiences, and he continues to serve as an important collaborator and renegade role model for generations of country music artists."
Items in Eric Church: Country Heart, Restless Soul include the Harmony H-303 three-quarter-size acoustic guitar that belonged to Church when he was a child; Ray-Ban Aviator Mirror sunglasses worn by Church onstage; the Von Dutch trucker hat Church bought at a Mississippi truck stop in the late 2000s and began wearing onstage; the outfit worn by Church on the album cover of The Outsiders and at the CMA Awards in 2013; the purple suede jacket Church wore when he and Jazmine Sullivan sang the national anthem at Super Bowl LV at Raymond James Stadium in Tampa, Florida, in 2021, and much more.
The exhibit comes shortly after Church received another industry accolade. The North Carolina native was recently inducted into Music City's Walk of Fame.
"I thought I had big dreams, but this is beyond those things, Church said of the honor (via NashvilleToDo.com), reflecting on the 23 years he has called Nashville home. "I met my wife here…had my kids here…it's become home to me."
"I'm very thankful – that's my main takeaway," he continued. "I'm thankful to my Maker, I'm thankful to my wife, my family, I'm thankful to all the partners I've had in recorded music. Most of all, I'm thankful for the fans."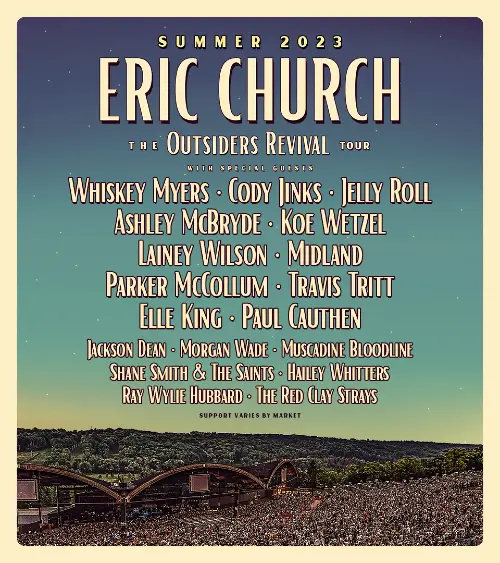 In addition to headlining his The Outsiders Revival Tour for the next several months, the 46-year-old is also hard at work on his his new Nashville bar, Chief's, scheduled to be opened later this year.
"Like everything we do with our music, the same care and consideration has gone into every detail of this place," Church said of Chief's. "It will be unrivaled downtown. I can't wait to play here."
Church is joined on The Outsiders Revival Tour with a rotating list of opening acts, including Ashley McBryde, Jelly Roll, Lainey Wilson, Parker McCollum, Travis Tritt, Midland and more. Find music and tour dates at EricChurch.com.
More information on Eric Church: Country Heart, Restless Soul can be found by visiting the museum's website.