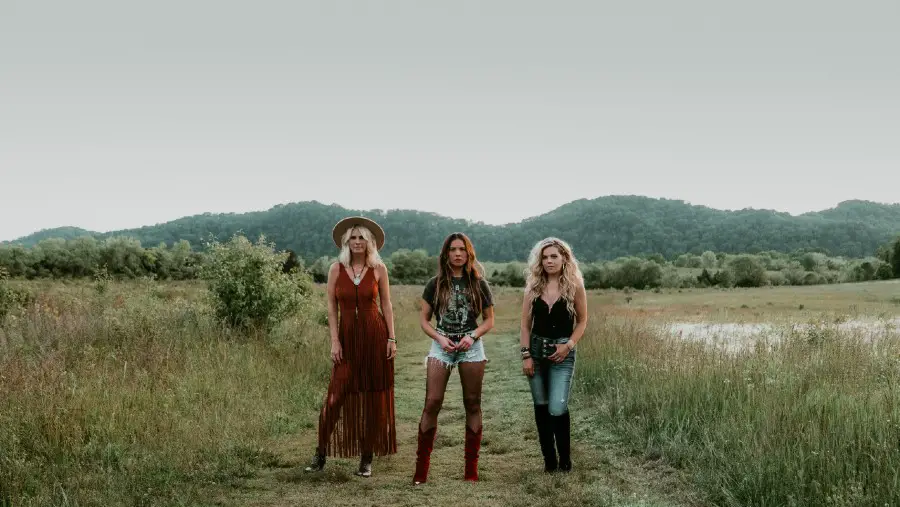 After earning a Top 5 hit with "Buy My Own Drinks," Runaway June was sure they had another hit on their hands with "Head Over Heels," a song from their latest Blue Roses album that resonated with their live audience every time they sang it in concert. But just as the song was making its way up the charts, the coronavirus pandemic began to shut everything down, and the trio, now made up of Naomi Cooke, Jennifer Wayne and Natalie Stovall, after the departure of Hannah Mulholland, had a decision to make.
"It was like overnight, that song was irrelevant," Naomi told Country Now. "And we know as artists that it's our responsibility to give our audience things they can relate to."
Runaway June switched their single to "We Were Rich," recording a new version that replaced Hannah's voice with Natalie's, and added Natalie's trademark fiddle-playing.
"This is a song that just takes you out of the moment and puts you into the bliss of childhood," Naomi shared. "And remembering that there was a time when you didn't worry about anything except your next macaroni and cheese meal. That's something I think people need to be reminded of right now, that there were simpler times and that there will be simpler times again."
"It's not about being able to buy them the best toy or the most elaborate vacation," she continued. "[It's about ensuring] that they're nurtured with love and they can play outside. And that the memories that you never think would stick are what makes them a great adult,"
Thankfully, "We Were Rich" was Natalie's favorite song, so recording a new version, one that allowed her to be authentically her on the track, was a no-brainer for her.
"It was really cool, because it was my favorite song of Runaway June's," Natalie recounted. "I might be biased, but I also thought a fiddle would sound really good on it, so I was really excited to go in and add that to it … It's like a little time machine in three and a half minutes. I wanted to make sure I did something to honor that."
Naomi admits that, for her, the start of the shutdown was terrifying for her.
"It was so scary, and the Zoom writes weren't happening, no one knew how to do that," Naomi said. "There were sound delays and technological malfunctions … No one knew what we were gonna write about.
"I'll speak for myself — I was really fear-stricken," she added. "I was not creative. I was afraid for my family and my business and my bandmates and all the people that work for us."
Now, as the country enters its sixth mont of being largely shut down, all three Runaway June women have found their groove, tapping into a creativity they may not have otherwise found.
"It started to be like, 'Okay, let me look at this from a different perspective. I've got some time off. Everyone still wants to write. Let's figure this Zoom thing out,'" Naomi said. "We all kind of got into a rhythm, and it's been great. We've actually been writing some pretty sick stuff. So yeah, [quarantine] wasn't creative at first, but now it is. I feel like I could write every day now."