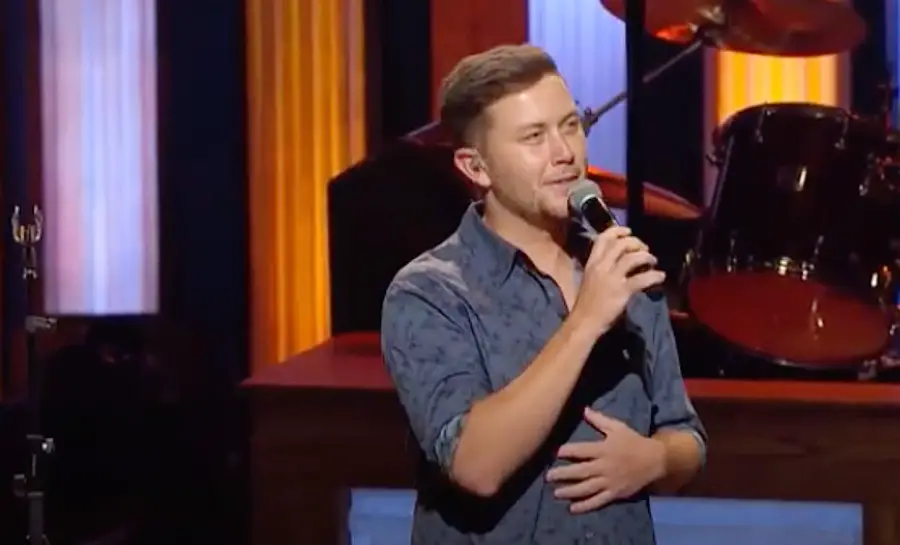 Scotty McCreery performed at the Ryman Auditorium on Friday night, September 4, as part of the historic venue's Live at the Ryman livestream event. The show, which allowed 125 people to attend the concert in person, marked the first time an audience has been allowed to watch a show at the Ryman since mid-March.
"We sold it out tonight. It just looked a little different in March when we sold it out," Scotty said from stage (via MusicRow). "It's good to see clapping hands again … I can't tell you how good it feels to back onstage, and to do it at the Ryman Auditorium."
Ironically, Scotty's last live show was also at the Ryman Auditorium, on March 11, right before the entire city of Nashville, along with much of the rest of the country, shut down because of COVID-19.
"We were thinking on that day, did we think it would be six months before we played another show?" Scotty remarked.  "We did not, but Lord have mercy if that ain't true. I've been playing to my computer for six months. It's nice just to hear a little applause. It really made me feel good. It's been a heck of a year for all of us and a lot of things have changed."
"I never could have envisioned a world without live music," he added. "It's all I've known, but it is special to be here tonight."
Scotty also debuted his new song, "You Time," inspired by his wife, Gabi, one of several songs he wrote about his spouse of two years.
"I've picked up my guitar more than ever and have been in the studio," Scotty said. "I kind of found a love of it again, just playing different songs … I write a lot of love songs and they are all inspired by her."
"You Time" will be from Scotty's upcoming new album. A title or release date has yet to be announced. "You Time" will officially be released on September 23.