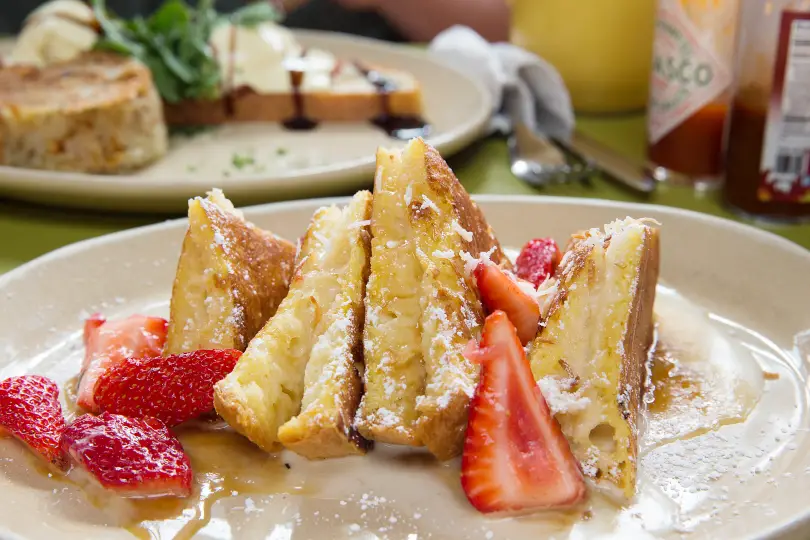 A new breakfast spot is open in East Nashville, now that Snooze has officially opened for business at 969 East Main Street. The restaurant is open from 6:30 AM to 2:30 PM on weekdays, and from 6:30 AM to 4:00 PM on weekends.
The Snooze menu offers a plethora of breakfast and lunch options, for both those craving something healthy, like the Goldilocks' Porridge (made with an ancient grain mix of steel cut oats, quinoa and millet simmered in almond milk, and topped with strawberries, blueberries, blackberries, bananas, toasted almonds and hemp seeds), or those wanting something a bit more decadent, like the Funky Monkey French Toast (griddled slices of banana bread with white chocolate chips, topped with caramel sauce, candied pecans, whipped mascarpone, and a brûléed banana).
Snooze also offers a full bar, with spiked coffe options, along with several cocktails to choose from, including a Bloody Mary or their Morning Marg, made with tequila, orange liqueur, their housemade sour mix and fresh lime.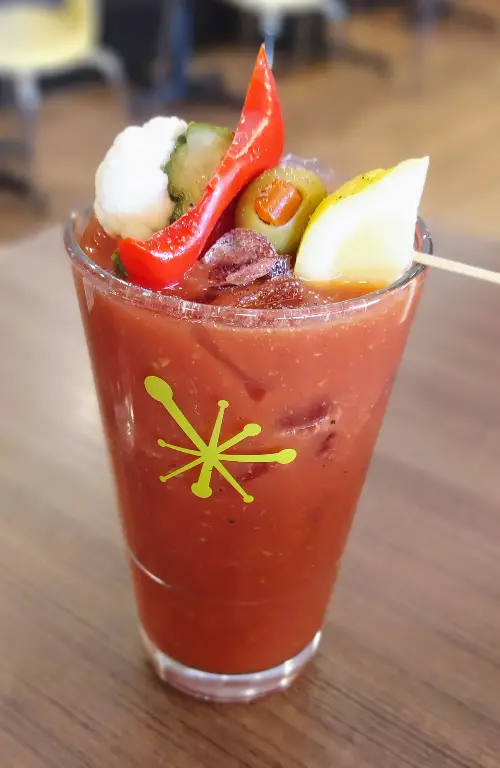 "When we say we do 'Breakfast but different,' we aren't just talking about our creative takes on pancakes," says David Birzon, Snooze CEO. "That also extends to how we source our food, treat our Snoozers (a.k.a. employees), tackle environmental initiatives, and give back to our communities. We are thrilled to join the vibrant East Nashville neighborhood and to become a part of this incredible city."
Everything Nash had the opportunity to try Snooze's menu before the restaurant's official opening, and were blown away by the flavors. Although Snooze is known for their pancakes, like their Pineapple Upside Down Pancakes, or their Signature Panacke Flight (with three different options to try, including their Blueberry Danish and Sweet Potato Pancakes), we were feeling the need for something a little bit lighter.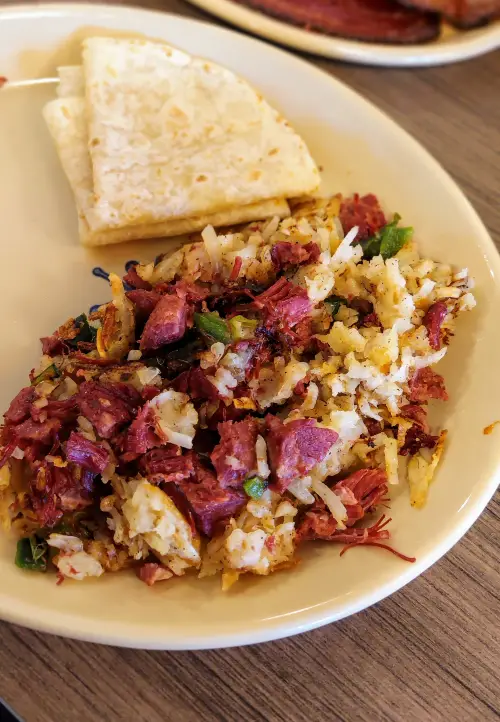 We tried the Corned Beef Hash and the Lox-N-Latke Benny, the latter made with Lox-style salmon, poached cage-free eggs, their own house-made cream cheese hollandaise, fried capers, pickled red onions and pistou, and served with a generous side of greens topped with Dijon citronette, spiced pepita and Parmesan. We also had the Snooze Signature Bacon, which was generous enough to share. All of it was delicious, with ample portion sizes.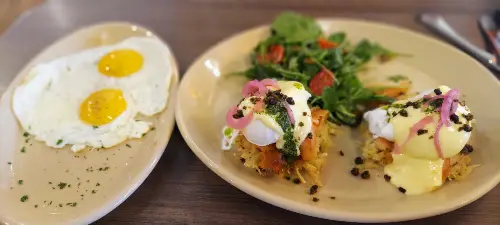 Other options at Snooze include a Sweet Potato Bacon Smash Up, a Tofu Scramble, a Pork Chile Verde Benny and more.
Snooze originally opened in Denver, Colorado in 2006 and now boasts numerous locations across the country, in addition to Nashville, including in Georgia, Arizona, Texas and more. Find more information at SnoozeEatery.com.