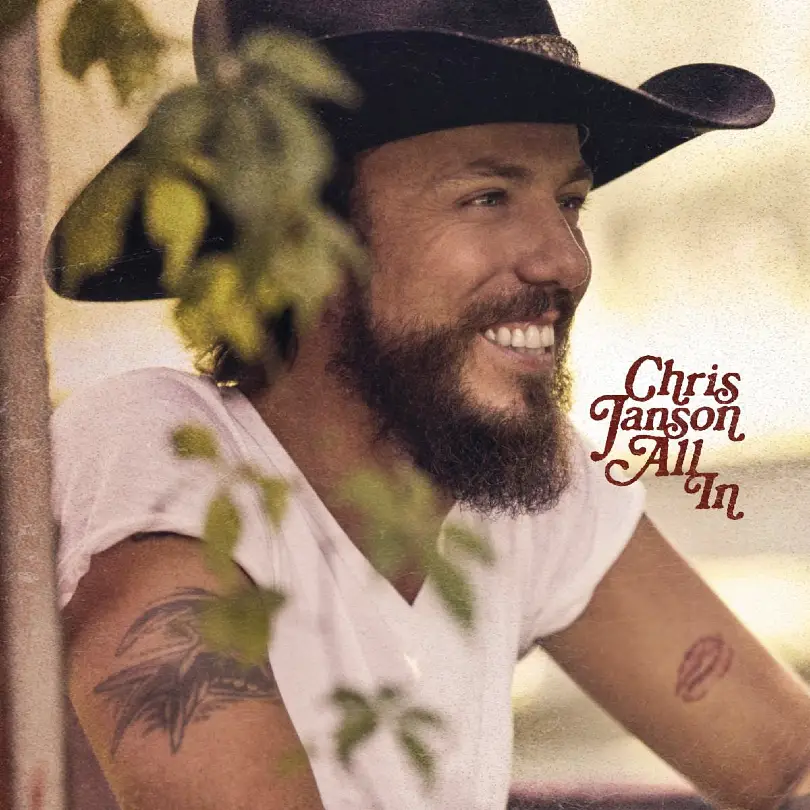 Chris Janson's upcoming All In album includes a couple of country music superstars. The  16-track album, which was co-produced by Janson, includes a collaboration with Eric Church on "You, Me & The River," written by Church. Travis Tritt also joins Janson on "Things You Can't Live Without," written by Janson, along with David Lee Murphy, Deric Ruttan and Chris Stevens.
"I hope the fans enjoy listening to this album as much as I did creating it," Janson says of the record. "I love all 16 tracks, and I'm especially honored to have collaborated with my friends Eric Church and Travis Tritt!"
Janson previously hinted that the title of his fourth record was also indicative of how the project would sound.
"The title 'All In' epitomizes this album," Janson teased. "There are all kind of songs on this project, but they all flow together because they are genuine to me. I went all in on every part of the process, from writing to singing to playing to producing. I feel like it's my best, most true-to-myself album to date."
Janson just released his current single, "Cold Beer Truth," from All In. The Missouri native features several guests in the video, including his own family (and new puppy) to Kid Rock, former University of Alabama football player and entrepreneur John Cassimus, and  fisherman Bill Dance. NASCAR's Richard Childress also appears as a special tribute to Dale Earnhardt.
"The 'Cold Beer Truth' video includes some of my best friends, heroes and mentors," Janson said. "It was important to me to highlight those relationships. When I think cold beer truth conversations, I think fishing and being in the outdoors with family and friends. When I think of NASCAR, I think Dale Earnhardt. This video pays tribute to all the good buddies out there in America who have made some great memories while sharing some cold beer truth."
All In will be released on April 29. See the track list for the album below. Janson is currently on his Halfway to Crazy Tour, which includes a sold-out show at Nashville's Ryman Auditorium on March 10. Find all of Janson's upcoming shows by visiting his website.
All In Track List:
1. Keys To The Country* (Chris Janson/Dallas Davidson/Ashley Gorley/Zach Crowell)
2. We Did It Anyway* (Chris Janson/Dallas Davidson/Ashley Gorley/Chris Stevens)
3. Cold Beer Truth** (Brad Clawson/Mitch Oglesby/Rob Pennington/Chris Janson)
4. You, Me & The River (feat. Eric Church) (Eric Church)
5. Halfway To Crazy (Chris Janson/Rhett Akins/Dallas Davidson/Ben Hayslip)
6. Bye Mom* (Chris Janson/Brandon Kinney)
7. Love Don't Sleep (Chris Janson/Mitch Oglesby/David Frasier/John Edwards)
8. The Reel Bass Pro (Chris Janson/Mitch Ogelsby/Shane Profitt)
9. Too Far Gone (Chris Janson/Marv Green/Ben Hayslip)
10. Flag On The Wall (Chris Janson, Eric Church)
11. All In* (Chris Janson/Dallas Davidson/Ashley Gorley/Zach Crowell)
12. Here and Gone (Chris Janson, Casey Beathard)
13. Things You Can't Live Without (feat. Travis Tritt) (Chris Janson/David Lee Murphy/Deric Ruttan/Chris Stevens)
14. Small Town Big Time (Chris Janson/Jimmy Yeary/Tim Nichols)
15. You Never Did (Chris Janson)
16. My American World (Chris Janson, Kelly Roland, Shane Profitt)
Produced by Tommy Cecil and Chris Janson
*Produced by Zach Crowell and Chris Janson
**Produced by Brad Clawson and Chris Janson