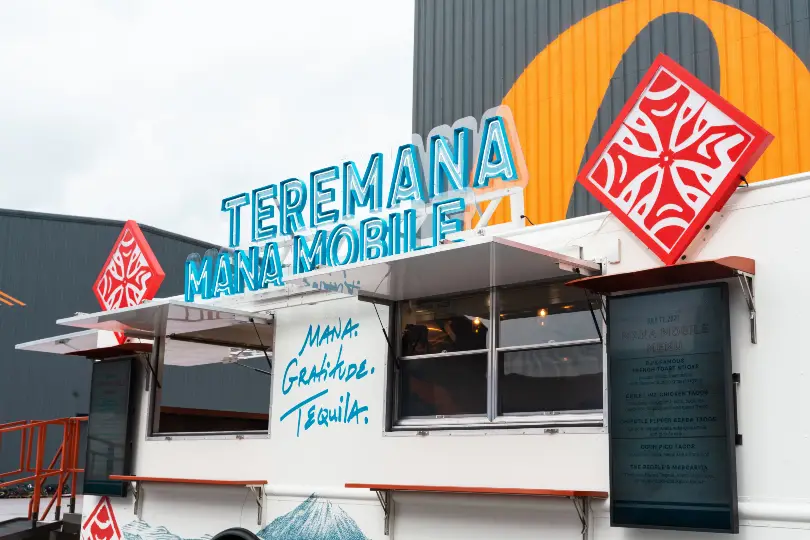 Teremana Tequila is coming to Nashville this weekend, and bringing along some special treats for locals and tourists. The company, founded by actor and athlete Dwayne "The Rock" Johnson, is bringing their Mana Mobile food and drink trucks to Music City at three different locations, taking place May 13 to 15. At each location, the Mana Mobile truck will offer complimentary tacos and French toast sticks to visitors.
The fun begins on Friday, with Mana Mobile parked outside the Ryman Auditorium. The truck will be parked at 116 Rep. John Lewis Way North, from 6:00 PM to 8:00 PM.
On Saturday, Mana Mobile will move to The Gulch. From 12:00 PM to 4:00 PM, the Mana Mobile truck will be parked at 1112 Laurel Street in Nashville.
Mana Mobile's final stop will be at The Parthenon in Centennial Park. From 11:00 AM to 1:00 PM, the truck will be parked at 2500 West End Avenue.
Mana Mobile is traveling across the country, visiting towns, communities and cities, including military bases, fire houses, hospitals and other locations, with a goal of sharing gratitude for the country's first responders, as well as encouraging people to support local businesses.
In addition to the free tacos and French toast sticks, the truck will offer Teremana Tequila cocktails (where available) crafted by Mana Ohana mixologists, along with other food inspired by Johnson's favorite cheat meals.
Johnson created Teremana with a specific goal in mind, one that is being carried out even more with Mana Mobile.
"I created Teremana to bring people together and I can't think of a better way to bring people together than bringing the Mana Mobile directly to them," Johnson said in a press release. "Our Mana Mobile will deliver delicious Teremana cocktails, fresh and amazing eats and a whole lotta gratitude to people, towns and cities across North America,"
Find more information at Teremana.com.