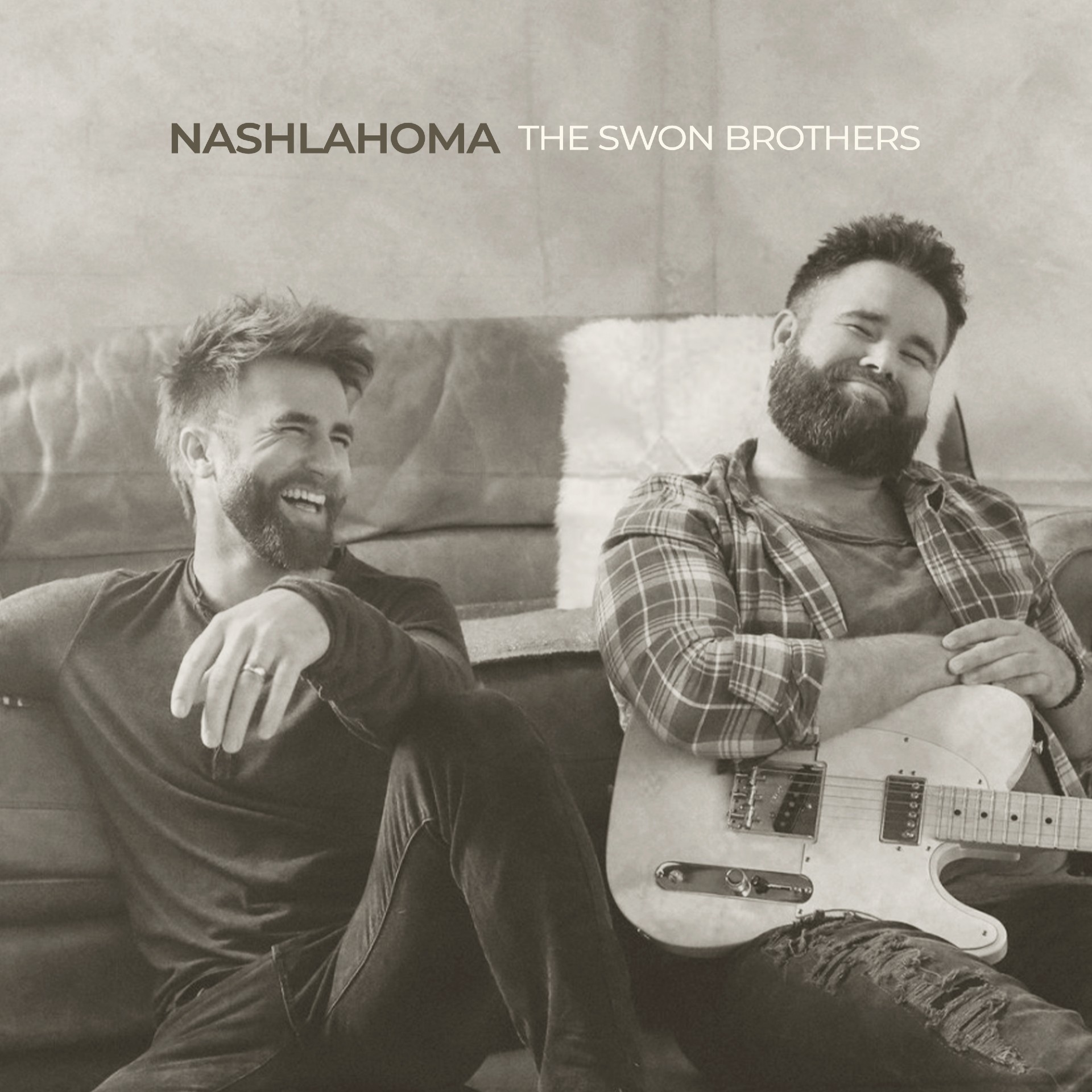 New music is almost here from The Swon Brothers! The duo, made up of siblings Zach and Colton Swon, will release Nashlahoma on Friday, November 20, marking their first full-length record in six years, but it was definitely worth the wait.
The 12-track record was not only produced by The Swon Brothers, but includes a list of hit songwriters who contributed songs to the project, including Florida Georgia Line's Tyler Hubbard and Brian Kelley, Little Big Town's Jimi Westbrook and Philip Sweet and more, as well as Country Music Hall of Fame member Vince Gill singing on one of the tracks, "Travelin' On," with them. Although they have known Vince for years, ever since their time on The Voice, The Swon Brothers never imagined that he would agree to sing on their latest album.
"One night we were at their 3rd and Lindsley, watching the Time Jumpers just do their thing and blow our minds," Zach recalled to Everything Nash. "He randomly just asked us to get up and sing 'Okie From Muskogee.' I didn't even know he knew we were in the room. That was pretty cool. That was the first time we met him in person. So I just called him and I said, 'Hey man, I don't know if this is out of line, or how to even go about this, but we have a song that kind of has an Eagles feel to it.
"And we think that your singing or guitar playing, or both, it would just make our day," he continued. "If you would even just listen to the song, and see if you'd be interested.' And he was like, 'I don't even need to listen to the song. Anything for an Okie. I'm in.'"
The Swon Brothers have had a lot of career highs since then, including touring with Carrie Underwood on her 2016 Storyteller Tour, but say having Vince on Nashlahoma is a new pinnacle for them.
"It's one of the high points of our career for sure," Zach admitted.
"It really is, seeing that on the back of the record, 'featuring Vince Gill,'" added Colton. "It's a song that we wrote from a really personal level, and for him to almost validate it saying, 'This is good enough for me to sing on,' that's a good feeling … It's really cool that he's taking on a song that really means something just kind of tells our journey, our musical journey a little bit."
The Swon Brothers' last album was released on Arista Nashville, but Nashlahoma is being released on their own, giving them a creative freedom they have been craving.
"One thing that has been cool about this is being able to do what we want, and with absolutely no restrictions," Zach acknowledged.
"That's been kind of a crazy journey for us this year, because we've never had this much music to release," continued Colton. "We've been popping out singles like every two weeks. It's very unorthodox. But we're just doing what we want, and it's pretty fun. It is. And it's all funded literally by fans. Our last four years have been nothing but independent and strictly driven by just people that believe in our music, and in us as people.
"It's cool that we get to pull the trigger on some things that we want to do," he remarked. "One of my favorite songs on the record is a song called 'Somewhere San Diego.' Literally, we wrote that the first year we were in Nashville, and for whatever reason, it didn't make it on earlier albums, and we always wanted it to. And we were right about it. It ended up being a fan favorite, and it's done really well. And so we're glad we get to do stuff like that."
The Swon Brothers might be eager to release a full-length record, but they admit it might not have even happened if not for the coronavirus pandemic.
"I think when COVID first hit, I think it was us just saying, 'Okay, let's take this time to be creative. Let's write some songs. Let's dig in; let's get some songs from some friends," Zach admitted. "But honestly, there was like a one-week window that we happened to have the studio booked. It was shut down the week before, and shut down the week after. And so I think it just kind of worked out. We got in, and we cut all the music tracks, with the band and everything. And then we came back home, and we worked on the vocals day in, day out.
"It was cool to take our time and to try weird things, and just be brothers in the studio," he added. "We argued and fought. There were times when I thought I was done singing, and he would make me sing some more, and vice versa. All the free time that we had, when shows got canceled, it turned into an album."
Nashlahoma, which also includes a collaboration with Lewis Brice, is available for pre-order at SwonBrothers.com.