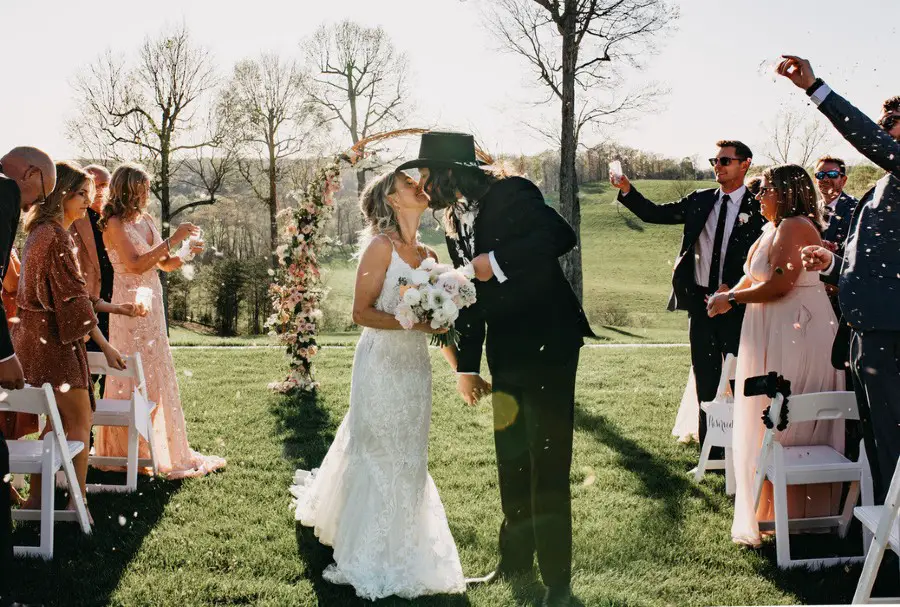 Adam Wakefield is married! The Season 10 runner up of The Voice wed his longtime girlfriend, Jenny Leigh, on Sunday, April 11, in Fairview, Tennessee, located just outside of Nashville. The couple, who got engaged in September, chose the private venue, True North, to hold their intimate ceremony, thanks to a personal connection with the venue's owners, Jim and Toni Turner.
"The property is meant to be a compass for always finding home there," Leigh tells People. "I went to college with the Turners' sons at Elon University, and they are the farm owners. When I did my Kickstarter to make an EP and move to Nashville, they were supporters."
Leigh and Wakefield moved to Nashville together to pursue music full-time, along with their good friend, Ryan Sorestad, in 2013, living in a cabin on the True North property for a lot longer than they intended.
"We ended up staying in the cabin for almost a year!" Leigh recalls. "It was a tiny one-room cabin with three bunk beds, but we fished, wrote songs and started building our music community there so it is a very special place to us. Ryan prepared an amazing message and married us where it all started for all of us here in Nashville."
The wedding had its own share of hurdles, as the couple tried to navigate safety precautions amid the COVID-19 pandemic.
"When we got engaged in September, [we didn't know] what the coming year would look like," Leigh acknowledges. "Although there was a ton of family and friends that we would've loved to include, we decided to scale back to include immediate family and mostly local friends/colleagues to minimize travel and allow for the safest environment possible."
"We've been dating for the better part of 10 years and have our sights set on starting a family, so having a long engagement and pushing the wedding back to the fall or next year didn't appeal to us," she continues. "One of the toughest parts of this decision is that some of our closest family members were the furthest away. Adam's mom, Marsha, lives in Scotland so we had to make sure she could safely make the journey."
The outdoor wedding was everything the couple wanted it to be, even with a few now-comedic moments.
"It was windy on the hill, so both of us were holding on to Adam's piece of paper with his vows for dear life so that it didn't blow away," Leigh remembers. "We also had to warn our officiant of several 'boobie traps' that were surrounding the arch to keep it in place so that he didn't trip. Adam and I built the arch out of willow branches, and my dad stepped in to secure it with pipe clamps and fishing wire. The florals were heavy so it took a group effort to make sure it stayed in place!"
Wakefield proposed to Leigh in front of her family while together in Maryland.
"I knew I wanted to propose to Jenny in front of her family," the Texas Hill singer told PEOPLE. "They're such great people, and I already feel like they treat me like family. I was originally going to put it in a crab shell, but luckily I was talked out of that one."