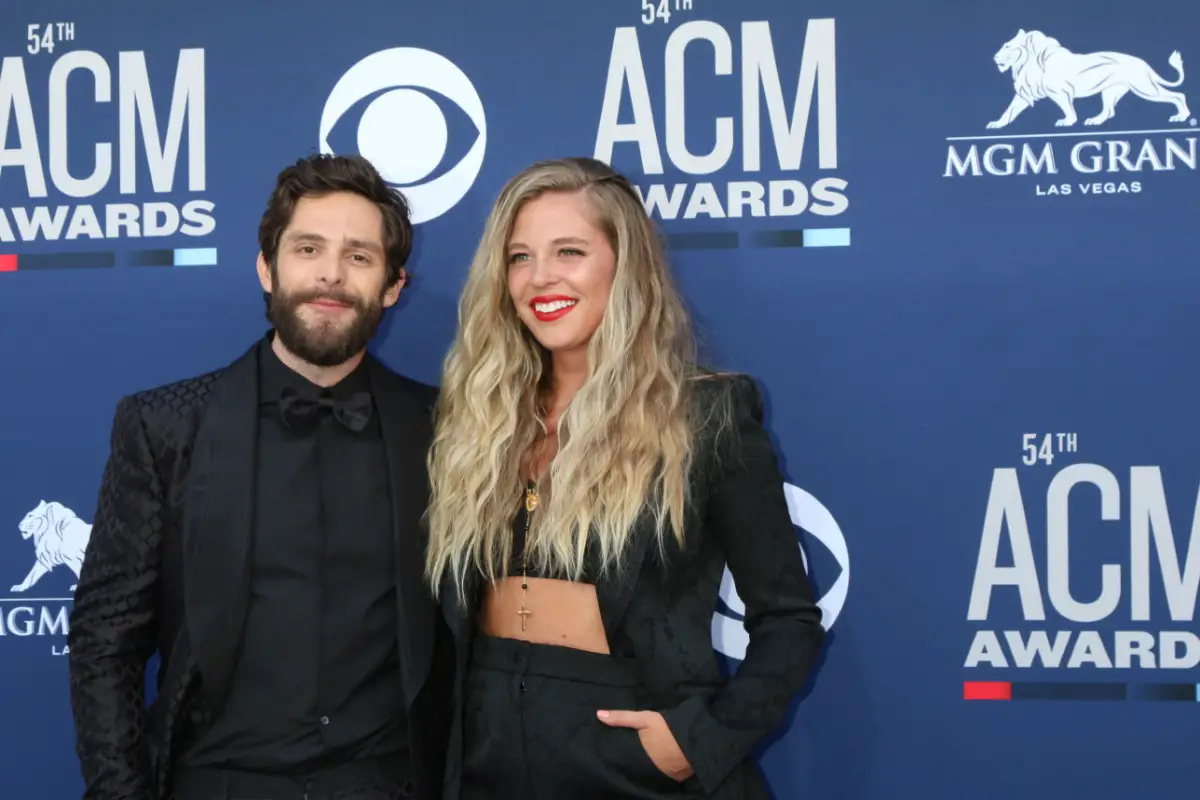 Thomas Rhett wed Lauren Akins, in October of 2012, one year before his debut It Goes Like This album came out. The singer was still learning how to be married, while adjusting to life as an artist, which is why Rhett and Akins' early years as husband and wife were spent largely on the road. It was Akins' father, who owns a charter jet company, and has flown celebrities all over the world, who warned Rhett that he needed to prioritize his new marriage if he wanted it to last.
"I remember, before me and Lauren got married, he was like, 'You better keep your head on straight,'" Rhett revealed on the Making Space with Hoda Kotb podcast (via Today). "He was like, 'You better not do anything out there on the road, because I promise you, I've seen it and I will call you out immediately.' And I was like, 'You don't have anything to worry about.'"
Still, Rhett was ill-prepared for what life would be like as a rising star, until he had an unfortunate encounter, which forever changed how Rhett lives while on tour.
"I got into it, (and) I quickly realized how easy that could be without the right boundaries put in place," Rhett said. "I remember my first year on the road, somebody grabbed my butt onstage, and I was torn up with guilt and shame."
Rhett told Akins as soon as he could, and then put a rule in place, one that he still adheres to today.
"I told my tour manager, told my team, I was like, 'Hey, unless you're a sister or someone who's dating someone in the band, there can't be anybody back here that we don't know,'" Rhett shared. "Because that was my boundary … I knew that if I started to let this slide and that slide and that slide, that it could have gotten bad."
Akins has a degree in nursing, one that she has yet to use in a professional capacity, since she instead went with Rhett on his radio tour, heeding the advice of their marriage counselor.
"You're gone for like eight months and you're literally visiting every country radio station in the country," Rhett said. "So if she had gone to work in the hospital and I'd gone to do that, our first year of marriage would have been completely just split apart."
Rhett and Akins dated when they were younger, and then broke up and both dated other people. They might still not be together, if not for a blunt conversation Rhett had with Akins while at her sister's graduation party.
"I was just like, 'Look, [I've] been in love with you since I was 16 years old,'" Rhett recounted on SiriusXM's Exit 209 with Storme Warren Podcast. 'I just signed a record deal. I'm not sure if you're gonna enjoy this life. But, I feel like we should at least give dating one more shot, just so I can check it off my list. Because I can't really be friends with you. We're either gonna date and get married or we're moving on.' So, we started dating for like three months, and I just knew. After three months of dating, she was like, 'So when are we gonna get married?' 'Cause there was no dating that needed to happen. We already knew everything about each other. We knew each other since we were really little kids."
Rhett's latest album, Where We Started, is out now. He will kick off his Bring The Bar To You Tour in June, with Parker McCollum and Conner Smith serving as his opening acts. Find music and tour dates at ThomasRhett.com.