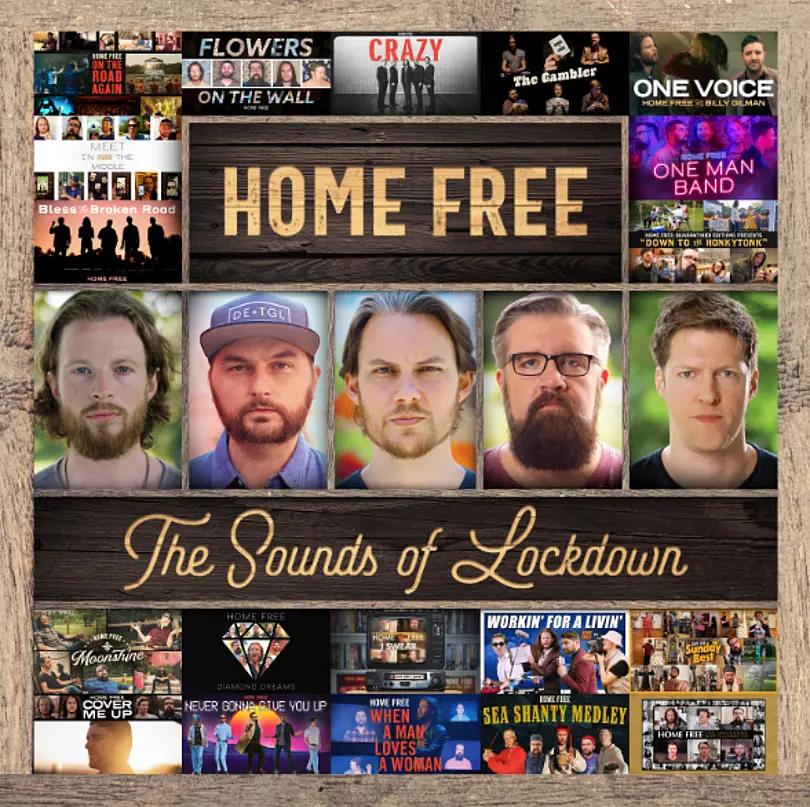 A new album is on its way from Home Free! The five-man group just announced the release of The Sounds of Lockdown, out in May. The record is made up of songs Home Free recorded while off the road due to the pandemic.
The news comes only a few days after Home Free posted an April Fool's joke, announcing their fictitious Shame on Me album.
The 20-track album includes some of their best covers, including "On The Road Again," "Crazy," "The Gambler," "Bless The Broken Road" and more. The record also features their "One Voice" collaboration with Billy Gilman, as well as their" I Still Haven't Found What I'm Looking For" duet with Peter Hollens.
Home Free has sung with plenty of artists, but they still have a dream list of singers they would like to collaborate with in the future.
"We're real country music fans," Austin Brown tells Everything Nash. "So we look up to everybody in this industry … We know that Dolly Parton has at least heard a pitch from us. She was interested last year, and she was like, 'Maybe next year,' 'cause she had a thing last year. So who knows. There's no validity to that. That's just a hope. Ideally, we'd love to work with Dolly. And one of my favorite artists in country music of all time is Travis Tritt. I'd really love a chance to get to work with him."
Home Free's last full-length album, Land of the Free, was released in June of 2021. Since then, Home Free has spent much of their time on the road, resuming their Dive Bar Saints Tour, which had to be postponed because of the pandemic.
See a track list for The Sounds of Lockdown below. Pre-order the album and find tour dates at HomeFreeMusic.com.
The Sounds of Lockdown Track List:
On The Road Again
Flowers On The Wall
Crazy
The Gambler
One Voice (Ft. Billy Gilman)
Meet In The Middle
Amazed
Bless The Broken Road
Down To The Honkytonk
One Man Band
Moonshine
Diamond Dreams
I Swear
Workin' For A Livin'
Sunday Best
Cover Me Up
Never Gonna Give You Up
When A Man Loves A Woman
Sea Shanty Medley (Extended Version)
I Still Haven't Found What I'm Looking For (Ft. Peter Hollens)