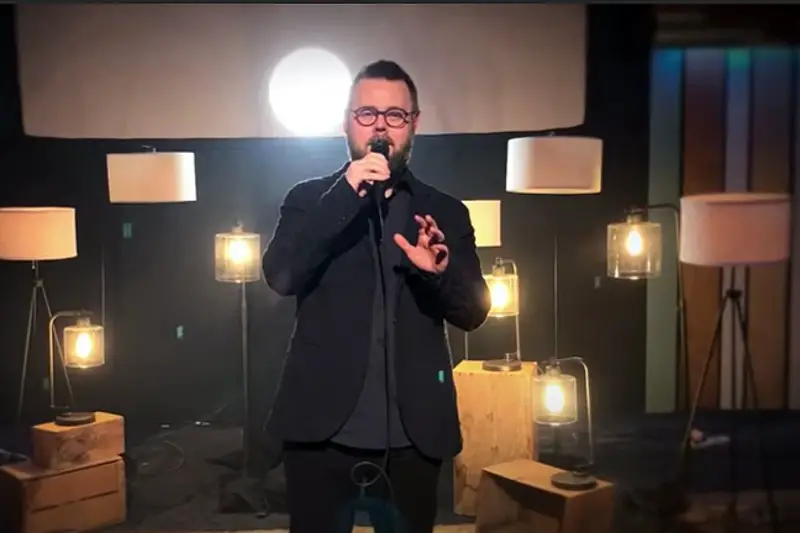 Todd Tilghman and his wife, Brooke, will release Every Little Win: How Celebrating Small Victories Can Lead to Big Joy, on June 22, The book tells both the highs and lows of their own life, including one of the biggest personal struggles of their relationship, which also led to one of their biggest blessings.
"When my wife Brooke tried to divorce me, a few years into our marriage, that was a huge turning point for us," Tilghman recalls to Authority Magazine. "Adopting our two daughters from South Korea is an interesting story, too, especially when we didn't have two pennies to rub together. But, I guess I can say that if our family hadn't almost fallen apart in 2002 — and come back together — then none of the other stories that we share in the book would have happened. We've seen a lot of victory in a story that started out pretty scary. Because our marriage survived, we have this beautiful story to tell."
Tilghman inspired millions when he competed on Season 18 of  The Voice, becoming the oldest winner in the show's history, when he was 42 years old. It was a surprising accomplishment, even for Tilghman, who imagined he would continue pastoring in his hometown of Meridian, Mississippi for most of his life.
"I will say one of the things I wish somebody would've told me is that I am, I really am, good enough to do this music thing," the father of eight reflects. "That would have helped me a lot. No one ever told me that I was bad, but I do think a lot of people sort of just assumed that I was going to be singing in the church, and that was all I was going to be doing. That I was going to stay in Meridian, Mississippi, and that's where I was destined to be. I'm not trying to say anybody was rude or anything, but it would've been nice if somebody would've just told me that I could do this."
Tilghman, who admits he became known as "The Dad" while on The Voice, quickly learned that he had a story that resonated with plenty of people.
"Until I went on the show, I didn't feel like anybody wanted to directly hear about my life. I didn't know if I even had a message," Tilghman reflects. "Going on that show, for the very first time in my life I thought, 'Wow, you know, I guess people do want to hear what I have to say and hear what I like.' Even the talent part, with my singing, I never imagined that a larger audience would be drawn to it. I guess seeing what happened on The Voice opened my eyes to all that.that it opened my eyes to that.
After Tilghman won The Voice, he relocated with his family to just outside of Nashville to pursue music full-time, although the move wasn't without its own set of challenges.
"I wish somebody also would've told me how scary stepping out to follow your dreams would be," shares the singer. "Once you get neck-deep into it, you just have to keep the faith because it is scary. Right now I'm still thinking about getting shows booked to support my family. The scary isn't over yet."
Every Little Win is available for pre-order here.*
*Everything Nash has an affiliate relationship with Amazon, which means we may receive a small commission from purchases made through links on this page, at no additional cost to the authors or consumers.