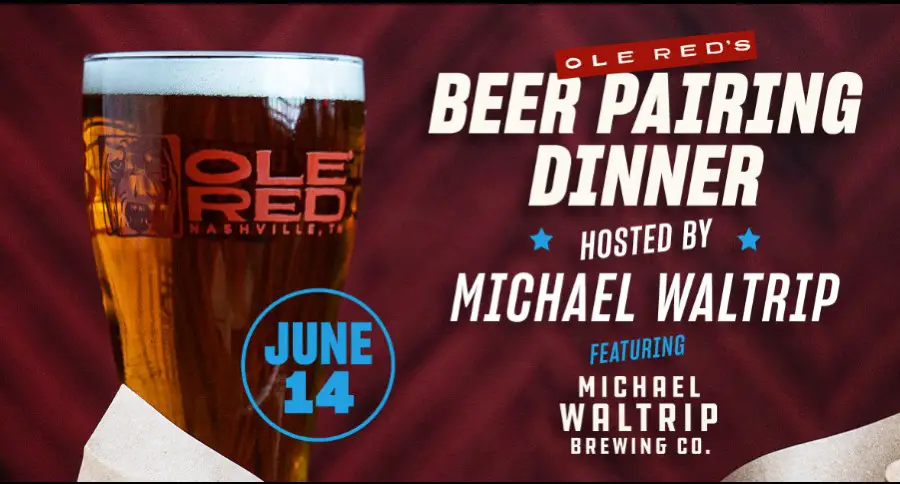 Professional race car driver Michael Waltrip is celebrating the launch of his Michael Waltrip Brewing beer with a special dinner at Blake Shelton's Ole Red in Nashville. The event, which will take place on Monday, June 14, from 6:00 to 8:00 PM, will feature a specially-crafted menu, including Spicy "Sushi Style" Tater Tots, Redneck Tamales, Peach Cobbler and more, with each course paired with a taste of one of Waltrip's beers, along with a chance to meet Waltrip and get his autograph.
"At Ole Red we are always itching to have a little fun and that includes what is on your plate," Joe Denomme, Executive Chef at Ole Red, says of the event. "We are so excited to partner with Michael Waltrip Brewing, to offer both a first taste of his new brew to Music City and a unique, one-night-only dinner menu with an Ole Red twist. Start your engines…and bring your appetite!"
Waltrip's beer will be available in Nashville on July 5. The beer pairing dinner comes less than a week before the inaugural NASCAR Cup Series Weekend at Nashville SuperSpeedway, which takes places June 18 to 20.
Ole Red, which now has four locations, including in Orlando, Gatlinburg and Tishomingo, Oklahoma, began when Ryman Hospitality Properties Chairman and CEO Colin Reed reached out to Shelton about the idea of a new business venture.
"Colin started saying to me, 'Let's do a restaurant together," Shelton recalled (via Country Now). And by now I think I had been on The Voice for a minute, and I was just thinking, 'Oh my God, I don't have time.' Even back then, [he was] saying, 'Let's call it Ole Red.' I was going, 'What is wrong with him?! Let's go shoot a duck! That's what I came here to do!'"
"He said the magic words, which were, 'This isn't like a restaurant, you know, this is a music venue,'" he continued. "And for me, when I moved to Nashville…really, the only gigs I could get performing were songwriter nights. Well, I wasn't a hit songwriter, so I was kinda just stuck in the middle there. I wanted to be a country singer, [but] there wasn't really a place for me."
Tickets are still available for the Waltrip beer pairing dinner. Find more information here.