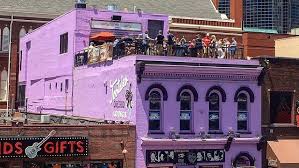 One of the most famous venues in all of Nashville, Tootsie's Orchid Lounge has been around for more than 60 years! The honky-tonk, located behind the Ryman Auditorium, has welcomed artists such as Willie Nelson, Kris Kristofferson, Waylon Jennings and more, and still draws in some of Music City's biggest artists, who all want a chance to perform on the iconic stage.
Tootsie's, purchased by Tootsie Bess (real name: Hattie Louise Bess) was originally named Mom's, but changed to Tootsie's Orchid Lounge after a painter surprisingly painted the lounge purple! Tootsie's might be known for its musical heritage, but they also serve a full menu, including burgers, salad and pizza.
Tootsie's Orchid Lounge is located at 422 Broadway.