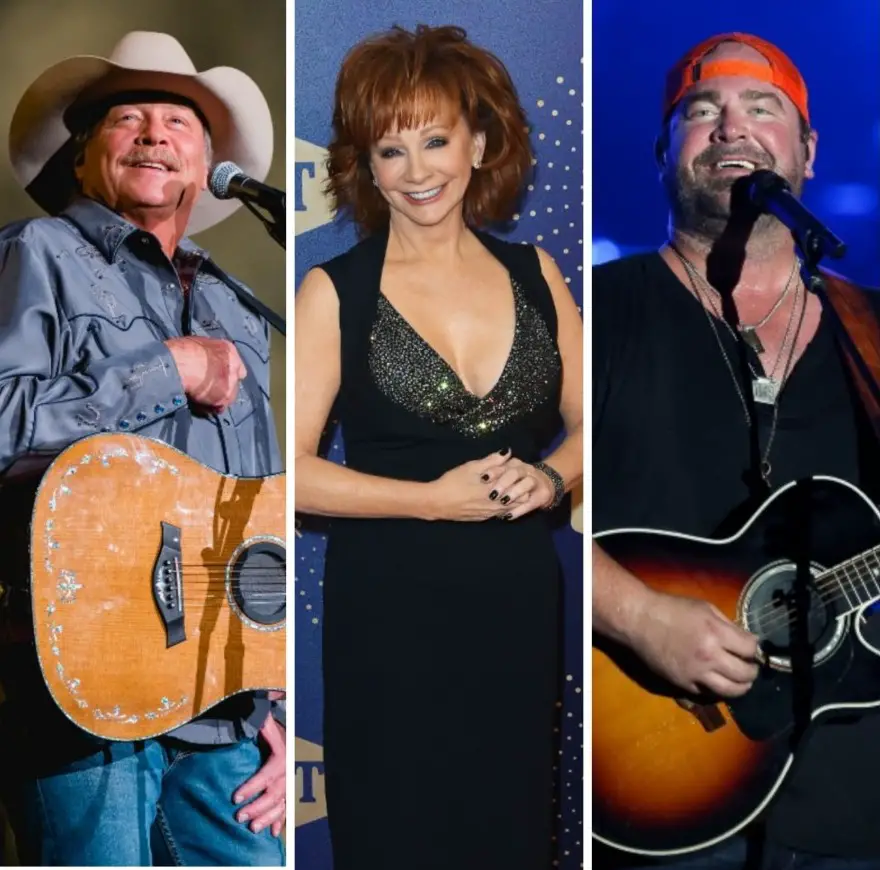 Father's Day is on June 19 this year, celebrating all of the men who take on the role of a father in some capacity. We have ten songs to help honor all of the men who deserve to be celebrated on Father's Day — and every day.
10. "Watching You," Rodney Atkins
"Watching You," which Rodney Atkins wrote with Brian White and Steve Dean, is from Atkins' 2006 If You're Going Through Hell album.
"Rodney was coming into the writing appointment, and he was late by a few minutes," White recalled to The Boot of the inspiration for the song. "He said, 'I'm sorry, guys, I had to stop by the daycare and talk to Elijah's teacher. She wanted to talk to me because Elijah was standing in line going, 'If you're going through hell, hell, hell.'"
9. "I'm Already There," Lonestar
Lonestar's Richie McDonald wrote "I'm Already There" with hit songwriters Gary Baker and Frank J. Myers, and was inspired by McDonald's son, Rhett, when he was just four years old.
."When were gone for like six weeks, I called home one night and he said, 'Daddy, when you coming home?'" McDonald recalled on the Today Show. "It's a song that I wrote, that we basically live night after night from a phone conversation morphed into something a lot bigger."
8. "My Old Man," Zac Brown Band
It's hard to get through Zac Brown Band's "My Old Man" without shedding a tear of two. Written by Brown, along with Niko Moon and Ben Simonetti, the song was written as a way to honor the relationship between a father and his own son.
"The parent-child relationship is a super-unique dynamic, but especially with a father and a son," Moon told Billboard. "We all thought it was something that was worth spending time on and talking about in a song."
7. "Just Fishin'," Trace Adkins
Casey Beathard, Monty Criswell, and Ed Hill wrote "Just Fishin'," but Trace Adkins instantly related to the song the first time he heard it.
"'Just Fishin',' sounds like it's some redneck thing, but it's a song about a father going fishing with his little girl, and she thinks it's just fishin', but it's about much more than that," Adkins told The Boot. "As a father of daughters, it hit all the right buttons. I've taught all my girls to fish, and it's about the lessons that you learn from teaching your children to fish. It's the time that you spend together doing it. That's what's really important."
6. "Boy," Lee Brice
Lee Brice is the father of two boys, but he didn't write "Boy." Written instead by Nicolle Galyon and Jon Nite, Brice said there are few songs written by someone else that he related to as much as this one. The song was released in 2017, shortly before Brice and his wife, Sara, welcomed their daughter, Trulee.
"First, Sara and I have two sons, Takoda and Ryker. This song is a tribute to them," Brice said at the time (via CMT). "It's my way of saying how proud I am to be their dad."
"We have a daughter on the way in a couple of weeks," he added, "and we wanted to share this song for our boys before she arrived."
5. "You Should Be Here," Cole Swindell
Talk about a song that tugs on the heartstrings. Cole Swindell wrote "You Should Be Here" with his good friend, Ashley Gorley, about the loss of his own father. The video starts with footage of Swindell speaking with his father on the phone, and shows highlights of Swindell's career, as well as the singer visiting his father's grave for the first time.
"Once you see your last name in stone … we didn't know if that was even going to be in the video; the cameras were way off," Swindell recalls. "They gave me my time out there, but they used some of that clip, because it was so real. There's no second takes on that one. But I think it made the video more powerful."
4. "The Greatest Man I Never Knew," Reba McEntire
Richard Leigh and Layng Martine Jr. penned "The Greatest Man I Never Knew," which was recorded by Reba McEntire, but inspired by Leigh's own life. The song tells the story of a father who was proud of their child, but lacked the words to express their feelings. The song, which says in part, "The greatest words I never heard I guess I'll never hear / The man I thought could never die has been dead almost a year / Oh, he was good at business but there was business left to do / He never said he loved me. Guess he thought I knew," was a sentiment Leigh knew all too well.
"There is the line, 'The greatest man I never knew lived right down the hall,'" Leigh told Music Connection. I was asked, "If the guy lived right down the hall from someone, how could he not know him?"
3. "He Didn't Have to Be," Brad Paisley
"He Didn't Have to Be" was Brad Paisley's second single, and his first No. 1 hit. Paisley wrote the song with Kelley Lovelace, with the story inspired by Lovelace's own stepson, McCain Merren.
"'He Didn't Have to Be' was probably the most life-changing three minutes that I've ever written, because I really believe we wouldn't be sitting here anymore talking," Paisley said (via Wide Open Country). "Maybe we'd be sitting here with me having written a No. 1 song for somebody else, but I don't think I'd still have a record deal without that song. It broke the ice for me with radio. It was like you could see potential in it, and that's an important thing. I was really lucky, it wasn't like we knew what we were doing. I just happened [to write] that with my best friend from the bottom of my heart about his situation."
2. "Drive (For Daddy Gene)," Alan Jackson
Alan Jackson wrote "Drive (For Daddy Gene)" by himself, inspired by his own father, Eugene Jackson, who passed away in 2000, two years before Jackson released the song.
"I played a show a show down in Georgia Saturday night, and I flew home late. I got up at three or four in the morning, and that's when the song came, just out of nowhere… I got up, came down here, and put on a digital recorder," Jackson told Billboard. "I just sang it, didn't even play guitar. I just sang the melody and lyrics right into it and went back to bed. I got up the next morning, and the girls went to Sunday School while I finished writing the verses. It just came out. I think it was a gift and I'm just a messenger for it. It's a very special song."
1. "Love Without End," George Strait
Aaron Barker wrote "Love Without End, Amen," which became a multi-week No. 1 hit for George Strait. The song was, unfortunately, inspired by an incident in his own life, when Barker's 16-year-old son had taken his dad's car out for a drive one day, and hit a curb hard enough to make one of the wheels on the car land on top of the hood of another driver's brand-new Porsche.
"He got this car, and he went some places he shouldn't, and on this particular day, it was bad," Barker recalled to The Tennessean. "That Porsche, the guy had just picked it up that day for his birthday. And he was great about it. He kind of laughed about it with me. But that was the night it really came to the reality that I had to be the dad. I couldn't just be his friend. And I got on him pretty hard, and he finally went to bed. It was a school night, and I did what I call 'getting on my knees and playing.'"