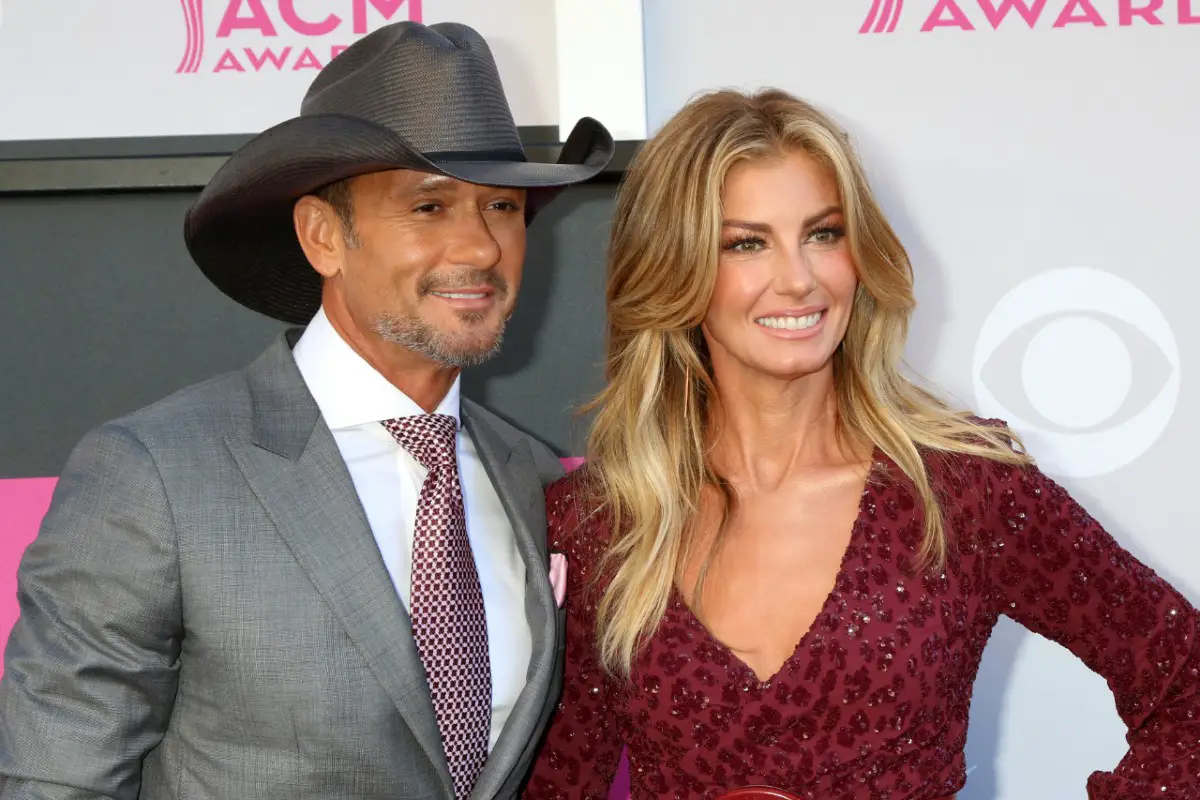 Tim McGraw and Faith Hill fell in love on the road, when she was serving as the opening act on his appropriately-named Spontaneous Combustion Tour in 1996. By the end of the year, the two would be married, with Faith very pregnant with their oldest daughter, Gracie, when they filmed their first music video together one year later
In honor of Valentine's Day, it seems only fitting to look at eight of the couple's sweetest, and sexiest, duets.
8. "Let's Make Love"
This steamy song was included on Hill's multi-platinum selling Breathe album, released in 1999. The song, written by Marv Green, Chris Lindsey, Bill Luther, Aimee Mayo, is pretty self-explanatory, with the video, shot in Paris, France, giving a glimpse into how in love the couple remains.
7. "The Rest of Our Life"
"The Rest of Our Life" is the title track of the couple's 2017 duets album together. Co-written by Ed Sheeran, the song immediately resonated with both McGraw and Hill.
"Both Tim and I agreed the first time we heard that song, it reminded me of us, and the feeling that we had the first time that we admitted and decided that we were gonna be married," Hill recalled, via Songfacts.
"There was a comfort and a security about that moment that resonates in this song," McGraw added. "It's got such an intimacy to it; I think that's what really attracted us as well."
6. "I Need You"
"I Need You" is from Tim's 2007 Let It Go record. Although billed as a duet, the two never actually sing together, instead taking turns singing lines.
"I didn't want our voices to ever touch," McGraw told CMT. "I thought that would be cool if we sang a love song without our voices ever touching. It just kind of creates some tension. And she did a beautiful job on it. To sing with her is just tough, though … She's just a great, soulful singer, and I'm always scared I'm just gonna screw her up if I'm involved."
5. "Speak to a Girl"
"Speak to a Girl" was the first single released from The Rest of Our Life. The song, written by Shy Carter, Dave Gibson, and Joe Spargur, was important to the couple because of their three daughters.
"The message of the song is just so profound," McGraw told Taste of Country. "It just meant a lot to both of us I think about what it said. And the day and age that we live in, sometimes in all the noise, how you speak to someone person-to-person and face-to-face gets lost."
4. "Just to Hear You Say That You Love Me"
Dianne Warren penned this sweet love song, which was on Hill's eponymous third studio album, released in 1998. The video was in black and white, and had a lot of close-ups, especially of Hill, since she had just given birth to their second child, Maggie, and was holding her for much of the video shoot.
"Just to Hear You Say That You Love Me" was first recorded by pop star Chynna Phillips in 1995.
3. "Meanwhile Back at Mama's"
"Meanwhile Back at Mama's" was on McGraw's 2014 Sundown Heaven Town album. Written by hit tunesmiths Jeffrey Steele, Jaren Johnston and Tom Douglas, the song impacted McGraw before he even finished listening to it for the first time.
"I mean within the four measures, I knew I was going to record this song," Tim said (via WYRK). "The second time I heard it, I played it for Faith and she instantly loved it too, and I asked her if she'd sing it with me, and she said she would."
2. "Like We Never Loved at All"
"Like We Never Loved at All" is from Hill's 2005 Fireflies album. Although the song ended up being a big success, it was a brave choice for the pair, since the song was about a couple who was navigating a split. While they never spoke publicly about it, it is believed that the couple was trying to channel George Jones and Tammy Wynette in the accompanying video.
1. "It's Your Love"
"It's Your Love" is the song that first gave a hint of the musical magic McGraw and Hill could make together. Included on his 1997 Everywhere album, the song became a six-week No. 1 hit at country, peaking at No. 7 on the pop charts as well.
"We were dating at the time, and we were in the middle of a tour together," McGraw recalled, (via The Boot). "I remember I had a place out in Leiper's Fork [outside of Nashville] and the bus was sitting there. Missi [Gallimore, wife of producer Byron Gallimore] showed up with that song and we went to the back of the bus to listen. I instantly knew I was going to cut it. I played it for Faith and told her I wanted her to sing on it. We both really felt like we had something."
Hill was noticeably pregnant in the video with their daughter, Gracie.