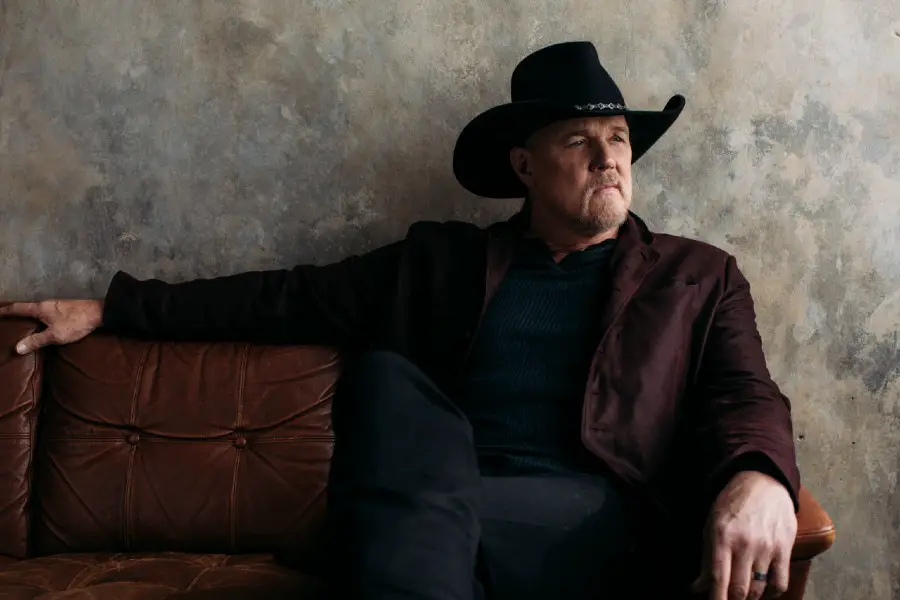 Happy birthday, Trace Adkins! The Grand Ole Opry member turns 60 on January 13. We already know Adkins is an actor, who will star in Monarch later this year, opposite Susan Sarandon, and a successful country music singer.
Adkins is one of the few artists who has not only managed to continue having success for decades, but also continues to transform himself as well. Get to know Adkins even better, with these 11 facts about the reigning hitmaker.
1. He lost his pinky finger.
Adkins was opening a bucket with a knife, when he accidentally cut off his pinky. He had the doctors reattach it at an angle so he could continue to play guitar.
2. He also almost lost his nose in a car accident.
When Adkins was 17, he rear-ended a school bus when his windows fogged up in his vehicle. In addition to breaking some ribs and puncturing both lungs, his nose was partially torn off and had to be reattached.
3. He got his record deal by meeting producer Scott Hendricks in baggage claim at the airport.
"I was introduced to him at the baggage claim at the airport," Adkins told NPR. "And he was – just my speaking voice. He was like, 'Can you sing?' I was like, 'A little bit.' And I invited him to come out and hear me sing in a little club I was playing at. I didn't expect him to come out, but he did. He came out that weekend. I did the first set, and I turned around and put my guitar down on the stand. I was going to take a break. And he walked up on stage and he said, 'I'll give you a record deal.'"
4. He was shot by his second wife, Julie Curtis.
Adkins was married to Julie Curtis when, in 1994, the couple had a heated argument about his drinking. Angry, Curtis aimed a gun at Adkins and fired, severely wounding him.
"Being a macho guy like I am, I tried to scare it out of her hand," Adkins later recalled. "I said, 'Give me the gun, or I'm gonna take it away from you and beat your damn brains out with it.' I would never have done that, but I told her in hopes that it would scare her."
"The bullet went through both my lungs and both ventricles of my heart," he said, adding, "The doctors held little hope that I would survive and told my family and friends to go in and say goodbye."
Adkins declined to press charges, but the couple divorced shortly after the incident.
5. He lost his younger brother in a car accident.
Adkins joins the ranks of Blake Shelton and Luke Bryan who have endured the loss of a sibling. Adkins' younger brother, Scott, was killed in 1993 at the age of 21, when the pick-up truck he was driving overturned. Until his death, Scott was one of his big brother's biggest fans.
"He loved to hear me sing and be around that," Adkins said (via The Country Daily). "He went out on the road with me one summer while I was playing clubs and he just loved it. We were ten years apart.
6. He is sober
Adkins has had a long history of fighting alcohol addiction, but after two stints in rehab, including one in 2014 after getting into an altercation with an impersonator of him on a cruise ship, the singer went to rehab to deal with his addiction.
"I don't feel the need to [drink] because of the industry or the business I'm in. It's got nothing to do with that," he later told Rolling Stone Country. "That's all on me."
7. He hates snakes.
At 6'6″ tall, there isn't much Adkins is afraid of, but he is terrified of snakes.
"I don't like any kind of snake," Adkins told The Boot. "I grew up in Louisiana where there were a lot of snakes, and they were all dangerous, it seemed like. I just never have liked them."
8. He is married to a Canadian actress.
The fourth time must be the charm for Adkins! In 2019, he wed Canadian actress, Victoria Pratt, in his home state of Louisiana. Her numerous credits include CSI: Crime Scene Investigation, Castle and Hawaii Five-0, among others. The couple met on the set of The Virginian, since both of them starred in the film. Adkins' good friend, Blake Shelton, officiated the wedding.
9. His worst gig involved a death at a wedding.
It's true! Adkins was playing for a wedding reception when things went horribly, horribly wrong.
"We played the song for the bride and groom to dance to, and the next song was going to be grandparents and the parents and all that," Adkins told Taste of Country. "So, we started the second song and about halfway through, Grandma fell dead on the floor. And we were still playing, and finally, the father turned around and yelled, 'Stop! For God's sake, stop playing. My mother's dead.'"
10. He loves his long hair. 
Adkins has had long hair for much of his adult life, and says he will likely always keep it because of how easy it makes his life.
"This is an absolute zero maintenance 'do,' he told CMT. "I can shampoo it, condition it, run a brush through it, let it dry, put it in a pony tail and I'm good to go. I will never take a blow dryer or anything like that with me on the road. So, if I cut my hair, it's going to the GI buzz cut, and that's 'cause that's pretty low maintenance, too.
11. His daughter, Brianna, almost died due to a peanut allergy.
When she was only nine months old, Brianna grabbed the lid to a peanut butter jar, and had an immediate — and potentially lethal — reaction.
"There didn't seem to be any peanut butter on it, but the reaction was almost immediate," Adkins recounted (via People). "She began to swell up, to where she was almost unrecognizable when she got to the emergency room. Just from the protein on the lid."