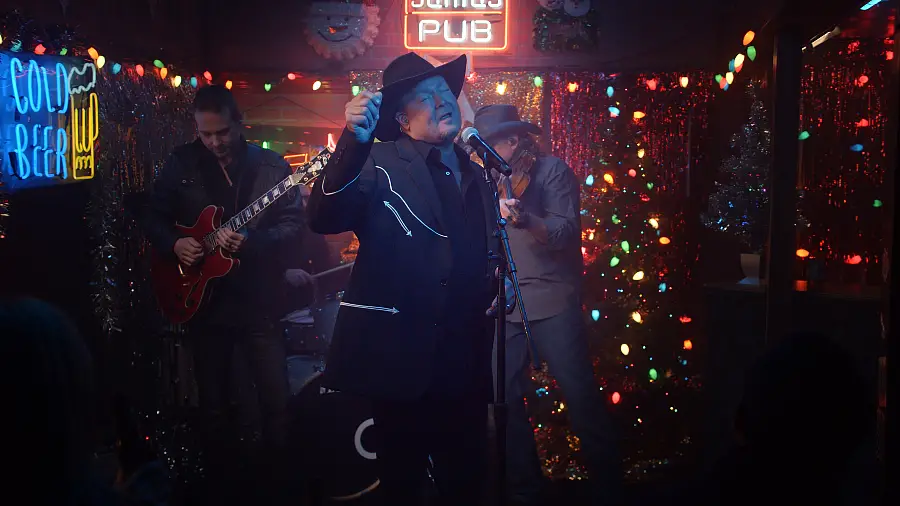 On Wednesday, December 8, CMT celebrated the holidays by getting several artists together, including Tracy Lawrence, Amy Grant, Wynonna Judd and more, for CMT's A Tennessee Kind of Christmas. The night was filled with performances from all over Nashville, including Cheekwood Gardens and Historic RCA Studio B, among others. Keep reading for a few of our favorite performances of the night, along with some of their favorite Christmas memories.
1. Amy Grant, "Tennessee Christmas"
Few artists' voices evoke the holiday spirit like Amy Grant. The gospel singer, and wife of Vince Gill, has for years become the soundtrack to people's holiday celebrations, and this year is no exception. Grant performed a stunning version of her own classic hit, "Tennessee Christmas," at Cheekwood.
"I think I'm called the queen of Christmas because I recorded so much Christmas music," Grant tells CMT. "But now I'm so grateful because I think those holiday tunes will outlive me. Whether you're a churchgoer or not, it's no surprise that Jesus is a part of the holiday."
2. Sara and Olivia Evans, "O Holy Night"
Sara Evans was joined by her (very) talented daughter, Olivia, for their take on this holiday classic. The mother and daughter performed "O Holy Night" at Nashville's Clementine Hall, and although Olivia is supporting her mother, her talent shone through in their performance.
Evans also reminisced about her favorite Christmas memories as a child.
"My Granny Floyd was perfection," Evans says. "My earliest holiday memories were of going to Granny and pawpaw's for Christmas Eve. And Christmas morning, my mother made this amazing breakfast. We would have everything you can think of. That became our tradition."
3. Tracy Lawrence, "Cold Beer"
Forget the milk and cookies, and celebrate Santa with an ice cold beer instead. Tracy Lawrence performed this humorous song, appropriately, at Santa's Pub in Nashville.
Lawrence, who just hosted his 16th annual Mission:Possible Turkey Fry, frying 500 turkeys to benefit the Nashville Rescue Mission, fries even more turkeys at Christmas.
"I fry two or three turkeys because we have 20 or 30 people at the house for Christmas," he says of his family's traditions. "It's by far my favorite holiday of the whole year."
4. Wynonna Judd, "Mary, Did You Know"
Wynonna Judd also performed from Cheekwood, this time from indoors, at the Cheekwood Mansion and Museum. Judd has been performing, "Mary, Did You Know" for years, putting her country and rock spin on this holiday favorite.
Judd also recounted her favorite Christmas moments as a child, long before any of the Judds had any success at all.
"My memories of growing up in rural Kentucky were my mom and my sister and me in our pajamas," Judd recalls. "We had nothing, but we had everything. One of the things we did for gifts was learn songs, and we would sing, and we would eat. We had no TV or telephone, so it was up to us to have creative opportunities."
5. Billy Ray Cyrus, "Blue Christmas"
If anyone can cover Elvis Presley, and do it well, it's Billy Ray Cyrus. Cyrus took the song to an entirely new level during his performance, appropriately at Historic RCA Studio B. Presley would undoubtedly be proud of this performance.
Cyrus, who says he pours water on his driveway to make a skating rink every year, tries to remember what the Christmas holiday really means each year.
"I love Frosty, Rudolph and Santa, but it's really all about Jesus," he says.