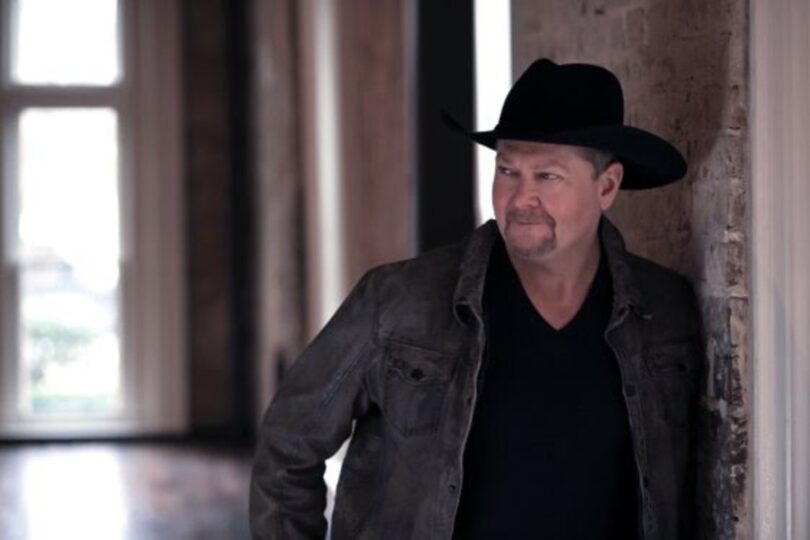 Tracy Lawrence just dropped two new tracks from his upcoming three-volume compilation, Hindsight 2020. The country music star just dropped "Struggle Struggle" and "Stairway to Heaven Highway to Hell," with the latter also serving as the title track of the first Hindsight 2020 project, which is scheduled to be released on April 23. Lawrence enlisted the help of hit songwriter Craig Wiseman to help him pen "Stairway to Heaven Highway to Hell."
"We had one of those driving shows out in Ventura, California, back in the summer," Lawrence recalls to Everything Nash. "It was pretty much the only one that I did where you had the stage set up at the fairgrounds, and people come in their cars, and play the show through their car stereo. They set the stage, and they brought all different genres of music … We went up there and did one of those shows. I was talking to my manager on the plane. I said, 'I got this idea. I just don't know who to write it with me: Somewhere between the stairway to heaven and the highway to hell. I really can't believe nobody's ever written that song.'"
Lawrence has been fortunate to write with some of the biggest writers in country music, but never sat down with Wiseman until he had the idea for "Stairway to Heaven Highway to Hell."
"I'd never written with Craig Wiseman, but we've got a lot of mutual friends," Lawrence says. "I've done a lot of stuff in the past, but I've always wanted to write with him. I said, 'He might be the right guy. This is kind of his forte. This is what he does.' So I got on the phone with Craig, and we chatted for a little bit. I said, 'I got this idea,' and I threw it at him, and he was blown away."
Because of the coronavirus pandemic, Wiseman wasn't ready to write in-person, so their writing session marked Lawrence's first virtual co-write.
"He was the only Zoom write that I did last year," reveals the singer. "And it was a long one. It took about six hours, but it turned out great. I was real pleased with it. As we got to writing, we all had great lines, and everything started coming together, I felt like it was a little bit autobiographical about me and nature, which was why I put it as the lead-off on the album, and also the lead-off single. I just thought it was the perfect thing to set the tone for the overall feel of the record.
"I'm really proud of how it turned out," he adds. "It talks a little bit about my life and my journey and where I've been, kind of where we're at now. I just think it's very appropriate. That's a songwriter to me. What I've always tried to do is put a little bit of myself in each one."
Stairway to Heaven Highway to Hell is available for pre-order at TracyLawrence.com.