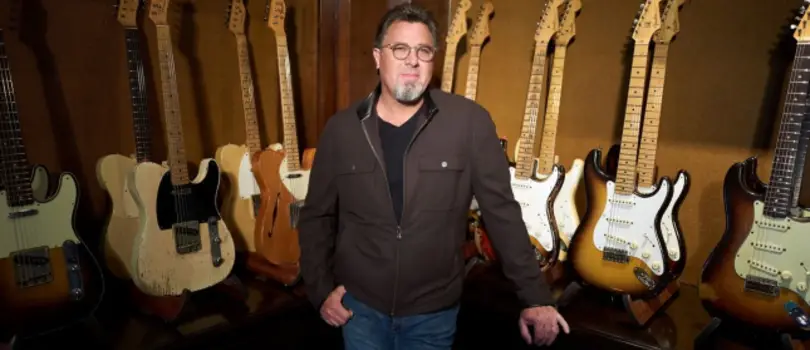 Vince Gill is heading back on the road this summer, with a renewed outlook on life, and a refreshed spirit. The 64-year-old is coming back from his first break in decades, and although the circumstances of the time at home weren't what he would have chosen, he is still grateful for the time at home.
"That pesky little virus thing — I mean, nobody could dream this stuff up. It dawned on me in the middle of the pandemic that I hadn't had a break in 47 years," Gill tells Variety. "I had always traveled, always toured, always played, always worked, and never, ever stopped. It was a real interesting thing to have happen, and I didn't spend all my time practicing. I found a blessing in the break, and it was okay. But I miss singing all those songs that I've come up with over the last 40, 45 years, so I'm pretty fired up to go out there and so some of them again."
Gill, who has also been performing with the Eagles since 2017, feels more than ready to resume performing his own shows. Still, it's not just for him, or his fans, that he is now choosing to head back on the road.
"I've got a lot of guys who have played with me for most of their lives, and they could stand to make a little money and come back to work," Gill acknowledges. "Everybody's so excited just to get to play again, travel around and tell the same dirty jokes. I mean, we're old enough now that everybody's forgotten them and we can retell 'em."
Gill has plenty of hits fans have come to expect from him, including "When I Call Your Name," "One More Last Chance," "Look At Us" and more, but he also has some new songs he is eager to share as well.
"I've written so many new songs and I'm so excited about it and fired up," Gill says. "I'm always feeling creative. That never goes away and it never will. Even if there's not a vehicle for some of these songs, I'm gonna write them and I'm gonna sing them, and this is what I was meant to do."
Gill has had more than 60 songs land on the charts throughout his career. While he realizes that his times of having No. 1 singles might be in the past, that does little to abate his creativity, or his desire to keep creating.
"You know, it's interesting in this part of your career, when I feel like I'm doing the best work I've ever done, and it goes largely unnoticed, in comparison to other times of life," reflects the singer. "But that's okay, because I feel like I know in my heart that I'm a little bit better than I was. It really feels good to not see it kind of slip and go in the opposite way. Someday it will, just because of life and how your body will eventually kind of give up on you a little bit, and you won't be able to do the things you do to breathe the way you do and push air in the way you used to, and your hands won't be nimble and whatever. So I know it's coming, but I'm gonna run pretty hard till it does."
Gill will be joined by  The Voice alum Wendy Moten on the road. Find a complete list of all of Gill's upcoming shows at VinceGill.com.