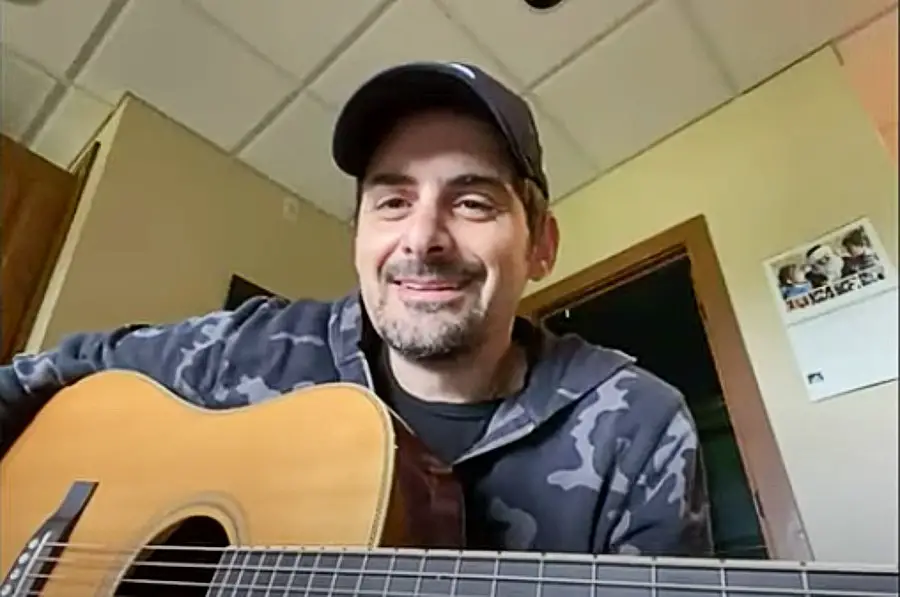 Brad Paisley has nothing but love for those working on the frontlines during the coronavirus pandemic, especially those working at Nashville's Vanderbilt Hospital. The singer-songwriter surprised several of them recently on Zoom, just to praise them for the work they are doing, especially now.
"I'm here to save these nurses," Brad began as he appeared on the screen. "I've always had this feeling of just reassurance that Vanderbilt is in our town. I don't think many cities our size have something this fine-tuned and I guess exquisite."
Brad chatted with the nurses for a bit, before ending by singing his current single, "No I in Beer." The song was originally written before the pandemic, but was altered to become an anthem during these troubled times.
"There are a few things I changed," Brad previously stated. "For instance, the original opening line was 'There's a bunch of people coming over,' yet another example of things you would never imagine don't apply in life, all of a sudden don't right now. So I had to rewrite that opening."
Brad re-wrote "No I in Beer" to include lines like, "Yeah, to the farmers and the first responders / To the truck drivers shiftin' gears / Every nurse that needs a break, let me buy you a drink / There ain't no "I" in beer." Although not the original intent of the song, the West Virginia native says he actually likes the song better now than the way he first wrote it.
"I actually like better what's there," Brad acknowledged. "It's interesting because when I wrote the song, it didn't have this large scale, over-arching theme of unity. Well it did, but it didn't have this feeling that it has … 'We're all in this together, there's no I in beer,' two months ago that's just a 'Yay let's party.' Now it's like defiant and a rallying cry almost. Like a fight song.
"It's crazy that that can mean such a different thing in less than eight weeks," he continued. "Of course that last verse as well, that last chorus. It would have been a slightly different list of the people I am toasting at the end that are keeping this country going. Nurses are the new soldiers. For many years we've slowly learned how much we need to appreciate our soldiers, and it's no different with nurses now. I was thrilled to be able to throw that line in, because they deserve a beer and then some. They deserve a bar."
Download "No I in Beer" on Amazon
or iTunes.