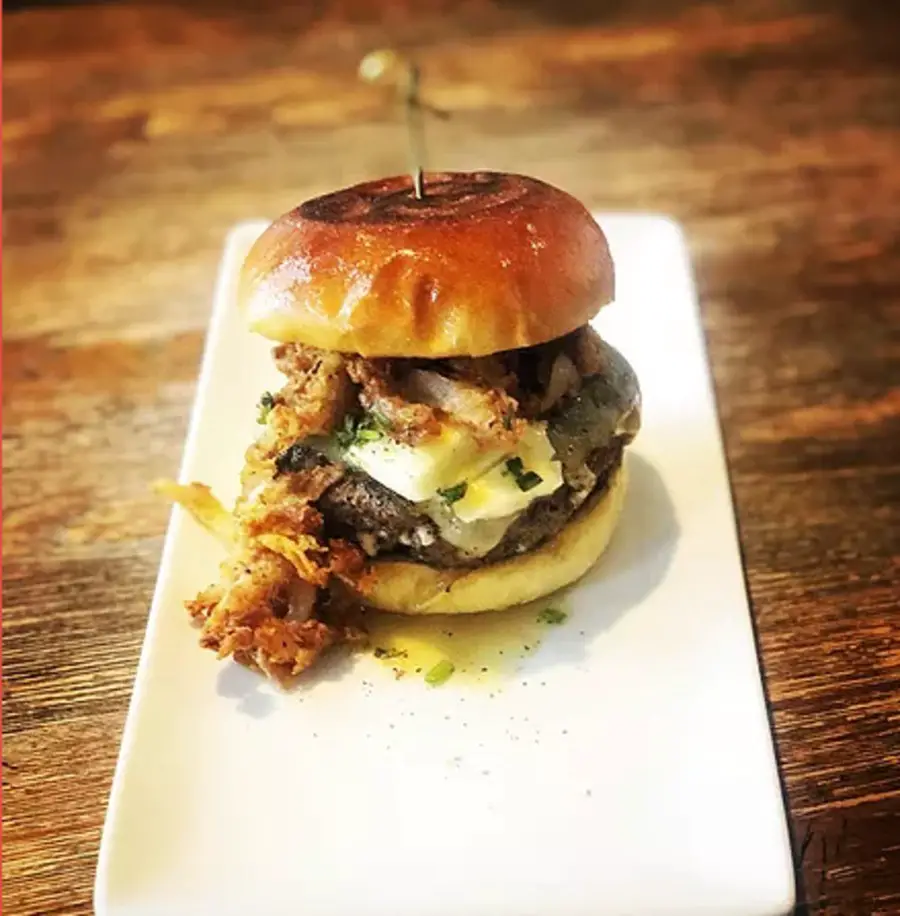 Nashville Scene's Burger Week has returned to Music City! The annual event is bigger and better than ever in 2021, with more than 50 restaurants participating, offering one of their specialty burgers for just $7. Diners can also win prizes and vote on which burger will be crowned the winner.
We picked ten of the most unique burgers, listed below. To see the entire list, click here. But hurry, Burger Week ends July 18!
Talk about decadence. Fat Bottom's burger is a beef patty, stuffed with a garlic Boursin cheese, and topped with Muenster cheese, crispy fried onions, and an oatmeal stout with bone marrow butter. Wow.
800 44th Ave N.
It wouldn't be Nashville Burger Week without something hot, which Germantown Pub was happy to deliver. Their Nashville Hot Burger is a fresh ground beef patty with their signature spice rub, pico de gallo and pepperjack cheese, topped with a toasted brioche bun and a fried jalapeño.
708 Monroe Street
This might be a burger you eat with a fork. The grass-fed, locally-sourced  beef patty is served with organic, house-made ingredients, including guacamole, jalapeño cream sauce, guajillo mayo, mozzarella cheese, griddle onions, crunchy house-made tostada, lettuce, and tomato on a house-made bun.
3078 Maddux Way, Franklin, TN 37069
It stands to reason that Burger Republic would have a stand-out burger. This year's Jamburger is a generously-sized burger, topped with tomato jam, and both what they call west coast onions and their crispy fried Tennessee onions, served on a locally-baked Brioche bun.
Multiple locations
Make sure you're extra hungry before trying the Boxcar Burger at Ergo, which is fresh ground ribeye, brisket, and short rib, with smoked poblano, chicken-fried squash blossom, oaxaca cheese, and topped with onion and garlic aioli, served on an everything bun. Wow.
1001 Broadway (inside the Union Station Hotel)
Meat lovers, rejoice. The Big Easy at Drake's is a blackened Cajun burger, with provolone cheese, smoked ham, olive relish, remoulade, lettuce and tomato, all on a butter-toasted bun.
553 Cool Springs Blvd Franklin, TN
Chago's Cantina is putting a Mexican spin on Burger Week, with their QP Burger: two smashed patties topped with cilantro pesto, grilled onions and queso dip, and served on a sesame bun.
2015 Belmont Blvd.
Elliston Place Soda Shop is offering sliders, instead of a burger, but still delivering full-sized flavor. The Soda Shop Slider is a classic burger, topped with melted cheese, and served with lettuce, pickles, and their famed Soda Shop Sauce, served with their famous crinkle-cut fries.
2105 Elliston Place
Not in the mood for beef? Try Smokin Thighs burger, which is a hand-formed ground chicken patty, topped with provolone cheese, pineapple, and their own homemade slaw, and finished with their teriyaki sauce, also made in-house.
611 Wedgewood Ave and 4400 Charlotte Avenue 
Even vegetarians can enjoy Burger Week, thanks to Vegelicious! Their burger is a vegetarian patty, topped with grilled onions, tomato, lettuce, vegenaise, mustard, ketchup on a wheat bun.
513B Fisk St.