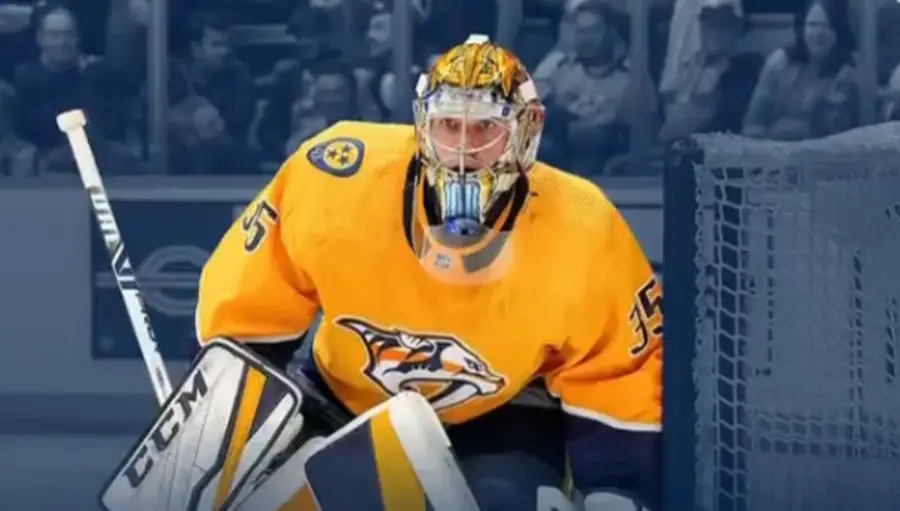 It's the end of an era for Nashville Predators player Pekka Rinne, who just announced he is retiring after 15 years with the NHL. Rinne spent his entire year with the Predators, playing a total of 683 games.
"For more than 15 years, I've been on a journey, an incredible, life-changing journey with the Nashville Predators that has taken me to more places than I could have ever imagined and given me more than I could ever hope to give back," Rinne said in a video shared on social media. "But today, today is the end. I'm retiring from the game of hockey. This decision wasn't easy. I've been spending the summer in Nashville with my fiancé Erika, and our seven-month-old son, Paulus. My body still feels like it can compete, but my decision was about a lot more than that. My priorities have changed.
"I know this is the right choice at the right time," he continues. "But I can't leave without at least trying to put into words what these past 17 years have meant to me. Over that time, I've learned what this Nashville organization is all about: family. From the time I was drafted by the Preds in 2004, to my final save in 2021, everyone who has ever been a part of this organization became my family. I really believe that."
Rinne also reflected on his numerous fond memories of his time with the Nashville Predators, including their run for the Stanley Cup in 2017.
"[It's] something I will never forget. No, we weren't able to raise the cup, but we turned Nashville into a hockey town," Rinne says. "I know this team will get back there … I know the best is yet to come. This city is going to have a Stanley Cup parade one day. And I promise, I'll be down there cheering."
Rinne also expressed his gratitude for those who helped him achieve his dreams for the past 15 years.
"As I announce my retirement, I'm thankful for my parents, sisters, fiancé Erika, everyone in the Predators organization – management, coaches and trainers – my teammates and my youth coaches back in Finland," Rinne reflects. "Last but not least, I'm thankful for the people of Nashville. Each of you helped me grow into the man, father and person I am today."
Rinne, a native of Finland, was drafted by the Nashville Predators in 2004, and signed by the team in 2005, starting in their minor league affiliate, the Milwaukee Admirals, before playing his first game with the Predators for two games in their 2005-06 season.
"It is impossible to properly express just how much Pekka means to the Predators organization and our entire community," Predators President and CEO Sean Henry says. "His incredible career and milestones achieved are eclipsed only by his generous spirit and contagious passion for others. Pekka defines our franchise and truly embodies the spirit of SMASHVILLE; both are better because of him."
Rinne was the recipient of the prestigious  Vezina Trophy as the NHL's top goaltender in 2018, an award he was a finalist for three other times.