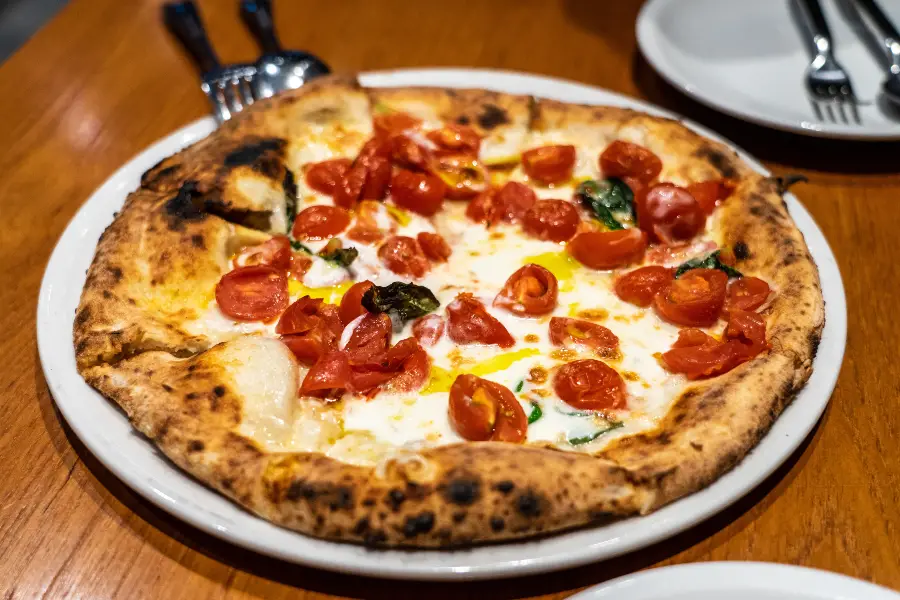 Happy National Pizza Day! Whether it's a thick or thin crust, square or round pan, with regular pepperoni or truly unique toppings, Nashville has plenty of places to help celebrate, regardless of your personal tastes or budget. Keep reading for ten of our favorite places to celebrate National Pizza Day in Nashville.
Not only does Five Points Pizza offer amazing pizzas in a wide variety of flavors, but they also offer pizza by the slice! Each day their website lists a vegetarian and meat option available by the slice, or order one of their whole pizzas and take one home for leftovers. Their diverse options include a Vodka Sauce pie, Habanero Cream Sauce Pie, Spinach Gorgonzola Pie, and even a vegan option, topped with vegan cheese, roasted red pepper, mushroom, roasted garlic, fresh basil and red sauce.
Five Points Pizza's lunch specials include two slices and a drink for just $9.
4100 Charlotte Avenue, Nashville, TN 37209 and 1012 Woodland Street, Nashville, TN 37206.
Slim & Husky's now has multiple locations, but don't let that deter you. The popular pizza chain began in Nashville, and remains a Music City favorite. Their diverse menu is hard to beat, with everything from their Cee No Green, topped with ground beef, pepperoni, hickory-smoked bacon, Canadian bacon and Italian sausage, to their California Love, topped with pesto, artichokes, tomatoes and red onion. Don't miss their tempting desserts as well.
Multiple locations
Pizza Perfect's name pretty much says it all. Open since 1983, Pizza Perfect's menu is so diverse — including non-pizza options — that there is literally something for everyone, including meat-lovers, vegetarians and even vegans. Bonus: Pizza Perfect also has a variety of sauces, all homemade, including a habanero sauce and a pink sauce. Individual slices also available. If we have to pick just one, we're going with the Fantasy, made with pesto, sun-dried tomatoes, roasted garlic, spinach, feta and mozzarella.
1602 21st Avenue South Nashville, TN 37212 and 57 Clofton Drive, Nashville, TN 37221
There isn't a more classic combination than hot pizza and a cold beer, and thankfully, TailGate Brewery has plenty of both. TailGate Brewery has all of the classic pizza toppings, along with unique ones, like cheese curds and spicy sliced sausage. They also have clever combinations, not able to be found anywhere else. Try the Bierfest Pizza, with shredded mozzarella, sliced sausage, caramelized onions, white cheddar cheese curds and a horseradish mustard drizzle, or the Jamaican Jerk Pizza, with shredded mozzarella, grilled chicken, onion, pineapple, green pepper and a jerk sauce drizzle. Vegan options also available.
7300 Charlotte Pike, Nashville, TN 37209; 1538 Demonbreun Street, Nashville, TN 37203 and 811 Gallatin Avenue, Nashville, TN 37206.
Bella Napoli might not be in Italy, but it sure feels like it, at least while you're eating there pizza. Their menu is extensive, with a variety of pizza toppings, along with pasta, salads and more. Bella Napoli also offers a super-affordable lunch pizza option, as well as an impressively-stocked bar. Don't miss the Salsiccia, with fresh mozzarella, homemade Italian Sausage, broccolini and fresh garlic
1200 Villa Pl #206, Nashville, TN 37212
The owners of Joey's House of Pizza have roots in Brooklyn, which tells us everything we need to know about how authentic their pizza is. Founded in 1999, and still going strong more than two decades later, Joey's House of Pizza has an impressive array of toppings, from the simple to the unique. Try Joey's Specialty Pie, with meatballs, Italian sausage, chicken, spinach, artichokes, eggplant and fresh tomatoes. In addition to having to-go options available, you can also bake one of Joey's House of Pizza pies at home.
897 Elm Hill Pike, Nashville, TN 37210
TennFold Brewing has so many menu options besides pizza, with everything from salads to large entrees, but their pizza is what keeps drawing people back, again and again. They have several options for Neapolitan-style pizza, including the Country Ham & Fig and the Thai Pork. Craving the New York-style pizza instead? Try the Peppadew & Mushroom, or the Bacon & Dill Pickle.
2408 Lebanon Pike, Nashville, TN 37214
Manny's House of Pizza serves New York City-style pizza, only in Nashville. Available by the slice, or as a whole regular pie or Sicilian, Manny's House of Pizza keeps their pizzas simple, ordering by the topping. Their servings are generous, their prices are reasonable, especially for Nashville (less than $14 for a whole cheese pizza), and their pizza is always fresh — and delicious.
15 Arcade Building, Nashville, TN 37219
You have to drive out to Franklin to enjoy Culaccino's pizza, but trust us — it's worth it. Their wood-fired pizzas are like a taste of Italy, with a variety of options. Try the L'agnello Sacro, with lamb sausage, smoked eggplant, goat cheese, scallion and fresno chilis, or the Calamaro Arrabbiato, with grilled squid, tomato, fire onion, tagiassca olives, kale and n'duja aioli. The pizzas are large enough to share, which leaves enough room for Culaccino's authentic tiramisu.
104 East Main Street, Franklin, TN 37064
Emmy Squared Pizza has locations all across the country, with the feel of a local pizzeria. They have plenty of pizzas with both red and white sauce, including the Roni Supreme, made with pepperoni and Calabrian chiles, and The Timothy, with chicken, Korean wing sauce, scallions, buttermilk blue and radishes. Emmy Squared Pizza also numerous other options, including salads, appetizers, and a killer homemade banana pudding for dessert, served family style.
1121 5th Ave North, Nashville, TN 37208