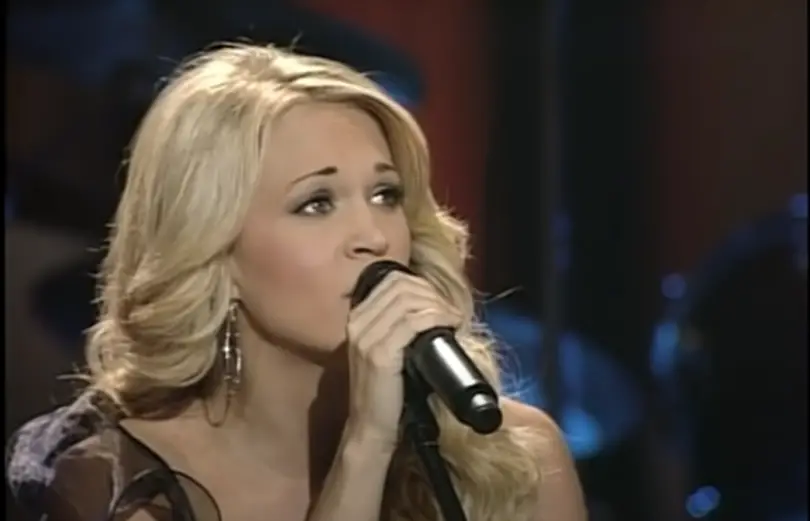 14 years ago today was an unforgettable day for Carrie Underwood. On May 10, 2008, Underwood was officially inducted into the Grand Ole Opry. Underwood was just 25 years old when she was inducted by fellow Oklahoma native Garth Brooks.
"This is going to hold a very special place in my awards case," an emotional Underwood said from stage. "I just want to thank everybody at the Opry for having me as part of your family because it really seems like a great family to be part of."
Prior to officially inducting Underwood, Brooks had wise, and slightly prophetic, words for the American Idol alum.
"I can't imagine what you're feeling right now. I cried like a baby the whole time," Brooks said (via CMT). "You will be rained with awards from the CMA, ACM, Grammys and all that stuff. Nothing will last as long or be more important than this award right here tonight. Congratulations."
Underwood's invitation to join the Grand Ole Opry came less than two months after she was surprised with an invitation to join the Opry, by Randy Travis, who shocked Underwood by appearing on stage with her while she was performing at the Opry.
"I was asked by the management of the Grand Ole Opry to come out and ask you if you would like to be their next member," Travis said.
Backstage after the invitation, Underwood gushed about the honor, and what it meant to her after growing up as a fan of country music.
"This is what we used to watch when I was little, and where I learned about people of the past and the present, and newcomers coming in and singing," Underwood said. "It's something that's been a huge part of country music, and it's wonderful to think that I'm going to be a part of it, an official part of it, not just showing up and singing every once in a while."
Pete Fisher, who was then the Vice- President of the Grand Ole Opry, rightfully predicted Underwood's importance in maintaining the sacredness of the Opry.
"We believe that she's going to be a very important part of perpetuating the legacy of the Grand Ole Opry for decades to come," Fisher said. "And that's why we wanted her to be a member of the Grand Ole Opry."
Underwood returned the favor Brooks bestowed on her, by inducting Kelsea Ballerini into the Grand Ole Opry in 2019.