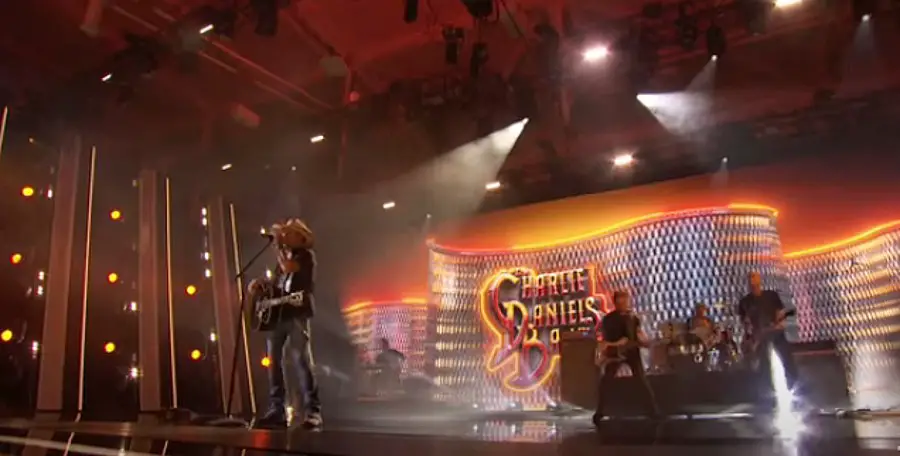 The 2020 CMA Awards kicked off with a musical tribute to Charlie Daniels, and what a tribute it was.
Dierks Bentley began the montage of hits by singing "Long Haired Country Boy," followed by joining Brothers Osborne to sing "Trudy." Ashley McBryde then sang "Texas," with Brothers Osborne's John Osborne lending his guitar talents, ending the medley with Jason Aldean nailing his version of "The Devil Went Down to Georgia."
"Obviously losing Charlie was a huge thing for the country music world this year," Jason told ABC ahead of his performance. "He was always a big influence for me growing up in Georgia and kind of having country music and southern rock being a big part of what he did."
"It's just a sad thing to lose him this year," he added. "Every time I ever got a chance to spend any time with him at all, he was just so cool to younger artists and took his time to really hang out and talk to them."
The lengthy performance earned high praise from the country music legend's family, who spoke out on social media about the musical tribute.
Now that's how you start an awards show, son! Thank you @CountryMusic Association, @DierksBentley, @AshleyMcBryde, @brothersosborne and @Jason_Aldean! – Hazel and Charlie Daniels, Jr. pic.twitter.com/v6pZasNBm0

— Charlie Daniels (@CharlieDaniels) November 12, 2020
CMA Awards winner Jenee Fleenor was supposed to perform during the tribute as well. Unfortunately, she tested positive for COVID-19, and was unable to appear. Joe Diffie was also honored with a performance by Jon Pardi, while Kenny Rogers was honored with a performance by Little Big Town.
Charlie was 83 years old when he passed away on July 6, after suffering a hemorrhagic stroke. Contributions in his honor can be made to The Charlie Daniels Journey Home Project.