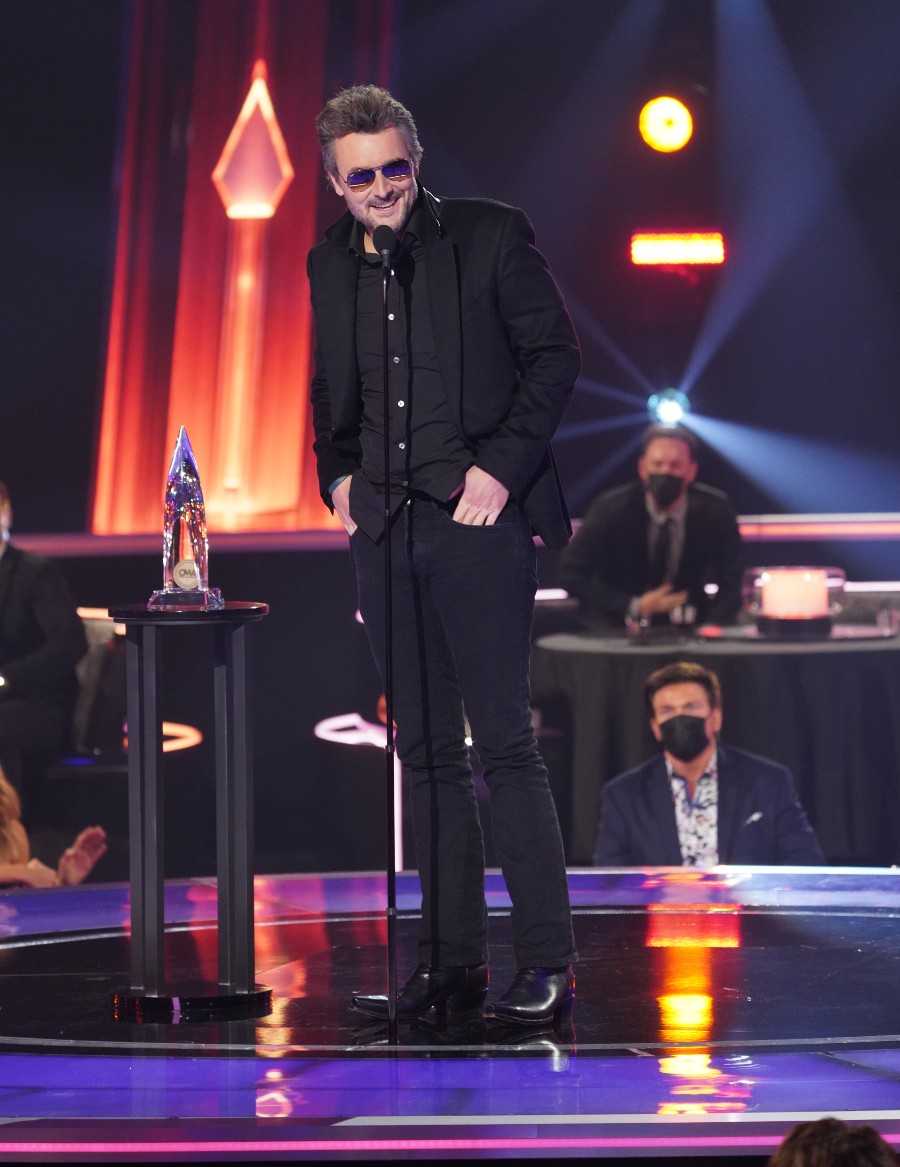 Eric Church is the reigning CMA Awards Entertainer of the Year, but what a year it's been. The North Carolina native opened up about the challenges and hardships of 2020, in a virtual press conference backstage after his big win, expounding on his inspirational acceptance speech he gave during the live broadcast.
"I think the biggest thing for me was, this is not a year — you look at the ACMs, CMAs, whatever awards show you want to say, there's not really a winner this year," Eric reflected. "Nobody's played. Nobody's done the thing that we normally do. It's been a year to me of losses. It's been a year of managing those losses. So it was really hard for me to accept this award, which I have wanted forever — not for me, but for the people that work so hard, and they push those carts up and down ramps, and they stay up all night long. The guys that are, not me or the band, but the guys that put us on stage.
"So for me, the hardest thing was to stand there in 2020, and understand that you win that award, but this year is more about what the losses are," he continued. "It's about loss of life, as I said on stage. It's about loss of education for your kids. It's about loss of time playing. It's all those things. But I really meant what I said that, we were in a room together, as country music, on this night, live and that's not happened this year. So I think that was a win for country music, and I think it was a win for where we're going to go in the next year."
Eric insists that, while live music events have been paused indefinitely this year, it will be music that also helps people get through the global health crisis.
"It's gonna be music that brings us out of this," maintained the singer. "It's not going to be politics. It's not going to be sports. It's gonna be music. It's gonna be people that can gather their people, whether it's vaccines, or masks, or however we do this thing, that is how we are going to leave COVID in the dustbin of history … We're going to be the ones that carry this to where COVID doesn't exist."
The 43-year-old also offered encouragement that the end of the coronavirus pandemic will eventually come, and that music will be a way to help everyone overcome the current challenges.
"Music is about unity. Music is about uniting," said the singer. "And I truly believe in my heart that music will bring us out of all of the sh– we're in right now. So for me, it's all about music. It's about putting your arm around the guy next to you. It's about having that moment that you can share, regardless of what your politics are, regardless of what your favorite freaking football team is. I think that that unity is what makes us America.
"It's the most patriotic thing in the world," he added. "It has nothing [in common], other than love of music. That's what I tried to convey, even though I was pretty shocked on stage tonight. But that's what this is."
There are likely very few artists, of any genre, who are as passionate about touring as Eric is, but even he admits that he may not have appreciated as much as he could have.
"I never thought I was a guy who took anything for granted with touring," Eric said. "I would look out every night, and I would see people with their boots in the air, or their drink the air, and I would try to take a mental picture. And I'll be honest, I might have taken that for granted after COVID, because I never thought I wouldn't see it again. And when I can see it again, I will commit my entire heart and soul to it."
See all of the 2020 CMA Awards winners.