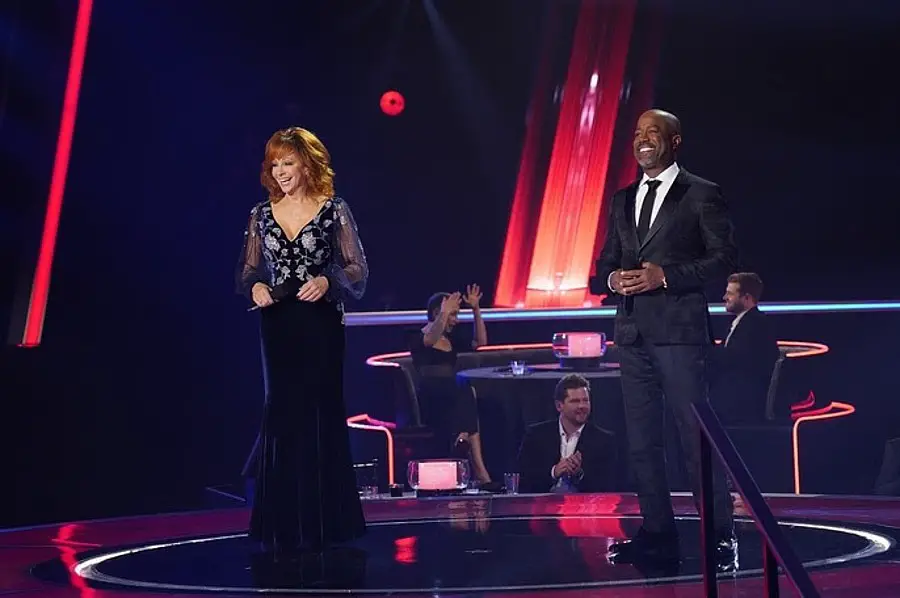 The 2020 CMA Awards are officially in the past. The intimate ceremony, which was closed to the public this year because of COVID-19, was hosted by seasoned pro Reba McEntire, along with Darius Rucker, who made his hosting debut last night — and is already eager to do it again.
"If they call me back next year," Darius said in a virtual press conference after the ceremony, in answer to the question if he would do it another time. "It was a dream come true, and something I never, ever thought they would ask me to do. Reba made it so easy, and she was so great to me. This was one of the best experiences of my life."
When asked what his highlights were, the South Carolina native said that one of them was seeing Charley Pride take home the Willie Nelson Lifetime Achievement Award, and seeing both Johnny Lee and Mickey Gilley in attendance.
"The music was great," Darius  boasted. "The highlight for me was seeing Charley again; getting to talk to him and hug his neck. Seeing Johnny Lee. Johnny Lee and I go back 20 years. Seeing Johnny Lee and Mickey. That was, for me, seeing those guys and being a part of it was the highlight for me. Those guys all paved the way for us to be here. Seeing them in the audience and being friends with them, that was awesome."
Reba was excited to see so many new artists, many who received their first CMA Awards nominations in 2020.
"23 new nominees this year," Reba reflected. "A lot of them, I have never met. I thought it was a wonderful, well-rounded show. Great music. And there was a camaraderie in the audience tonight that was so much fun to watch. Everybody had a great time, and got to visit, mingle.
"And then with Johnny Lee and Mickey and Charley being there, and all the newcomers, it was a wonderful evening for country music," she added.
For many of the artists, the 2020 CMA Awards were the first time they were together in one room since the start of the pandemic, and their desire to be together again was evident.
"For me, in between, when the commercials were on, it was such a cool mingling session that the director kept yelling, "30 seconds!" because nobody wanted to sit down," Darius recalled with a laugh. "Everybody was up talking. That was really cool. It was a fun time."
See all of the 2020 CMA Awards winners here.