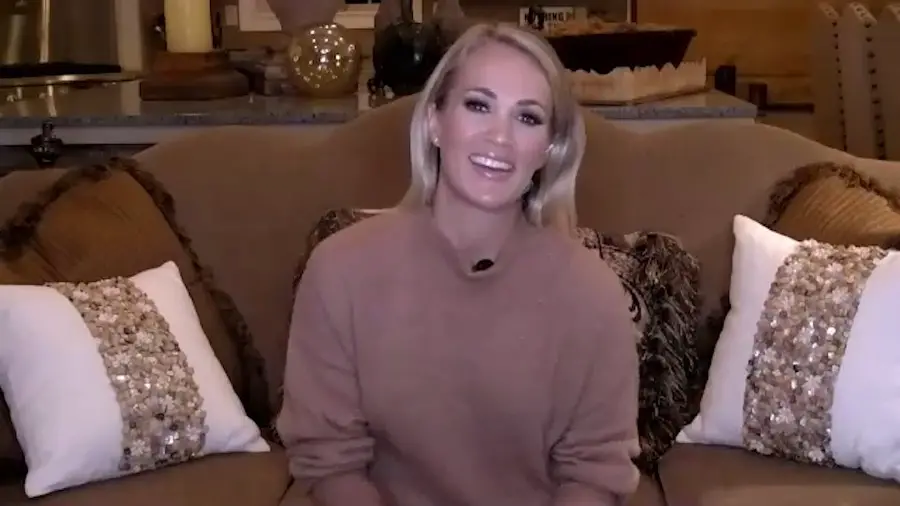 The 2020 CMT Music Awards are officially in the books! The ceremony, hosted by Kane Brown, Ashley McBryde and Sarah Hyland, took place virtually this year, with artists accepting their awards online as well.
See the complete list of nominees here, and check out the list of winners below. To see the award-winning video, which were entirely fan-voted, click on the song title.
Video of the Year: Carrie Underwood, "Drinking Alone"
"You guys are absolutely amazing," Carrie gushed. "I feel beyond loved tonight, and you know that I am giving it right back to you guys. Thank you so much. I appreciate it more than you guys could ever know. Thank you. Love you guys."
Female Video of the Year: Carrie Underwood, "Drinking Alone"
"Thank you, CMT, first and foremost for still having this night, still giving us all just something to look forward to, and still have fun even though we're not all right there hanging out together like we usually are," Carrie said. "Thank you, fans, so much for voting. I don't get to see you. I haven't got to see you guys hardly at all this year. But, stuff like this, it means so much to me and just lets me know that you're still doing what you do which is just giving the love. And I hope you feel it right back from me because you guys are so amazing."
Male Video of the Year: Luke Bryan, "One Margarita"
"Thank you so much, CMT, and all the fans out there that voted for this video," Luke said of the "One Margarita" video, which was shot during his annual Crash My Playa event. "All of the people down at Crash My Playa; my mother, I want to thank my mother for crashing my video, and being the star. I certainly want to thank my wife, and all my buddied. I want to thank my wife for having fun with us.
"I want to thank all of the artists, like Charles Kelley was in there, his wife, Cassie," he continued. "I'm drawing a blank, but it was such a fun video to do, and it was certainly shot obviously before we all went into quarantine, so it kind of gives us a glimpse of life and having fun before we all had to deal with this pandemic. But the bottom line is, the song was fun. The video turned out to be so much fun."
Group Video of the Year: Old Dominion, "One Man Band"
"This song has been so big for us, and this video was so amazing that our director, Mason [Allen], made of us, just rehearsing the song," lead singer Matt Ramsey said. "We're so proud of it, and we're so thankful for our whole team, to have each other to go through this with. We're thankful for our fans. Thank you guys for supporting us and voting for us."
Duo Video of the Year: Dan + Shay, "I Should Probably Go to Bed"
"Thank you, CMT. Thank you so much for being in our corner since day one," Dan Smyers said. "It truly means the world. This is a fan-voted award. So to our fans, thank you so much for continuing to support us, for voting for us. You guys change our lives every single day."
"I didn't think I'd be this nervous right now, being remote," quipped Shay Mooney. "Thank you guys so much. Like Dan said, this is a fan-voted award. We would not be where we are without you guys, so thank you for listening to our music. CMT, to our families, thank you for supporting and inspiring our music. We're so thankful. And Asher, if you're watching right now, you do need to go to bed, for sure. I love you guys … It's amazing to get to do music with my best friend."
Breakthrough Video of the Year: Gabby Barrett, "I Hope"
"I don't even know what to say, because I didn't really think that I was going to win," Gabby said. "I would like to thank my Lord and Savior, Jesus Christ, because I wouldn't be able to be doing what I love every single day without Him, so thank you Lord. Secondly, all the fans that voted, thank you so much. That's something that I absolutely loved about country music coming into it, was how loyal the fan bases are, and how they just incredibly love the people that they love, so thank you guys so much.
"I would like to thank my husband, my family back in Pittsburgh, my entire team … Thank you to everybody so much," she concluded. "I'm so new to this; this is my first time receiving a television award, so thank you so much, CMT. Thank you everybody. I appreciate it so much."
Collaborative Video of the Year: Blake Shelton with Gwen Stefani, "Nobody But You"
"My gosh, I can't believe … country music, this is like, 'What is happening in my life?'" Gwen said.
"This is unbelievable," added Blake. "I told Gwen, when I saw who the other nominees were in our category, literally it was like, 'That would have been cool, but I don't know what our chances are of beating Justin Bieber are, but here we are, so thank you so much … Thank you, CMT. We love you.
"This is unbelievable," he continued. "Thank you to the fans. I know you guys literally work your a–es off for this. I looked at social media, when this thing came around, I couldn't believe it. That's all that was on my timeline was our fans, voting for this thing. We see all of that, so thank you so much. This means the world to us, more than you can probably imagine."
Performance Video of the Year: Chris Young, "Drowning"
"I'm just completely blown away that I won the CMT Award for Performance of the Year," Chris shared. "I know a lot of you have seen it on TV, but if you haven't, you didn't see what I said at the end: there's so many reasons why I love this song, and I love each and every one of you. You all are why I have my first CMT Award. Love you all. I'm just blown away.
Quarantine Video of the Year: Granger Smith, "Don't Cough on Me"
"It's my first CMT Award. I'm over the moon that I've got one of these. We've made so many music vidoes. It's always been a dream of mine. We made this silly video. I never in a million years thought me and my tour manager writing this song and putting this together would win an award, but it's going to have a very special place on my shelf. This is fan-voted, which means even more, that you guys cared enough and hopefully smiled enough at this video to vote for it. Thank you so much."