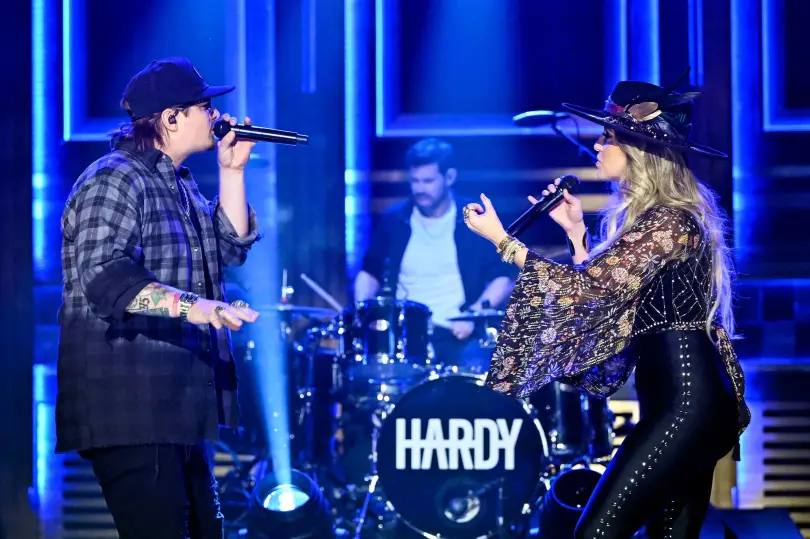 Ahead of the 2023 ACM Awards, airing tonight (May 11), HARDY and  Lainey Wilson have taken home an early trophy. The two won the ACM Award for Visual Media of the Year, for their powerful "wait in the truck" video.
HARDY leads the list of nominees with a total of seven nominations, followed closely by Wilson, who has six.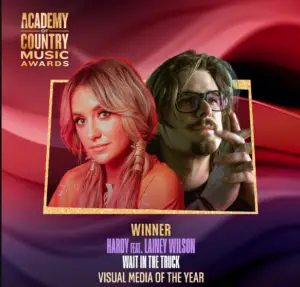 "I still don't know what to think about all the nominations, to be honest, " HARDY said ahead of the ceremony. "It feels weird, and I still feel like I just signed my deal and I'm just getting started. And I kind of still am. I've only been at it for five years. But it just makes me, more than anything, think about all of the people in my circle, and how hard everybody has worked for me to get here. Although I do work hard, and I get out there and I give people the best show, and I try to write the best songs, it really does take a village of people to really get you where you are.
"I'm glad that I'm being honored for it, but if I win any of these awards, it's for the people that got me there," he adds. "It means a lot to celebrate everybody, and everybody's success and hard work."
HARDY and Wilson share three ACM Awards nominations for "wait in the truck," which is nominated for Song of the Year and Music Event of the Year as well. Wilson is also nominated for Female Artist of the Year, Album of the Year, for Bell Bottom Country, and Single of the Year, for "Heart Like A Truck." The validation of her success in country music is, by her own admission, a lot for the Louisiana native to absorb.
"I remember just dreaming about being invited to the ACMs," Wilson admitted. "Just dreaming about being a part of the country music industry. And it really does feel like that country music is really finally starting to love me back the same way that I have loved it my entire life. It's really crazy what a little bit of elbow grease and a whole lot of faith can do for you. That's truly it. A lot of guidance, a lot of people who have lifted me up and pushed me forward to get to this moment, and we ain't slowing down now."
HARDY also won the ACM Award for Artist-Songwriter of the Year. Zach Bryan won the ACM Award for New Male Artist of the Year, while Hailey Whitters won the ACM Award for New Female Artist of the Year, and Ashley Gorley won the trophy for Songwriter of the Year.
The 2023 ACM Awards will take place at 8:00 PM ET, streaming live on Amazon Prime Video, from Ford Center at The Star in Frisco, Texas. The show will also be available on Twitch's Amazon Music channel. The ACM Awards will air again the following day on Amazon Freevee, as well as Prime Video and Amazon's music app.