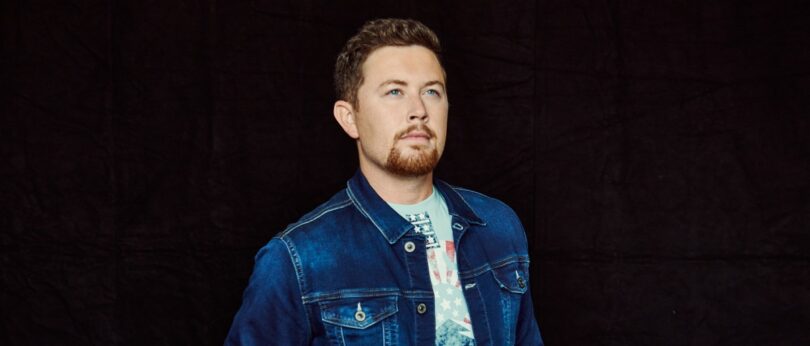 Scotty McCreery has had a massively successful few years in country music, but his path to success was far from easy. After being crowned the Season 10 winner of  American Idol in 2011, McCreery released his debut Clear as Day album, which included two singles that landed in the Top 20, both "I Love You This Big" and "The Trouble With Girls." The title track of his sophomore See You Tonight album hit the Top 10, as did the follow-up single, "Feelin' It."
When the third single from the project, "Southern Belle," failed to chart, McCreery was undeterred. He already had "Five More Minutes," a personal song he wrote about the loss of his grandfather, ready to go, and felt certain it would be a hit at radio. Unfortunately, his record label at the time, Interscope Records, disagreed, and dropped him from the roster.
"I knew 'Southern Belle' didn't do well, but I also knew that we had 'Five More Minutes' in the wings, waiting," McCreery recalls on the latest episode of CMT Stages. "I just knew we'd come back with that, and it was just going to be a no-brainer. But eventually, we never got that chance."
In a case of terrible timing for McCreery, one day after being dropped from Interscope Records, the North Carolina native had to return to the set of American Idol, to help inspire the contestants on the show.
"The very next day, I had to go mentor these kids on Idol, and tell them how great things will be," McCreery recalls. "I probably didn't come off my best. As a matter of fact, I got tweets after the show that aired that said, 'Scotty was not nice to the kids.' I had two choices: I could either stay there, and I could mope. Or I could pick myself up by the bootstraps and put one foot in front of the other. And eventually, maybe one day, gotta head back up the mountain."
McCreery's instincts about "Five More Minutes" proved correct, with the song becoming his first No. 1 hit. Still, thanks to the numerous documents he signed after winning American Idol when he was just 17 years old, releasing the song on his own was an arduous task.
"After 'Southern Belle' to getting 'Five More Minutes' out was hell," McCreery now admits. "2016 for me was probably the worst year of my life, just going through that. I thought the next moves were, 'Okay. We'll go find a new label, and we'll put this song out, and it will all be fine and dandy.' And then I realized that that stack of papers that was as tall as me that I signed for Idol and stuff, I realized what it all said. And it's not that easy to just go find a new label."
Still determined, McCreery chose to release "Five More Minutes" on his own, using his family's own home movies for the official video. The song, without the support of a record label, began to climb the charts, which helped him secure a new record deal, this one with Thirty Tigers, where he remains today.
"I think it all worked out the way it was supposed to," says the singer. "I can look back now and see things that I thought were so bad that were really blessings in disguise."
"Five More Minutes" was the first of five consecutive No. 1 hits for McCreery, culminating in his multi-week, chart-toppng hit, "Damn Strait."
"I've had all these highs and lows, all around," the 29-year-old says. "I've gone through college, married my best friend. I had a son. I've been kicked to the curb and dropped by a label. I've lived some life now. I've got some stories to tell."
McCreery is back in the Top 10 with "It Matters To Her," written about his wife, Gabi. He is spending the next several weeks on the road with Brooks & Dunn on their REBOOT 2023 Tour,   Find music and tour dates  ScottyMcCreery.com.