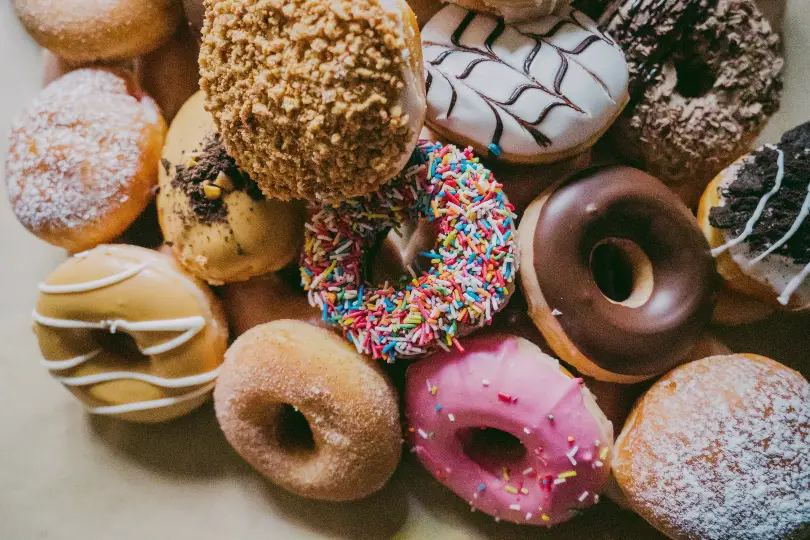 Happy National Donut Day! The delicious holiday falls this year on Friday, June 3, and we can't think of a better way to kick off the weekend than with a delicious donut. Keep reading for five of our favorite donut places in Nashville.
If there's one place to celebrate National Donut Day this year, it's Five Daughters Bakery. The family-owned restaurant is quickly becoming known as having some of the best donuts in the world. In fact, their 100 Layer Vanilla Cream croissant donut was recently named the best Cronut in the country.
"We are honored to be selected as one of the best donut shops in the nation and to have our 100 Layer Vanilla Cream named the Greatest Croissant Donut," owner Isaac Meek says (via WKRN). "The Vanilla Cream was one of our first flavors and is a staple on our menu because it has always been one of our best-selling donuts."
Five Daughters Bakery has year-long flavors like Chocolate Sea Salt, Triple Raspberry and Milk Chocolate Sprinkles, along with seasonal ones like Lemon Icebox, Strawberry Shortcake and more.
Multiple locations
East Park Donuts & Coffee is also family-owned, and it shows. Not only is the staff extremely friendly and attentive, but their donuts are both unique and some of the most flavorful in all of Music City. Try the Salted Brown Butter or the Dutch Chocolate — or the generously-sized Peach Fritter, made with Nashville's own Peach Truck peaches.
East Park Donuts & Coffee also has flavorful paleo, vegan, dairy-free and gluten-free options available.
700 Main St, Nashville, TN 37206
Fox's Donut Den has been a Nashville staple for more than 30 years, especially for the early-morning crowd, since they open at 5:00 AM during the week. One step inside their shop is all you need to become a fan of their unique donuts. Menu items include Chocolate Longjohns, their popular Donut Holes, Glazed and more, along with a variety of other mixed pastries.
3900 Hillsboro Pike, Nashville, TN 37215
Shipley Do-Nuts offers hand-crafted donuts and kolaches, along with other specialty items. Originally opened in Texas, Shipley Do-Nuts has been around for more than 80 years, with fans all over the world flocking to one of their locations to try their donuts. Don't miss the Cherry Iced or Strawberry Iced Bullseye when you go.
2540 Old Lebanon Rd, Nashville, TN 37214
Donut Distillery began as a food truck, after owner Shauna McCoy quit her corporate job to follow her passion. As popularity grew, McCoy and her husband, Todd, decided to open a Donut Distillery, which has quickly become one of the most popular donut destinations in Music City. Donut Distillery also has a convenient drive-thru window. In addition to the regular flavors, try the Dreamsicle (vanilla icing dipped in Tang), or the Rocky Road. Better yet, create your own, with a wide variety of icings and toppings.
311 Gallatin Ave, Nashville, TN 37206