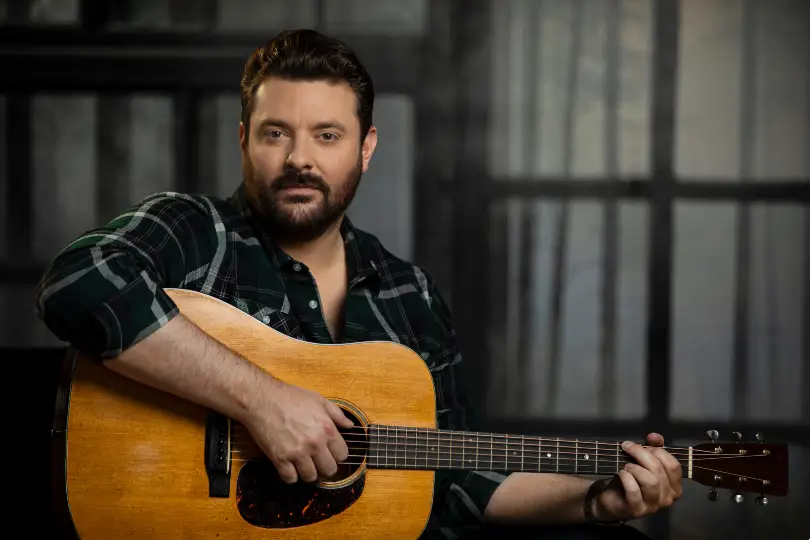 Chris Young's massive Famous Friends (Deluxe Edition) is out! the 20-track record, which follows on the heels of his 2021 Famous Friends record, includes a collaboration with Old Dominion on "Everybody Needs a Song," an acoustic version of the Grammy-nominated "Think Of You" with Cassadee Pope and more.
Young previously hinted he was working on a double album, but says that the deluxe version of Famous Friends became what he hoped the double record would be.
"For all intents and purposes, it sort of is because there are 20 songs on this thing now. So that was fun for me," Young shared with Everything Nash and other outlets, during a recent virtual media event. "I was really glad that Sony wanted to expand upon what we had already done with the Famous Friends record, and keep it sort of evergreen for a little while."
Young is currently enjoying a Top 15 hit with "At the End of a Bar" with Mitchell Tenpenny. The single comes on the heels of his No.1 collaboration with Kane Brown, on the project's title track.
"'At the End of a Bar' is the fourth single off of this record," Young reflects. "So being able to have more music to choose from, if we decided to go another single deep, whatever 'At the End of a Bar' does, or whatever we decide to do, there's new music for the summer for everybody, and that was the thing that I wanted to do first and foremost."
Famous Friends (Deluxe Edition) also includes a collaboration with Jimmie Allen, on "Music Note," a duet that Young says has been a long time in the making.
"Jimmie Allen had been yelling at me because we hadn't done a song together," Young reveals. "I'm like, 'Dude, you didn't ask, so I didn't know you wanted to do one.' … When we wrote that song, I was like, 'Hey, this could be cool for the two of us,' and he was down for it."
Young is spending much of the next few months on the road. See a track list for Famous Friends (Deluxe Edition) below. Find tour dates, and purchase Famous Friens (Deluxe Edition) at ChrisYoungCountry.com.
Photo Credit: Courtesy of Monarch Publicity / Jeff Johnson
Famous Friends (Deluxe Edition) Track List:
Raised on Country
Famous Friends (with Kane Brown)
Town Ain't Big Enough (with Lauren Alaina)
Drowning
Rescue Me
Break Like You Do
At the End of a Bar (with Mitchell Tenpenny)
Love Looks Good on You
One of Them Nights
When You're Drinking
Cross Every Line
Hold My Beer Watch This
Best Seat in the House
Tonight We're Dancing
Everybody Needs a Song (with Old Dominion) – NEW
If I Knew What Was Good for Me – NEW
Music Note (with Jimmie Allen) – NEW
Like a Slow Song – NEW
Think of You (with Cassadee Pope) (Acoustic Version) – NEW
I'm Comin' Over (Acoustic Version) – NEW