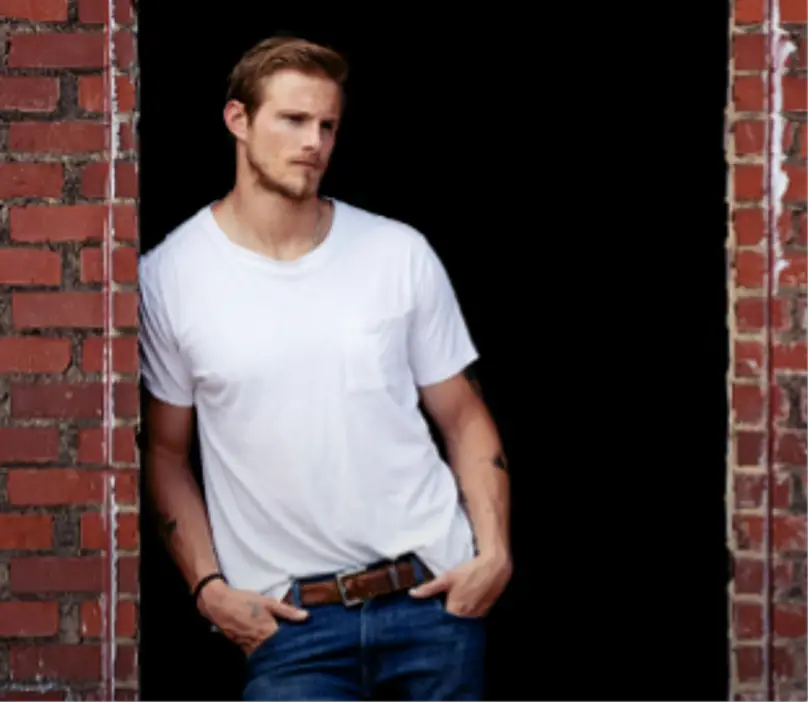 Alexander Ludwig has new music to share with his fans. The multi-talented performer just dropped "Faded on Me," the first single from his forthcoming Highway 99 album, out on August 26. Although Ludwig enjoys writing as much as he does recording and performing, "Faded on Me" is one from his new record that he, perhaps surprisingly, didn't write.
"It's one of the songs that I actually didn't write," Ludwig tells Everything Nash. "And for me, I love writing — that's like my favorite thing to do — but I also realize that after talking to Jason [Aldean]  and David Lee Murphy, and a bunch of people, sometimes there are songs that just speak to you that you wish you wrote. And this was one of those for me."
Ludwig teamed up with Aldean's band members, and hit songwriters, Kurt Allison and Tully Kennedy, to co-produce the songs on Highway 99. Although Ludwig, a seasoned actor whose credits include The Hunger Games, Heels, National Champions and more, is just getting started as an artist, it's important to him to be unique, and authentically himself.
"I never wanted to chase trends," Ludwig maintains. "I think there's room for all types of music. I love all types of music, but for me, when I play a show, I want it to be like the rock and roll concerts I grew up going to. My favorite show to date — Jason Aldean is up there for sure — but also AC/DC, and those, which is so out of the blue. But what I love about country music so much is that to me, it's really that last form of rock and roll. You get this whole great band together and these incredible musicians."
It was with that in mind that Ludwig chose "Faded on Me" as his first single from Highway 99, with the anticipation of playing it live in front of his growing music fanbase.
"'Faded on Me' spoke to me on so many levels," Ludwig reveals. "One, it was one that I would love to play in a concert because to me, it's that kind of country rock that I grew up loving. But also, it also spoke to me so much as a human being. I mean, my favorite line in that song is, 'The friends I've had my whole life / I couldn't lose them if I tried / And they'll be there when that spotlight has faded on me.' That has been my whole experience."
Ludwig grew up in Canada, where his love of country music was born, in the most natural and organic way possible.
"Specifically where I fell in love with country music was when I spent all my time in the backwoods and the mountains there," Ludwig reflects. "I never grew up on a ranch. I learned to ride horses in Montana and all that, but that's not my life. What I loved was the outdoors, and learning to write and play music in my family's cabin up in Whistler Mountain. So for me, 'Faded on Me' just spoke to me on so many levels … When I think about the kind of music I wanted to come out with first, as an introduction song, I certainly don't wanna play it safe."
Download or stream "Faded on Me" here.