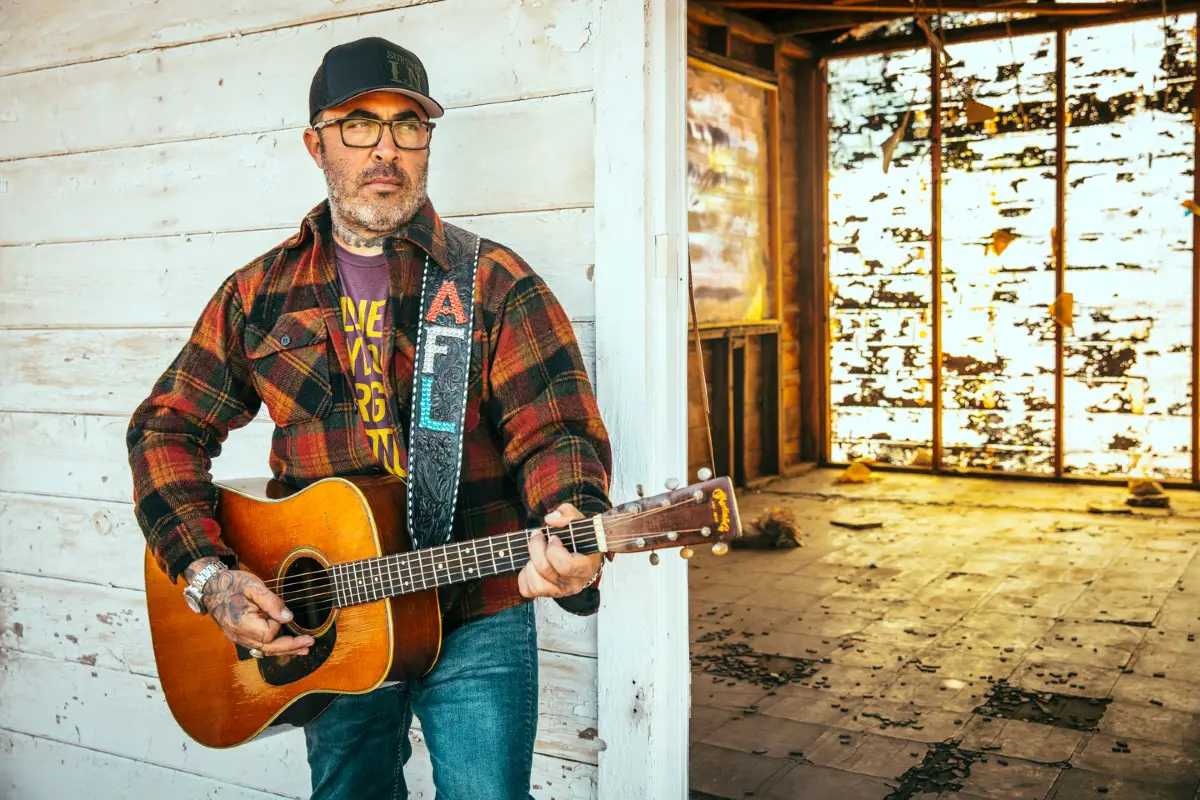 Aaron Lewis just released "Am I The Only One," a not-so-subtle message about his view on the state of America. With lines like "Am I the only one not brainwashed / Making my way through the land of the lost / Who still gives a sh– and worries about his kids / As they try to undo all the things he did?," the song might seem to be a criticism of the current state of affairs, but Lewis says he is merely telling his truth, in his own way.
"We decided we were going to get together and write an honest song about what we all just had gone through in our own lives with the shutdown and the craziness we've watched on TV over the last 18 months," Lewis says on Daily Wire's The Candace Owens'  Show of the song, which he wrote with Jeffrey Steele and Ira Dean. "I feel like you don't have to stand on one side or the other to have, at one point during all of this, looked at your television and screamed some profanities at it. Like what is happening to this country? We're one nation under God. Indivisible. With liberty and justice for all."
Included in "Am I the Only One" is a line that says, "Am I the only one who quits singin' along / Every time they play a Springsteen song?," a lyric Lewis says is a response to something Bruce Springsteen said, which Lewis disagreed with strongly.
"He's always portrayed himself as the all-American middle class guy," Lewis shares. "And during all of this craziness, he said that if one man is reelected to the office of presidency that he was going to move to Australia. How American is that? You're going to bail on America just because you don't like the guy that may have gotten into office?"
This isn't the first time Lewis has been outspoken about his beliefs in his music. The founder of the rock group Staind has released several songs that are a clear indication of his personal views, including "That Ain't Country," "State I'm In," "Sinner" and more.
"All of my songs in the past have all been really brutally honest and about me, and I feel like that might be the magic thing where, if I'm brutally honest with myself and write the song for myself, then chances are somebody's going to feel the same way I felt," Lewis reflects.
"Am I the Only One" is being released on Big Machine Records, where Lewis also released his 2019 State I'm In album. His current label home has been an unexpected respite for Lewis, who was willing to tell his truth with or without the backing of his record label.
"I even got support in places I didn't expect to get support from, like my record label," Lewis shares. "I've come to find out that [label head] Scott Borchetta is pretty big on the First Amendment and freedom of speech. And that was quite surprising, I didn't expect that, necessarily."
"Am I the Only One" might have raised a few eyebrows, but it earned Lewis his first No. 1 at country radio. Watch the lyric video for "Am I the Only One" here (warning: the song includes profanities), and find all of Lewis' music by visiting his website.
Photo Credit: Courtesy of Big Machine Label Group / Jim Wright