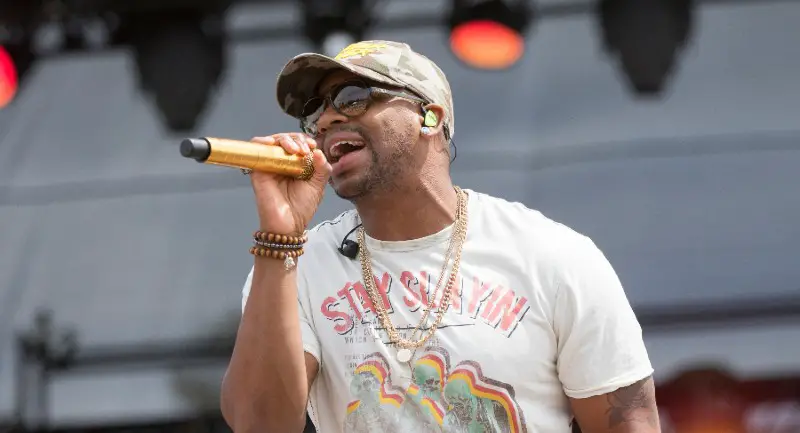 Jimmie Allen's music might cross genres, but at his core, he still loves traditional country music, especially from the Oak Ridge Boys. The Delaware native has a collaboration with the iconic quartet on his Bettie James album, with "When This Is Over," a song that also includes Rita Wilson and Tauren Wells. Allen was inspired to include the Oak Ridge Boys on his record, as a nod to his adoring grandmother.
"The Oak Ridge Boys were my grandma's favorite group of all time," Allen says on The Ty Bentli Show on Apple Music Country. "I've been a fan of the Oak Ridge Boys forever. So the crazy thing, William Lee Golden from the Oak Ridge Boys, his son is my tour bus driver. That's how I was able to make that connection. He just reached out to his dad, and he's like, 'Hey, Jimmie wants to do a song with y'all.'"
The Oak Ridge Boys don't just lend their talent to "When This Is Over," but are prominently featured on the song, an intentional decision by Allen.
"I wanted them to have their own moment," Allen says. "They're such a legendary group, I didn't want the Oak Ridge Boys to get lost in the commotion of the song. I was like, 'I'm going to introduce them at the end, and it's going to be a moment.'  I had a couple of people be like, 'Well he should not have Oak Ridge Boys on there because they're older and people might not play it or country radio might not play it.' I said, 'Whoa, whoa, whoa, whoa. I never make music for country radio. I never write music for blogs.
"I write music and create music I like," he adds. "Then we go from there, and then we pitch that one to country radio. But I said, 'When you start letting outside distractions influence how you create music, the creation has been tampered. It's diluted."
Allen has yet to say what his next record will be, but chances are, it will also have at least a few songs that feature other artists.
"I love collaborations," Allen tells Everything Nash. "I think it's fun. Someone at a different label asked me, 'Jimmie, do you think you're doing too many collaborations?' I said, 'No.' In every other genre, they collaborate all the time. And if you look at the creation process of a song, the whole thing is a collaboration until the performance of it. The songwriting, there's a collaboration of productions, a collaboration in the mixing and the mastering, the marketing plan around it. Everything else is a collaboration except for the performance most of the time.
"I love working with other artists," he continues. "They bring energies too. They bring energy to the song. Somebody was like, 'Do you think that'll hurt your career?' I said, 'I'm confident in who I am. I don't mind sharing a song with someone else.' Especially when it goes both ways. Somebody else can bring energy to the song that you couldn't bring. And also, you get a chance to introduce each other to each other's listeners — one of the best marketing things out there, in my opinion,"
Allen just released a children's book, My Voice Is a Trumpet, which is available for purchase at Amazon. His latest album Bettie James Gold Edition, is a 16-track deluxe record that features not only the seven songs on Bettie James, but nine new tracks as well, including collaborations with Keith Urban, Little Big Town, BRELAND, Pitbull, Babyface, Lindsay Ell, LANCO and more. Purchase the album here.
Want even more exclusive artist videos? Subscribe to our YouTube channel here.