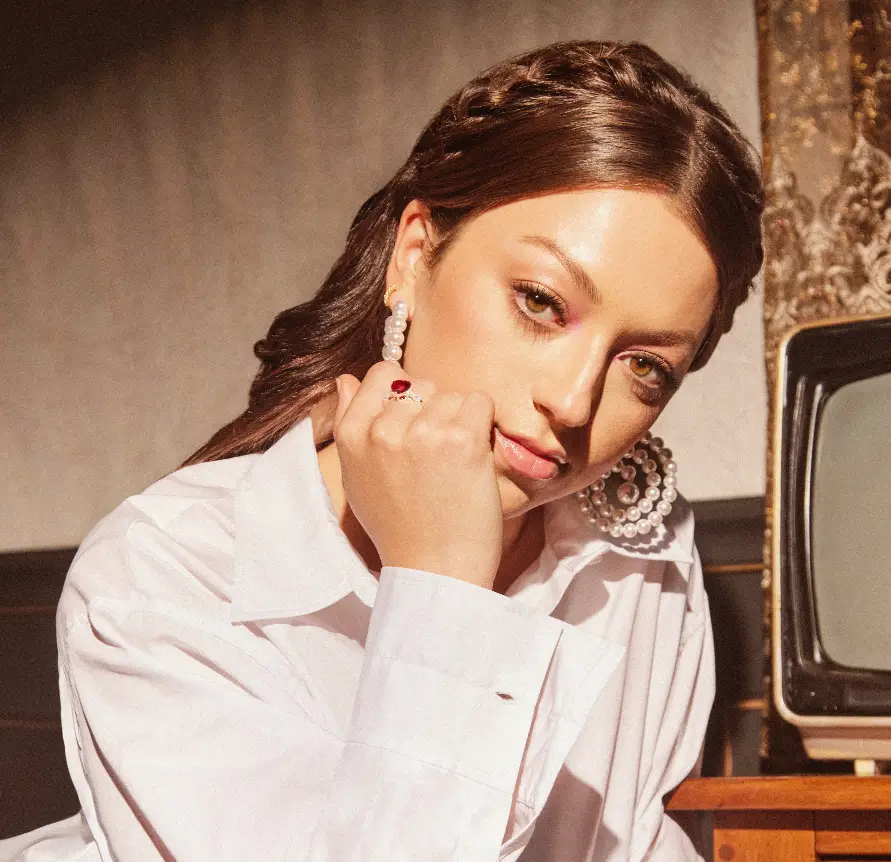 Abbey Cone is shining bright with her single, "Rhinestone Ring." The rising star, who is signed to Valory Music Group, wrote the fun song with Heather Morgan and her producer Nathan Spicer, who also happens to be her boyfriend.
"I got the idea while I was driving," Cone tells Everything Nash. "I love titles. So brought in the title to Nathan. We started working on it a tiny bit and then brought Heather in on it. And Heather was kind of the magic piece to it, as she is. She's just magic. Immediately we knew that it was special. Since I wrote it with Nathan, and Nathan also produced it, we started producing it from the day we wrote it,  all the way up until getting it mixed and mastered, and then waiting a year to put it out. It's my take on a classic country love song with fresh production. I just love how simple it is."
Cone relocated from her native Texas to Nashville when she was just 16 years old, after previously making trips to Music City before making the move permanent.
"I moved to Nashville officially when I was 16," Cone says. "I've been coming to Nashville since I was like 14 or 15, but I got my first publishing deal here when I was 16 with a super small company. I went up to freshman year in high school in Texas, and then switched into online school and finished the last three years of high school in a year and a half, and which was terrifying and horrible. And I didn't even take my SAT or my ACT. I was like, 'I'm not doing college. I've got a publishing deal.'  I moved here, and then I got my record deal in December of 2019."
Cone, who lived with Abby Anderson for a while, knows her path isn't normal, but for her, it was the best way to make her dreams come true, even if it wasn't easy.
"I owe a lot to my mom, as far as her taking it as her own responsibility to educate herself about this industry, so I didn't get screwed over," boasts the singer.  "We were navigating it together until I obviously got into deals that were more official. It was a lot, but I was fully supported by my whole family."
Cone's career was just getting off the ground when the pandemic put a lot of her plans on hold. Cone admits the season was challenging for her, as she fought to get her career going without being able to interact face-to-face with her fans.
"It did discourage me," Cone concedes. "It made me really sad. For me, I think the hardest thing was just, it was my mission on this earth since I was a child to get a record deal. I did that, and then I couldn't put music out. I was in the CMT Next Women of Country 2020 class, which was a big deal for me. That was so fun, and I was pumped. I was like, not only have I been working at this for a long time, but this is exactly how I imagined it being and looking like, and I was gonna have was the release I had always wanted. It felt perfect to me, and then I couldn't do anything."
Cone had to exercise plenty of patience while she waited to release "Rhinestone Ring," and other music that had already been recorded.
"It was a terrible time for new artists," Cone laments. "I really commend those artists that decided to put their stuff out anyways. The label and I just chose to wait until it was a better time. There are so many things that go into even just putting one song out when you have a record deal. And it took till October to  finally get it out."
Now that life is slowly opening up again, Cone has big plans for her future in country music, which includes plenty of other songs in addition to "Rhinestone Ring."
"In the beginning of 2022,  if it were my world and everyone else were living in it, I would release the song we're gonna release at the beginning of the year. I would just see how that does and maybe put out one more single or one more song after that. And then I want to put out an album. My original plan was to put out a six-song EP, but now I just feel like I want to have new songs that I have written. I didn't write a lot in 2020, but I've written a lot this year, and so I would love to just bookend the six songs that I cut and put out a full record."
Find "Rhinestone Ring" and all of  Cone's music by visiting her website.