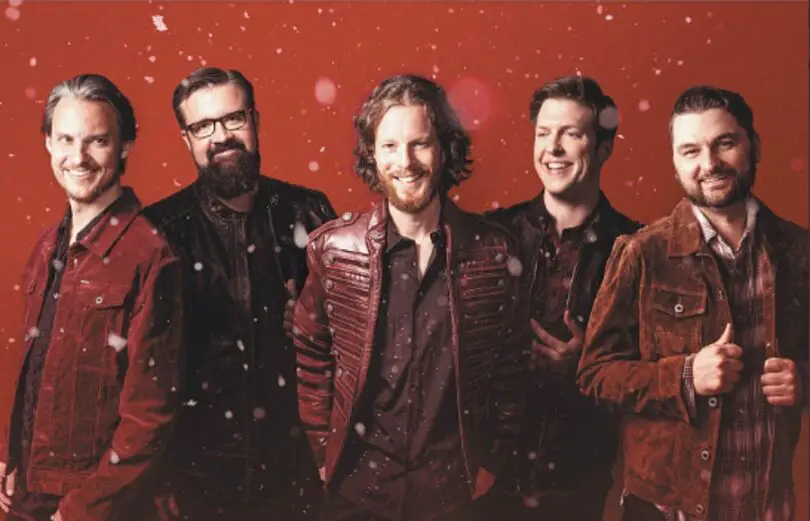 Home Free sold out their December 7 show at Nashville's Ryman Auditorium, as part of their Warmest Winter Tour. The all-vocal group, who also streamed the concert on Mandolin as well, performed holiday hits along with some of their fan-favorite songs, joined by an impressive list of guests as well. Keep reading for five of our favorite moments from the night.
1."Grandma Got Run Over By a Reindeer"
Home Free capped off the concert, before the encore, with this comedic song. After a night filled with both laughter and serious moments, the humor seemed a fitting way to end the night. Also, Home Free's harmonies took the song to an entirely different place, and after more than a year of hardships and struggles, there might not have been a better bookend to the night than with this humorous classic.
2. Brooke Eden, "Tender Tennessee Christmas"
Home Free brought out several guest artists, including Willie Jones, Jeffrey East and Ernie Halter. But it was Brooke Eden's collaboration with Home Free on "Tennessee Christmas" that gave us the feel-good holiday vibes we love.
3. Adam Rupp solo
Adam Rupp is Home Free's resident beatboxer, providing a rhythmic track to the all-vocal group's songs, a formidable task since they don't use instruments. But Rupp had his own moment to shine during the concert, showing off impressive skills on his own, complete with a stunning light show. Rupp is a man of many talents, and he let a lot of them shine during his solo act.
4. "Auld Lang Syne"
For all the times we have heard "Auld Lang Syne," especially around the holidays, we've never heard it like this before. As part of their encore, which ended with "Ring of Fire," all five men stood around one microphone to sing "Auld Lang Syne." If there was a perfect ending to a Home Free show at the Ryman Auditorium, this was it.
5. Home Free and Texas Hill
Home Free and Texas Hill recorded a stunning rendition of "Go Tell It On the Mountain," but as great as that was, the live version is even better. With seven singers on stage, plus Rupp working his magic, it's hard to articulate how great they all sounded together. Also, Adam Wakefield on piano and Casey James on guitar added an impressive element to their performance.
In addition to "Go Tell It On the Mountain," the two groups also sang "Dreamer," which was recorded at the Ryman. The live version will be released soon.
Find all of Home Free's upcoming shows at HomeFreeMusic.com.