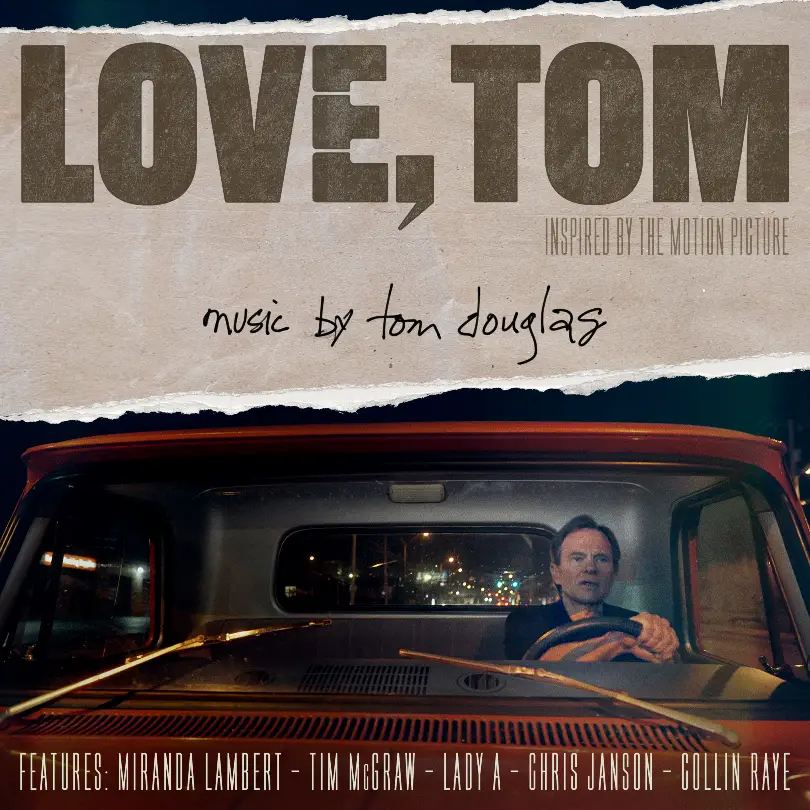 Tom Douglas' songs have been a mainstay in country music for more than 25 years, penning hits like Collin Raye's "Little Rock," Lady A's "I Run to You," Miranda Lambert's "The House That Built Me" and many more.
Now, Douglas' extraordinary life and career, from his Atlanta, Georgia upbringing to becoming one of the most-successful songwriters within country music, is being honored with a film, Love, Tom, released on Paramount+. The film premiered at a theater in Green Hills, Tennessee, which also included a conversation between Douglas and McGraw.
Although Douglas' music has been celebrated for well over two decades, it was ironically his eloquent and timeless speech, when he was inducted into the Songwriters Hall of Fame in 2014, which became the inspiration for the autobiographical film. Love, Tom features Douglas setting the backdrop for, and telling the inspiration behind, some of his biggest hits.
"The truth is that we never really did have a plan," Douglas admits to Everything Nash. "There was never a moment of, 'I'm gonna take this acceptance speech, and then eight years later, it's gonna be on the silver screen in Green Hills.' It was completely a God-inspired accident. In 2014, I was honored to be inducted into the Nashville Songwriters Hall of Fame. I gave a 12-minute acceptance speech. And over time, over the past few years, I had so much feedback from the speech that I really didn't know what to make of it."
It was around 2018, when Douglas saw Springsteen on Broadway, and he began to realize that there might be an outlet to share his acceptance speech, and the songs he has written, with a much larger audience.
"He was talking about his home in Freehold, New Jersey, and all the details of his life," Douglas recounts. And at the same time, I took a trip back to 3018 Argonne Drive in Atlanta. And I was reliving my whole childhood. I think seeing him do that masterful job of stories and songs, when I came back, I was just very frustrated. As a writer, you feel all these layers between you and trying to get to real people. So using that as the inspiration, I sat down with my son and over the course of about a year, we just took stories. I really just took the story of my acceptance speech and then just expanded it from 12 minutes to about an hour."
Along with the Love,Tom film is also a soundtrack of the same name, featuring Douglas singing the songs he has written, along with artists like Lady A, Lambert, Raye, Chris Janson and Tim McGraw.
"We found songs within the catalog that might fit," Douglas says. "It was very disorganized and it went through five different iterations and different titles, but I just started performing it for friends and family that I would get to come out to my studio, just because I enjoyed sharing my story. What I really liked is the fact that it reminded people of their story. So if it took you back on a trip to remember who you are and where you're from, then we accomplished our goal."
Douglas might be one of the most successful country music songwriters of all time, but it isn't because he led a charmed childhood. In Love, Tom, Douglas opens up about his growing up years, which included a father who became addicted to pain pills.
"My story is my story," Douglas ascertains. "And as I say in the movie, it's not the best one. It's just the only one that I really know. So, in dealing also with a lot of young writers, and a lot of young people — and I have grown children in their 20s and 30s — I find that we all look at everything in the culture that is Instagram perfect. Everything's photoshopped, and I know that's not realistic. So just as a point of encouragement, I just thought that I'm gonna tell you my story, warts and all, just because seeing how people survive, failure and rejection and discouragement and anxiety and all the things that life gives you, that's what really encourages me to go on to the next step."
Douglas knows he isn't alone in having a less than idyllic upbringing. It's that knowledge that propelled him to share his own, deeply-personal story with others.
"It's the father wound," Douglas says. "It's the dysfunction that life brings us. And to me, I just wanted to validate how hard it has been for me. And even for somebody young, it's really hard out there. It's hard to raise kids. It's hard to stay married. It's all a struggle, but it's worth it in the end. I got through it and I'm telling you, you're gonna get through it too."
Love, Tom will premiere on Paramount+ on February 24.
Photo Credits: Courtesy of Paramount+ and Austin Fish