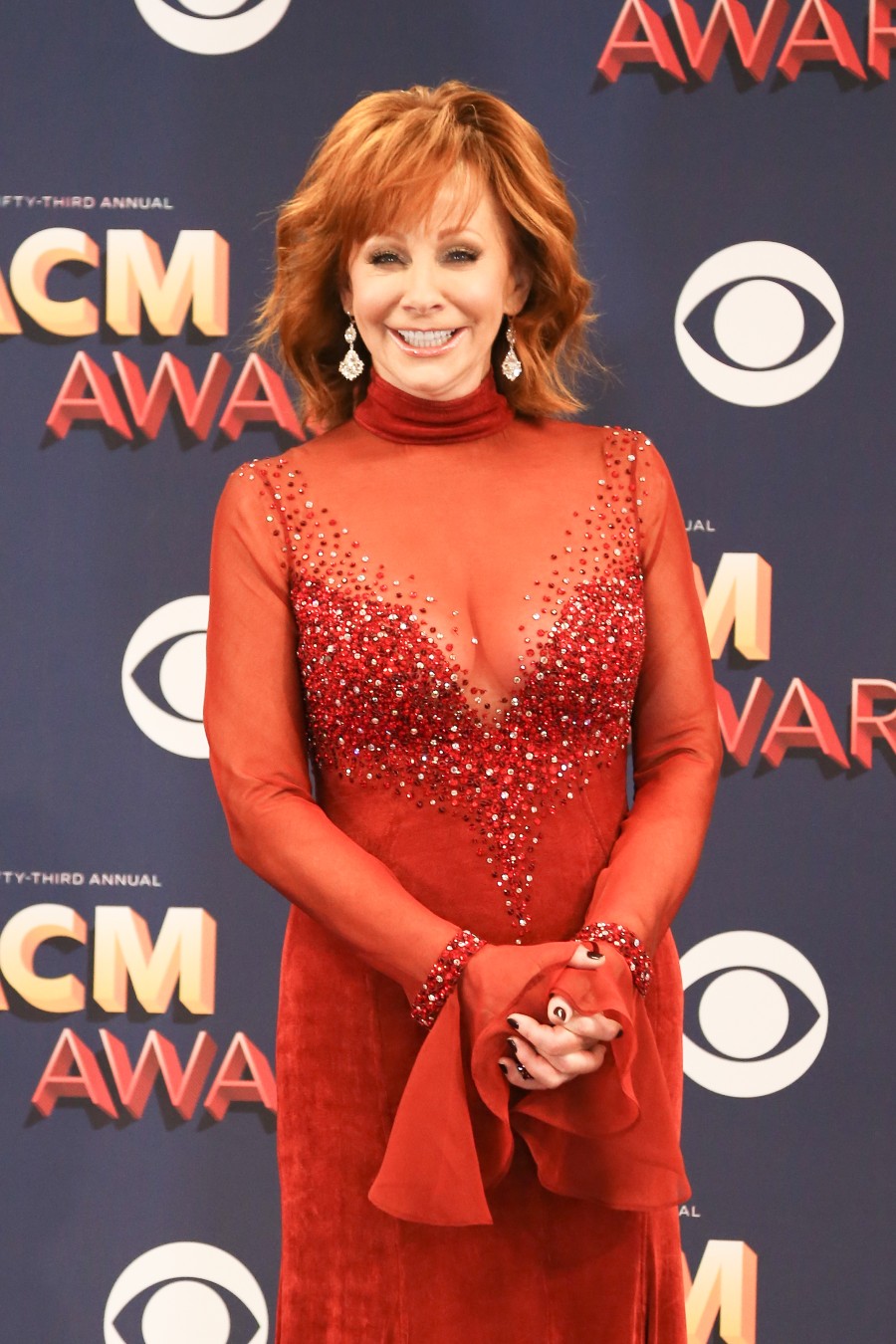 Reba McEntire is unlike anyone else in country music. The 66-year-old has not only released more than 30 albums, with over 80 Top 40 singles, but she's also had a successful career as an actress, and remains as relevant as she was when her first album was released in 1977, and maybe more.
To celebrate the unstoppable career of the Country Music Hall of Fame member, we've counted down ten of our favorite hits from the superstar.
10. "Whoever's in New England"
"Whoever's In New England" became the title track of McEntire's tenth studio album, and her fifth No. 1 hit. The song is also at least partly responsible for her emergence into superstar status, since it was the first time McEntire filmed a video for a song, showing off the singer's acting skills as well.
9. "Why Haven't I Heard From You"
McEntire displayed her feisty side in "Why Haven't I Heard From You." The song, from her 1994 Read My Mind record, criticized a man for not reaching out to her. Singing "There's no problem gettin' to me / Baby you can dial direct / I got call forwarding, call waiting / You can even call collect," the song's success was likely at least partly due to McEntire's humorous take on her character in the video.
8. "The Greatest Man I Never Knew"
"The Greatest Man I Never Knew" appeared on McEntire's emotional For My Broken Heart record, her first album released after her band members were tragically killed in a plane crash. Richard Leigh and Layng Martine Jr. wrote "The Greatest Man I Never Knew," which began with, "The greatest man I never knew lived just down the hall / and every day we said hello but never touched at all. / He was in his paper, I was in my room / How was I to know he thought I hung the moon?," was inspired at least in part by Richard's own life.
7. "Little Rock"
"Little Rock" was also on McEntire's Whoever's in New England record. Speaking to the ring on her left hand, McEntire comes to terms with the fact that her life of luxury isn't worth being in a loveless marriage. Singing, "Oh little rock / Think I'm gonna have to slip you off / Take a chance tonight and untie the knot / There's more to life than what I've got," the song remains a staple in McEntire's setlist for her live shows.
6. "How Was I To Know"
"How Was I To Know," from McEntire's 1996 What If It's You record, is another song that shows how well McEntire did with female empowerment songs. Starting off as a song about someone who had been broken up with, "How Was I To Know" turns into a woman discovering how strong she is. Singing "How was I to know / I would be this strong / I had what it takes all along / How was I to know," the song has been an anthem for almost 25 years of the resilience of a woman.
5. "Somebody"
"Somebody," from McEntire's 2003 Room to Breathe record, is a celebration of finding the right person at the most unlikely time. Written by Dave Berg, Sam Tate, and Annie Tate, the song was first recorded by Mark Wills, before McEntire took it to the top of the charts.
"I was walking around with most of that chorus … not exactly sure what it was or what to do with it," Berg said (via Songfacts). "And then one day, my co-writers, Sam and Annie Tate, put the hook on it. Their great storytelling abilities helped to finish it."
4. "The Heart Won't Lie"
"The Heart Won't Lie," from her 1992 It's Your Call album, included Vince Gill both on the track and in the video. Written about two people who can't stay away from each other, in spite of seemingly impossible odds, Kenny Rogers was originally tapped to do the vocal, although he was ultimately replaced by Vince, who was happy to do the song, but less happy about the four-day video shoot.
"I've never said no to you, in all these years," Gill told McEntire, while performing with her at the Grand Ole Opry. "When we were gonna do a duet, you called me, and said, 'Hey will you do this?' I hung up the phone and I said, 'Oh no, she's gonna want to make a movie.'"
3. "The Night the Lights Went Out in Georgia"
Vicki Lawrence first cut this song, but it was McEntire who made it a big hit. Turning on her acting skills in this murder ballad, "The Night the Lights Went Out in Georgia" was a gruesome tale of an affair that went very, very wrong. The song, from McEntire's For My Broken Heart project, became a Top 10 hit for Reba, but landed at No. 1 on the Billboard Hot 100 chart for Vicki.
2. "Does He Love You"
"Does He Love You" is a duet with Linda Davis, McEntire's longtime backup singer, from her Greatest Hits Volume 2 album. When Wynonna Judd passed on the song, Davis went in to record a vocal to pitch to other artists, and did so well that both McEntire and her producer, Tony Brown, decided to keep her on the song instead.
"Linda Davis came into the studio," McEntire recalled. "She came in the studio to fill that position, to sing that part, and then when she got through, I looked at Tony Brown and I said, 'Don't you think she needs to have this job?' And he said, 'Yeah. I think that's wonderful,' and everybody agreed and she got the part. We won a Grammy for it and toured with it, and had a wonderful time getting to sing with Linda Davis on 'Does He Love You.'"
"Does He Love You" is a dialogue between two women: one married and one having an affair with the married woman's husband. Written by Sandy Knox and Billy Stritch, "Does He Love You" won a Grammy Award for Best Country Vocal Collaboration.
In 2021, McEntire released a new version of this song, this time featuring Dolly Parton, for McEntire's REVIVED REMIXED REVISITED project.
1. "Fancy"
There are few songs in country music as important to the genre as "Fancy." A brave song, from McEntire's 1990 Rumor Has It album, "Fancy" was first written and recorded by Bobbie Gentry. But it's McEntire's version that people remember most, likely thanks to her six-minute cinematic video. The song, about an impoverished mother selling her 18-year-old daughter to support the rest of the family, is what McEntire has referred to as her signature hit, and one she till performs to this day.