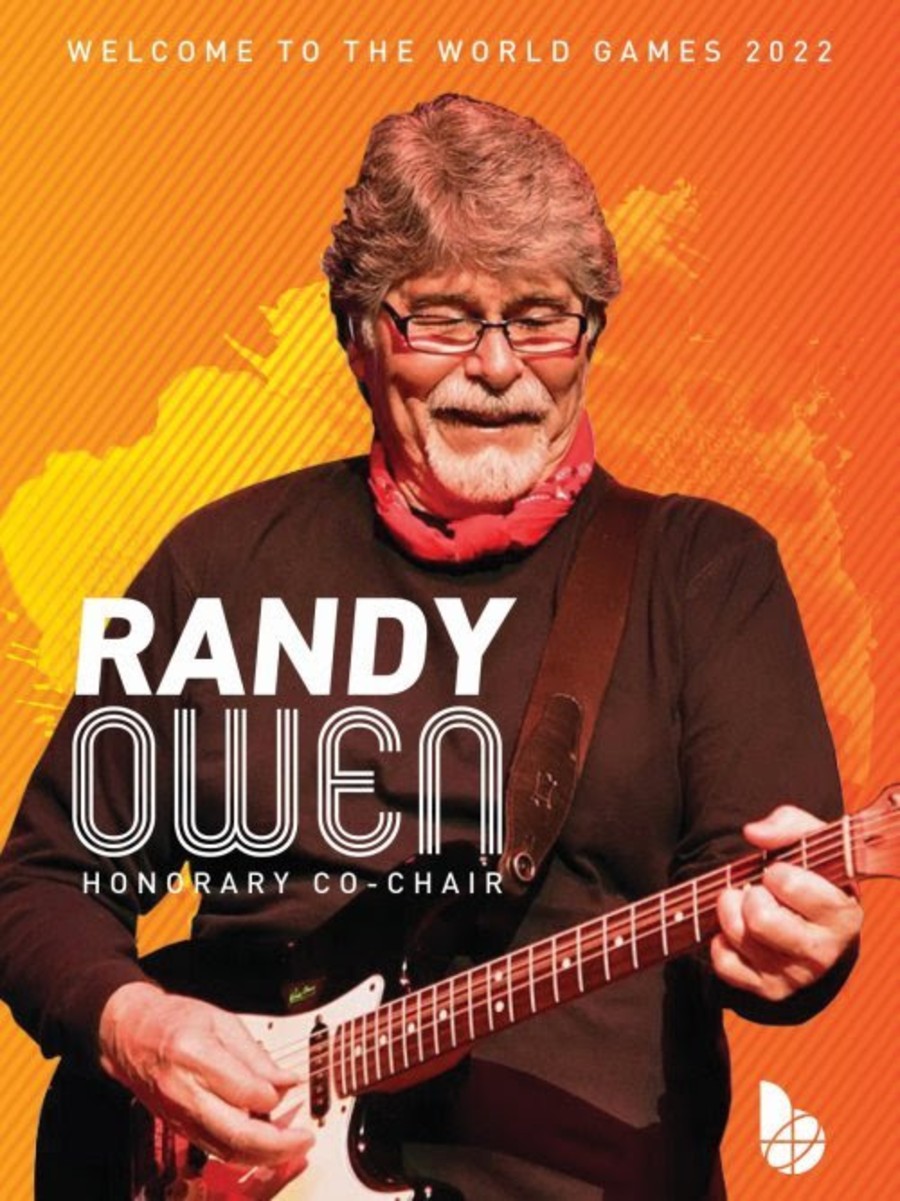 Alabama's Randy Owen has been named as the honorary co-chair of the upcoming 2022 World Games Birmingham. Randy will chair the event with Alabama native, and NBA superstar, Charles Barkley.
"I'm so honored to join my fellow outstanding Alabamians – Charles Barkley, Dr. Henry Panion, and those yet to be announced – in helping bring this event to Alabama," Randy said in a statement. "The people in our state have made a tremendous impact on my life and career, and I'm happy to show the world what Alabama is all about. Our people are as diverse as the landscape in our beautiful state. It is my hope that we are able to bring that uniqueness to the forefront and let the light of Alabama shine out into the world."
The singer will participate in several events at The 2022 World Games Birmingham, including the Opening and Closing Ceremonies. Leading up to the event, Randy will also promote the message and mission of The World Games 2022 as well.
"Millions of people around the world have grown up with Randy's one-of-a-kind voice," The World Games 2022 CEO Nick Sellers said. "He's a national treasure for the USA and for the state of Alabama. And we are excited to have that legendary voice as an Honorary Co-Chair of this once in a lifetime moment."
"I could not be more thrilled to have an iconic Alabamian such as Randy Owen join us for this magnificent celebration of sports and the arts, one that will cast the eyes and ears of the entire world upon our city and state," added Dr. Henry Panion, the Artistic Director of the Opening and Closing Ceremonies. "There has been no greater ambassador for Alabama than my friend Randy, and I am looking forward to working with him on the festivities for The World Games 2022."
Randy grew up in DeKalb County, Alabama, which is why he is especially honored to participate in this global event.
"My wife, Kelly, and I raised our family in Alabama," said the 71-year-old. "Our children all graduated from Alabama universities: Jacksonville State (Alison), Samford (Heath), and Auburn (Randa). 'My Home's in Alabama' isn't just a song or lyrics on a page. My home and heart will always be in Alabama, and now it is the home of The World Games 2022!"
The World Games 2022 Birmingham are scheduled to take place July 7 to 17, 2022, and feature elite athletes competing in a variety of Olympic-style sports, including gymnastics, racquetball, karate, archery, flag football, lacrosse and much more. Find more information at TWG2022.com.