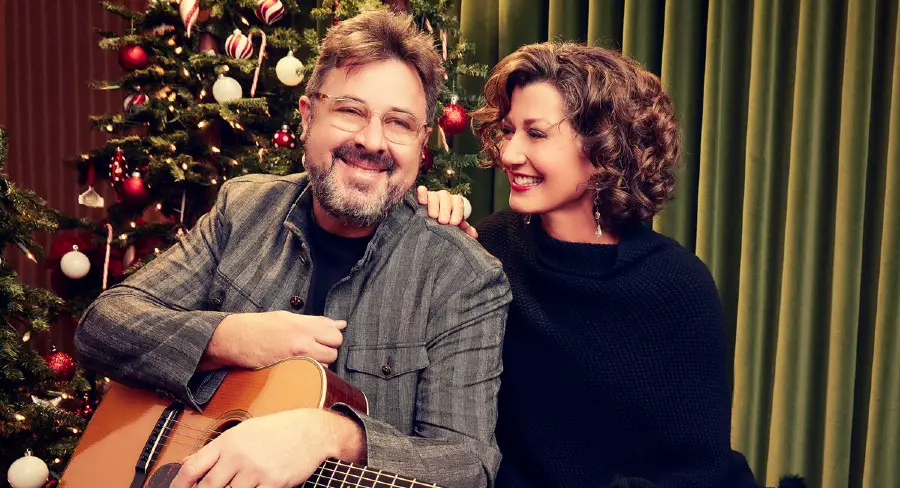 Vince Gill just earned his 22nd Grammy Award, this time for Best Country Solo Performance, for his song, "When My Amy Prays," written about the faith of his wife, Amy Grant. While Grant loves the entire song, there's one line that especially makes her emotional.
"I've never said this, but it's the thing that kind of puts a lump in my throat. Faith has always been easy to me. For years, I've asked Vince, 'Does anything just make your hands go like this?'" a teary-eyed Grant told Entertainment Tonight, lifting her hands. "And the last line of that song is that 'When I pray, my hands raise.'"
Gill also spoke out about the song, and how her faith has impacted his own life.
"The beauty of this song is the vulnerability I paint myself in, in being honest enough to say, 'Wow, you may assume I'm something because of being married to this very, very prominent Christian singer, but my life isn't quite like that,'" Gill told CMT. "To me, it's a really neat testament to we all don't have to be the same so much to get along and like each other. So as much as I'm honoring her, I'm also trying to be somewhat honest with myself. At the end of that first verse, is probably to me the most vulnerable to say that out loud. Talking about Amy and 'When my Amy prays / That's when I see His face."
Gill praises his wife for how she lives, both on and off stage.
"Kindness is how she leads her life, and it's the first thing you ever notice," Gill said. "It's the first thing you ever experience, and it's kind of unending. It's one of my favorite vocals that I've ever done, in making records for now 47 years. To lay that claim at this time in life, it kind of gives me a little bit of encouragement that I still have ways to get better and do things better, and sing better, play better, write better. The whole record came from a place of honesty. I'm a really emotional guy."
"When My Amy Prays" is from Gill's 2019 Okie album, which is available for purchase at VinceGill.com.