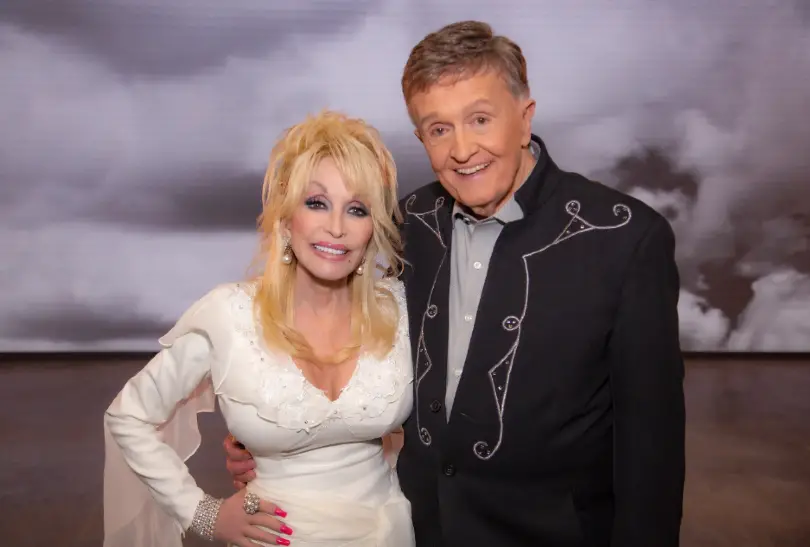 Bill Anderson and Dolly Parton just released the cinematic video for their "Someday It'll All Make Sense" duet. The song is from Anderson's As Far As I Can See: The Best Of album, released in June.
"Working with my ol' buddy Bill Anderson was the most meaningful fun I've had in years," Parton says. "I love the song we sang, I love how we sounded together on it, and getting to do a video with him was just icing on the cake. I hope the fans enjoy it as much as we enjoyed being together on it."
"Hopefully, our song can help bring a bit of levity to a world that seems upside down and sideways so much of the time these days," Anderson adds. "If it can, music will have once again proven itself to be the optimal healer,"
Anderson loved getting to work with Parton, both in recording the song and in the song's video, which ws directed by Trey Fanjoy.
"The thing I love the most about working with Dolly is that while she takes what she does seriously, she does not take herself seriously at all," Anderson tells Good Morning America.
"She was so focused the day we filmed this video you'd have thought it was the most important thing she'd ever done in her entire career," he continues. "But at the same time, in between takes, she shouted across the studio to the director, Trey Fanjoy, 'Speak up Trey. Bill is hard of hearing, and I'm hard of listening.'"
"Someday It'll All Make Sense" is the final track from Anderson's ambitious 16-track As Far As I Can See: The Best Of record. The record was released on Universal Music Group.
"Needless to say I am thrilled over my new association with UMG. Not only do they have 23 years' worth of my back catalog ready to introduce to the digital world, but I am reuniting with Dolly Parton on this project," says Anderson. "Dolly sang some demos for me (and with me) back in the early sixties when she was new in town. One was a duet called, 'If It's All The Same To You,' which had gone missing for years. UMG has recovered it and included it along with my and Dolly's new duet in this package. That's called connecting the dots across more than fifty years. How cool is that?"
Download or stream "Someday It'll All Make Sense" here.
Photo Credit: JB Rowland/ CTK Entertainment