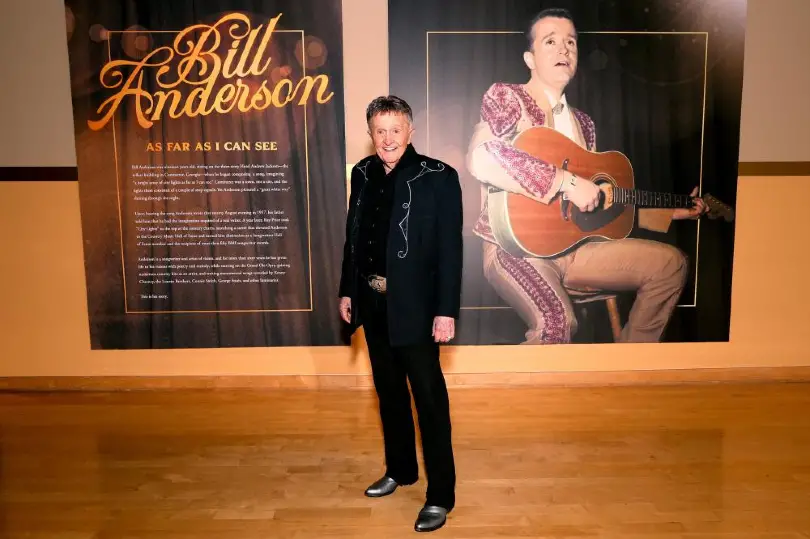 Bill Anderson's new exhibit, Bill Anderson: As Far As I Can See is open at the Country Music Hall of Fame and Museum is open! The exhibit features memorabilia Anderson's life and career, including Anderson's Rawlings leather glove, used when he was a pitcher for Avondale High School's baseball team in the 1950s; the Royal electric typewriter used in the 1960s by Anderson to type song lyrics and answer fan mail; handwritten lyrics to 'Give It Away,' which Anderson wrote Buddy Cannon and Jamey Johnson in 2005, and became a No. 1 hit for George Strait, and more.
"I've heard all my life that just before a person dies, their life passes before their eyes," Anderson said at the exhibit's opening. "Somebody better check my pulse. Because a couple of hours ago, when I laid eyes on my exhibit for the first time, I felt like my life, or at least the very best part of it, was definitely passing right before my eyes. To see 60-plus years come alive again in this incredible display, truly took my breath away. They titled this exhibit As Far As I Can See, but in all honesty, I never saw this far."
Anderson was surprised with performances by several country artists, including Trisha Yearwood, who sang "Once a Day," Vince Gill singing "Which Bridge to Cross (Which Bridge to Burn)," and Jon Randall and Carly Pearce, who sang "Whiskey Lullaby," with Pearce earning high praise from Anderson following her performance.
"You don't have to worry about the future of country music when there's people like her," Anderson boasted. "And not just her singing, and not just her beauty, but what a good human being she is. I've got a 13-year-old granddaughter, whose two favorite people in the world right now are Luke Combs and Carly Pearce. They were on the Grand Ole Opry together one night and I was on the show, and I took my granddaughter Hallie out there.
"She didn't care a thing about whehter I was there or not," he continued. "She just wanted to meet Luke Combs and Carly Pearce. And Carly and Luke both were so sweet to her. That's the country music that I grew up with, with the artists being nice to the people and the fans. Not somebody who comes and runs and hides on a bus somewhere. So just know in your hearts that Carly Pearce is one of us, and we wish her the best."
Bill Anderson: As Far As I Can See will be open through March 19, 2023.
Photo Credit: Jason Kempin/Getty Images for the Country Music Hall of Fame and Museum